Seeing scent: the moodboard behind DS & Durga's new fragrance
The New York perfumers give us an exclusive peak at the images that inspired their latest fragrance enhancer, 'Crystal Pistil'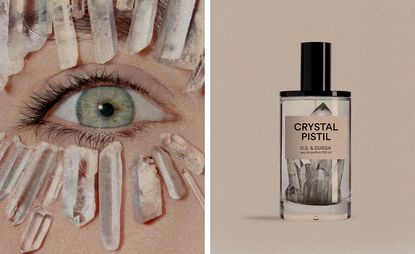 (Image credit: dsanddurga.com)
For New York perfume brand DS & Durga, creating a new fragrance is the same as creating a new world. With every new creation, co-founder David Moltz compiles a scent master document that lists song every colour, season, time of day, person, animal, and plant he associates with the fragrance. Ahead of the release of 'Crystal Pistil', we asked the brand to give us a peak into their fragrance universe and share some of the images that inspired the newest scent and second 'fragrance enhancer' to join their roster.

'Crystal Pistil' is the second fragrance enhancer to join the DS & Durga family after their best selling 'I Don't Know What'. 'Enhancers are like these transparent fragrances,' Moltz says. 'I'm trying to take out as many notes as possible and use only the enhancing molecules that a perfumer uses.' With 'Crystal Pistil' the effect is a fragrance that, when mixed with other scents, creates a dewy and musky tone that didn't exist before. 'It's just the structure that goes around anything you want to put in it. You can take any oil you want in the world and put this over it and you have the best perfume in the world.'
Here, explore the visual inspirations behind the new fragrance enhancer
Every fragrance in the DS & Durga catalogue has its own colour spectrum and here, in the soft shades of the crystals and bright notes of the eye, we see Crystal Pistil's own palette. 'The fragrance is very pale orange, peachy, cream,' says Moltz. 'But then there's also tones of pale blue or pale green' running throughout.
'Crystal Pistil' is all about 'having fun, freedom of space, using materials that are deconstructed [to create something new], like the notes of water that are in the flower without the smell of the flower too much.' This image of Dali floating amongst cats and a splash of water perfectly captures the irreverent ethos behind the scent. 'It's so 'Crystal Pistil' Moltz says, 'it's something that is a little off or off putting in a weird way.'
The oil and vinegar bottles by legendary Italian designer Ettore Sottsass are very in keeping with DS & Durga's own playful, yet tasteful aesthetic. The bottles are 'very minimal, austere but round and fun too' Moltz notes. 'It's about the freedom to take as much as you want from each- there's that element of play.' With 'Crystal Pistil' people can take whatever oils they want, mix them together, and then spay the fragrance enhancer over it to make scent that's all their own and different every time.
The iconic Robert Mapplethorpe photography Flowers shows floral pistils on full display. With 'Crystal Pistil' DS & Durga wanted to capture the 'transparent and crystalline' aspect of the innermost part of a flower. 'Crystal Pistil makes anything into a dewy, flowery thing... that's way more on the musky spectrum.'
With 'Crystal Pistil', Moltz wanted to create a fragrance that captured the scent of orange blossom water rather than orange blossom itself. 'Orange blossom water to me is the most soft, elegant product but it doesn't last if you put it on your skin.' By removing as many notes as possible from the orange blossom scent, Moltz made a fragrance enhancer that transforms any scent into 'a dewy, flowery thing.'
INFORMATION
dsanddurga.com (opens in new tab)
Mary Cleary is the Beauty & Grooming Editor of Wallpaper*. Having been with the brand since 2017, she became an editor in February 2020 with the launch of the brand's new beauty & grooming channel. Her work seeks to offer a new perspective on beauty, focusing on the pioneering personalities, product designs, and transformative trends within the industry.