Byredo's Ben Gorham links with Charlotte Chesnais for his jewellery debut
As a symbol of their creative partnership, Ben Gorham partners with Paris-based jewellery designer Charlotte Chesnais in a series of simplistic chains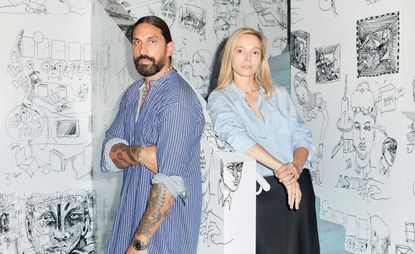 (Image credit: Vincent Ferrané)
Wallpaper* Newsletter
Receive our daily digest of inspiration, escapism and design stories from around the world direct to your inbox
Thank you for signing up to Wallpaper. You will receive a verification email shortly.
There was a problem. Please refresh the page and try again.
In a way, fragrance and jewellery both play a contradictory role, designed as they are to elevate the personality of the wearer, yet also to become an almost imperceptible element of their character. 'Jewellery has to be almost invisible, yet have real strength,' says Byredo founder Ben Gorham, who was struck by this dichotomy a year ago, when he asked the Paris-based jeweller Charlotte Chesnais to create a simple chain for him. 


From pieces owned by Gorham's Indian mother to midcentury Navajo designs, jewellery has long fascinated the former professional basketball player, who launched Byredo in 2006 with a series of niche scents. After dabbling in homeware and bodycare, the Stockholm- and New York-based brand produced its first handbag line in 2017, a move that piqued Gorham's interest in metalwork. Byredo's jewellery debut, the Value Chain collection, was designed in collaboration with Chesnais and is inspired by the chain she created for Gorham. The collection spans from a dazzling pavé-encrusted gold necklace to a utilitarian sterling silver bracelet, as well as rings and earrings. 'Because I don't have a background in jewellery, I tried to take a few steps back when conceiving the designs,' Gorham says of the pieces, formed from chunky links connected with metal double loops. 'They define a new language.'


Byredo's repertoire and aesthetic is constantly evolving. In June, it unveiled collaborations with Swedish outdoor label Peak Performance, alongside ByProduct, a collection of basketball-inspired sneakers and made-to-order suits by Stockholm tailor AW Bauer & Co. The elemental nature of the Value Chain collection bears parallels with the reductive nature of Byredo's original scent: clean, pure, and without the bells and whistles of glossy branding. 

Chesnais, who founded her eponymous company in 2015, is known for her sculptural, asymmetric designs that play with metals and interact with the body. She has also created catwalk jewellery for Balenciaga and Paco Rabanne, and met Gorham when designing under Nicolas Ghesquière for Balenciaga. The Byredo collaboration marks the first time she has designed a chain, and the interconnecting links are a symbol of the partnership. 'The basic form also allows us to play with scale and materials,' she says of the designs. 
The project continues Byredo's 'exploration of materials and techniques', apparent in its collection of zebu-horn combs handcrafted in the French Pyrenees and blankets designed in collaboration with M/M (Paris), the creative studio behind Byredo's visual identity.

It also happens to be a smart time to launch fine jewellery, which has become a luxury-sector sales juggernaut. In April, Prada debuted its first fine jewellery line, and in July, Gucci creative director Alessandro Michele presented his first high jewellery collection for the house. Gucci has also opened its first high jewellery boutique, on Paris' Place Vendôme. According to a report by McKinsey business analysts, global jewellery sales are expected to grow five to six per cent year on year, reaching €250bn by 2020. Pertinently, it's also predicted that future growth in branded jewellery is likely to reach beyond traditional jewellery names to luxury fashion houses in adjacent categories, such as high-end apparel or leather goods — companies like Dior, Hermès and Louis Vuitton.


There's a beauty in the engineering of Chesnais' jewellery pieces, their various fastenings a display of craft and ingenuity. Take a sinuous, S-shaped earring, attached to the ear lobe with a clasp of curving spiked metal, or two bi-metal rings linked with a hook. For the Value Chain collection, she created two styles of closure: a gliding 'kiss kiss' clasp that imperceptibly slots together to close the silver pieces; and a hinged clip, which 'makes you feel like you can't take the piece off', for the heavier gold and pavé designs. 
The fastenings link back to Gorham's belief in the essential 'invisibility' and 'strength' of jewellery. 'The weightier clasp makes a loud click,' Chesnais says. Byredo's success was once defined by the smell of pine needle, incense and bergamot. It has a satisfying sound now too.
INFORMATION
byredo.com
Receive our daily digest of inspiration, escapism and design stories from around the world direct to your inbox