Name game: Byredo celebrates its tenth anniversary with a nameless fragrance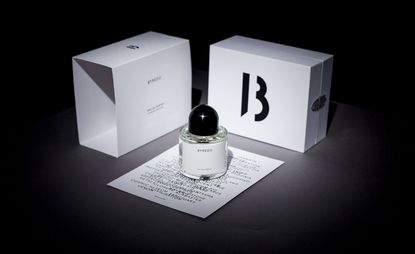 (Image credit: Michael Ainscough)
Most people would celebrate their tenth anniversary with a cake and some candles or a night out on the town, but not Ben Gorham, the soft-spoken Swedish founder of Byredo. Instead, in keeping with his cool, creative brand, he commissioned a new fragrance whose selling point is that it doesn't have a name – just a blank label on which buyers will be able to add whatever name they want, using the dry-transfer Byredo lettering included with each bottle. It's a neat gimmick, perfect for this era of mass customisation (though I do wonder how many buyers will be tempted to give their bottle a rude name).

Reclining in state at the Chiltern Firehouse, Gorham describes the new perfume as a way 'to enable customers to make their own story', which will be accompanied by a digital platform where people can upload their thoughts and images.

But what of the scent itself? Concocted by regular Byredo perfumer Jérôme Epinette at Robertet (whose other clients include Atelier Cologne and Vilhelm Parfumerie), it has a definite Byredo character. Gorham says that, 'I purposely didn't want it to fit into a particular fragrance family, but I also wanted it to have strong associations.'

Guided by visual images, poetry and music that Gorham felt encapsulated the idea he was aiming at, Epinette has created a light, slightly syrupy scent, which derives (among other things) from pink pepper, balsam fir and a hint of violet and iris. It's a little too sugary for my taste (my personal favourite remains 'Baudelaire'), but it will almost certainly appeal to longstanding Byredo devotees.

Gorham describes Byredo's success as 'like watching your children grow up too fast – especially the last five years', a period during which he sold a majority share of the company to London-based investment firm Manzanita Capital (which also has stakes in Diptyque and Malin + Goetz). 'But I'm enjoying it more than ever now,' he adds. 'I feel as though I've really settled into the brand.'

Ten years may be a cause for celebration, but Gorham is already looking ahead. 'We're heading into phase two now,' he says. 'The first phase was about establishing the brand and clarifying its vision; now it's about evolution.'

As part of that evolution, fans will be pleased to hear that a third Byredo boutique is on the cards, following up from the standalone stores in Stockholm and Manhattan. 'London is top of the list,' Gorham reveals. Not without irony I ask whether Byredo will be joining Frederic Malle, By Kilian, Roja Dove and the niche-perfume pack in the Burlington Arcade? Gorham chuckles. 'That's the last place I'd want to be!' Never let it be said that Byredo follows fashion.
INFORMATION
Unnamed eau de parfum, £135 for 100ml, available in the UK exclusively at Liberty and the Byredo website until 15 September. Available worldwide thereafter. For more information, visit Byredo's website or the unnamed perfume project website
Photography: Michael Ainscough