Beyond the sea: the many second-lives of seaweed
From jelly desserts to takeaway food containers, we explore the various uses of seaweed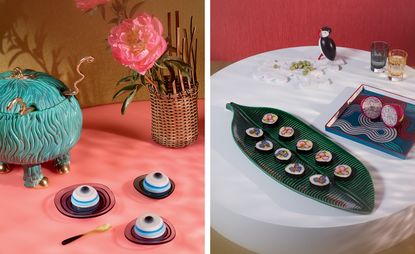 (Image credit: Melina Keays)
From the coasts of England to the shores of Japan, seaweed is used as an ingredient in everything from culinary dishes to skincare serums, to food delivery containers and dining room chairs.
Those hunks of tangled algae lying along your local beach might look unassuming, but they're shoring up to be the substance of the future.

When ingested or applied to skin, seaweed can improve gut health, heighten energy levels, and act as an anti-aging and anti-inflammatory agent. Moreover, it's malleable physical makeup means it can be transformed into eco-conscious substitutes for everything from plastic bags to clothing textiles.

The most common second home for seaweed outside of the ocean is no doubt the dining room table. Nicknamed the 'vegetable of the sea', seaweed contains a wealth of vitamins, minerals, and amino acids that are key to a healthy diet. Slipping some onto your plate can help you get some much-needed A, C, E, and B vitamins, as well as iodine and calcium
In 2018, we asked photographer Matthieu Lavanchy to capture our own interpretation of this marine superfood. The resulting salad combines protein-packed edamame beans with Asian Hijiki seaweed- a dark seaweed that is rich in fiber, calcium, and magnesium to support digestive health and improve energy levels.

An even more innovative take on seaweed fair can be seen in our October 2019 shoot with Metz and Racine. We created these delightful desserts out of agar, a sweet coconut gelling agent made from seaweed flakes. Its chic presentation makes it a welcomed update on your mother's Jell-O that, while much better suited to a 21st-century dinner party, still maintains the levity of its forbearer.
Beyond the dinner table, seaweed has long been used for cosmetic and medical purposes. It is a key element of 'thalassotherapy,' or 'healing through the sea,' a form of therapy that became popular in 19th century coastal France and which uses seawater and sea products for improved physical and emotional health.

In Ireland too, seaweed baths have long been used to relieve aching joints and calm anxious minds. Since 1912, Kilcullen's Seaweed Baths in Sligo has offered soaks in porcelain bathtubs filled with seawater and seaweed. The iodine-rich bath is meant to combat symptoms of rheumatism and arthritis, as well as improve general health.

Those who are far from the sea can still get the instant beauty benefits of seaweed through products like 111Skin's Antioxidant Energising Essence or Anatomē's Seaweed Essential Sleep Oil. The algae's ability to retain moisture makes it a perfect hydrating agent, while it's high iodine levels support healthy thyroid function.
Margate-based wellness brand Haeckels has led the charge when it comes to seaweed-based beauty. The brand hand-harvests seaweed from the local beach, before bringing it back to their own lab to be formulated into skin, body, and haircare products.

A product like their Rosehip + Seaweed Suspension melds moisture-rich seaweed with calming rosehip oil to combat dehydration and inflammation. While their best-selling item, the Exfoliating Seaweed Block, blends seaweed leaves with coriander seeds and peppercorn to scrub and repair skin.
On the other side of the world, Japanese brand Tatcha uses Okinawa red algae, known for centuries as the 'treasure from the god of the sea,' in a number of its products. Harvested from a lagoon in the Yaeyama Islands, the seaweed is dried and then distilled to make the brand's hydrating face washes and body creams.
Perhaps the most innovative second-life of seaweed is its use as a material for product design. Earlier this year, Priestman Goode reimagined the in-flight food tray with a plastic-free design made out algae skins. It's a concept they plan to develop further for Wallpaper* Re-Made, and which will no doubt be a trend that's picked up by many more designers in the years to come.
INFORMATION
All Wallpaper* photography styled by Melina Keays
Mary Cleary is the Beauty & Grooming Editor of Wallpaper*. Having been with the brand since 2017, she became an editor in February 2020 with the launch of the brand's new beauty & grooming channel. Her work seeks to offer a new perspective on beauty, focusing on the pioneering personalities, product designs, and transformative trends within the industry.