Is this the future of takeaway food packaging?
For Wallpaper* Re-Made, PriestmanGoode puts material responsibility on the menu and recruits like minds to re-think the future of the takeaway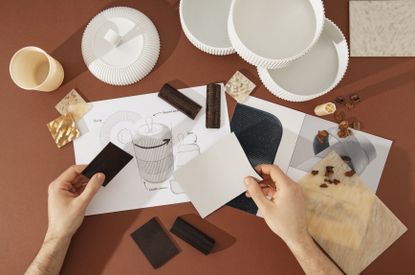 (Image credit: Carolyn Brown)
Food takeaway deliveries have boomed in the past decade. With smartphone apps came a seamless, centralised formula of on-demand buffets at home, and a small army of box-bagged, traffic-dodging deliverers mobilised at the tap of a screen. A report released in 2019 valued the global online food delivery and takeaway market at over $53bn.

With convenience, rapidity and choice came another ingredient: plastic, and lots of it, from boxes, to cutlery, down to sachets of sauce. But the intensifying war on waste has brought mumblings of change. The takeaway titans are beginning to vie for a slice of sustainable pie – Deliveroo has launched an eco-friendly packaging range, and Just Eat is trialling a seaweed-lined container.

In its aptly-titled 'Zero' concept for Wallpaper* Re-Made, London-based industrial design agency PriestmanGoode hasn't just brought a new box to the table. In collaboration with a series of sustainable material partners, it has devised a holistic solution to re-think the entire takeaway food delivery system, aiming to change consumer behaviour through circular design, and to make packaging desirable, not disposable.
PriestmanGoode is no stranger to confronting pressing and complex design challenges. Since its conception in 1989, its portfolio has included aircraft interiors, high-speed trains, small-scale consumer goods and future-thinking projects that focus on accessibility and sustainability. And the Re-Made project is not its first foray into more responsible food ware. Earlier this year, the designers bagged a Wallpaper* Design Award for 'Get Onboard', an in-flight meal tray solution to curb plastic waste. 'We always used to think about design as user-centric, and increasingly it's becoming planet centric, too,' says Jo Rowan, associate director of strategy at PriestmanGoode. 'People are increasingly concerned and conscious about their environmental habits and we felt design had a place to explore a different behaviour.'

The 'Zero' concept comprises a range of reusable, planet-friendly food containers and a delivery rider bag. For PriestmanGoode, it wasn't about finding one material that could do everything, but the most suitable food-safe plastic alternatives for each element. After rigorous research, the team settled on a menu of six materials, each handpicked for their attributes, from transit durability to temperature control.

'Our criteria were that the materials either came from renewable sources, or were composed of by-products and would be biodegradable, commercially compostable or reused,' says Maria Kafel-Bentkowska, head of colour, materials and finish at PriestmanGoode. 'When you list all the properties that you need, the materials kind of select themselves.'
'We cannot focus on hygiene at the expense of the environment; the two things have to go hand in hand'
The delivery bag, which will niftily attach to the rider's bike, will be formed of bio-based, 100 per-cent renewable raw resources made by Crafting Plastics, a Berlin and Bratislava-based design studio that specialises in the development of bioplastics. The bag has been designed to withstand high temperatures and the impact of being dropped. Its lid is to be made using Piñatex, a natural leather alternative comprising cellulose bres from pineapple leaves, developed by London-based Ananas Anam. Handles will be produced in Lexcell, made with Yulex, a plant-based neoprene alternative developed by US company Euphoam.

The bag contains a compact stack of cylindrical, tiered, bento-style food boxes. These slick, ribbed, dishwasher-proof dishes – including a pizza box – will be composed of a bioplastic designed by Berlin-based Paula Nerlich using by-products from the chocolate production industry, and can be arranged to suit quantity requirements. The containers stack, meaning fewer lids are required, and a smaller amount of mycelium insulators, which will be created by Tŷ Syml, an experimental design studio based in Cardiff, from industrial waste. The team also selected material designer Margarita Talep, who will create an algae-based alternative to single-use plastics (such as cling film) to prevent leaks and spills and keep food fresh.

This closed-loop system applies not only to the materials, but to the entire takeaway process. Once customers have nished with their packaging, it can be washed and returned to the food provider for a second, industrial, food-safe clean before being looped back into the system.

But circularity presents its own set of challenges in the wake of Covid-19 and, for the foreseeable future, hygiene and safety will top the food sector agenda. Though this project was conceived before the pandemic took hold, PriestmanGoode has focused on how to adapt its project to the new reality without losing sight of the core goal. The team have been in conversations about creating planet-friendly antimicrobial coatings to apply to materials to enhance safety. 'We cannot focus on hygiene at the expense of the environment; the two things have to go hand in hand,' says Rowan.

'Zero' also brings a solution to the historically less-than-sightly takeaway packaging aesthetic. 'This was about creating something that felt more like dishes you have in a restaurant and can use to display food,' says Rowan. 'Something that can contribute to a sense of occasion, that is beautiful, practical and sustainable.

But aesthetics alone aren't enough to re-think a single-use plastic culture. Rewards and penalties – the carrot and the stick – could be vital to success, recent history has proved. Think the reusable cups' discount at major coffee chains, exchanging plastic bottles for travel credit on the Rome Metro or even the 5p (and subsequently 10p) plastic bag charge brought into England in 2015, which reduced plastic bag consumption by 90 per-cent. 'It's not just that it's 5p; it's the guilt. It's the mindset of being penalised for something,' says Rowan.

Incentives are built into the 'Zero' concept. Customers will pay a 'sustainability deposit' upon ordering food, which will be reimbursed once containers are returned to the delivery service. There will be a reward scheme – such as discounts on future orders – for those returning packaging. 'One of the drivers of this project was looking at the monetary value of recycling culture in European countries. That's a system that has worked well in incentivising people to think about the way they dispose of or reuse things,' says Rowan.

There is no doubt that the takeaway food delivery sector needs to wrap its mind, and packaging, around a new system. A meal may take 30 minutes to arrive, but the plastic it includes may take up to 1,000 years to disappear. A circular concept like 'Zero' may just be an answer for takeaway food deliveries and beyond. It's a chance to call last orders on an industry whose plastic use is nearing its expiry date, and offer a formula its users will want to bring to the table.
PriestmanGoode's vision for the alternative food delivery bag and re-usable containers
1 - Bag Lid
In Piñatex, by Ananas Anam
Ethical entrepreneur and Ananas Anam founder Dr Carmen Hijosa developed this natural, non-woven substrate made from an existing by-product of pineapple agriculture – pineapple leaf fibres. Piñatex, which has already been used widely in the fashion industry, not only provides a viable, pliable, breathable and water-resistant alternative to leather, but also offers a second stream of income for those working in pineapple agriculture.
2 - Handles for food containers and bag
In Lexcell, made with Yulex, by Euphoam
alternative to environmentally hostile neoprene, Lexcell is a high-performing, plant-based material, often used for sports items, from yoga mats to wetsuits. The closed-cell foam – created by purifying natural rubber in a process called Yulex – is laminated in fabrics made from recycled yarn using water-based adhesive.
3 - Bag structure
In Nuatan, by Crafting Plastics Studio
To create its oil-free bioplastic, interdisciplinary designers Crafting Plastics Studio, based between Berlin and Bratislava, collaborated with the Slovak University of Technology and research company Panara. Nuatan, as the material is called, can withstand temperatures of more than 100°C, is highly durable and can fully biodegrade in industrial compost with no microplastic residue.
4 - Food container structure
In Cocoa_001, by Paula Nerlich
Using circular design principles, Berlin-based designer Paula Nerlich demonstrates how food production surplus can be used as a resource for new products. Her Cocoa_001 bioplastic is created with vegan and biodegradable materials, including 50 per cent from industrial chocolate production waste, and is water-repellent and washable. For this project, Nerlich has also explored using other food production waste, such as potato peel and avocado seeds.
5 - Insulation
In Mycelium, by Tŷ Sym
This experimental Cardiff-based design studio seeks responsible solutions to ever-increasing packaging waste. Created using the root system of mushrooms combined with waste such as wood chips, brewers' spent grain, textiles and paper, its mycelium is a strong, lightweight, 100 per cent natural, recyclable and fully compostable material. For this project, the studio is developing a mycelium alternative to Styrofoam, with thermal properties.
6 - Cling film
In Desintegra.me, by Margarita Talep
The Chile-based designer has created an alternative to single-use plastics using agar, a polysaccharide extracted from red algae. Using an all-natural composite including extracts from the skin of discarded fruit and vegetables, the material can be tailored to create both rigid and elastic structures. It takes three to four months to degrade, without the need for industrial composting. Here, it will be used like cling film, pressed between containers to keep food fresh.
INFORMATION
priestmangoode.com
ananas-anam.com
euphoam.com
yulex.com
craftingplastics.com
paulanerlich.com
tysyml.co.uk
margaritatalep.com
Harriet Lloyd-Smith is the Arts Editor of Wallpaper*, responsible for the art pages across digital and print, including profiles, exhibition reviews, and contemporary art collaborations. She started at Wallpaper* in 2017 and has written for leading contemporary art publications, auction houses and arts charities, and lectured on review writing and art journalism. When she's not writing about art, she's making her own.
With contributions from