The sustainable farming innovator delivering to London homes and restaurants
Sustainable farming innovator Crate to Plate is pioneering fresh produce in London with the support of Michelin-starred restaurant Hide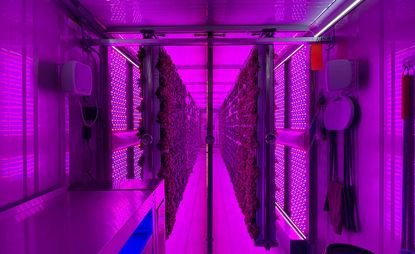 (Image credit: Courtesy of Hide)
Crate to Plate founder Sebastian Sainsbury's sustainable farming initiative is part of an aspiration to populate the world with '15-minute cities', or metropolises where everyone has access to fresh produce within 15 minutes from their home.
It is a welcomed proposal for any urbanite who has gone into their local grocery store only to find a selection of bruised and browned fruit and vegetables. But where, within the polluted, densely built confines of many cities, would anything verdant and appetising grow?
Sainsbury's solution is ingenious. In shipping container-like spaces around London, he is growing a variety of lettuces, leafy greens and herbs using hydroponics, or a method of growing plants without soil, instead using mineral nutrient solutions in water. The plants are grown vertically to maximise the space of the narrow containers, with each 40ft container producing as much as an acre or more of farmland while using 95 per cent less water. The quality of the lettuce and herbs is enhanced through a specially designed temperature, humidity, LED lighting, and water delivery system.
Speaking about why he began this foray into sustainable farming, Sainsbury says, 'There are two forces driving this transition in how people, especially in cities, eat. First, consumers care more and more about where their food comes from, demanding that it is fresher, more nutritious, and sustainably produced.'
'And second, food supply chains are not set up to deliver this. Food comes from across the world, and dramatic climate changes are making this production less reliable. Our produce – grown locally in controlled (urban) environments – directly addresses these challenges.'
The fact that Crate to Plate provides produce to London's Michelin-starred restaurant Hide is proof that this unconventional approach to farming only enhances the flavour of its output.
Says Hide founder Ollie Dabbous, 'Quite simply, it is brilliant produce grown by a brilliant team. Verdant, delicious leaves harvested just a few miles away, delivered daily, with virtually no packaging. They deserve to be celebrated and the more people that hear about them and use them, the better!'
Dishes at Hide made from Crate to Plate ingredients include a savoury glazed Highland Wagyu with wasabi rocket; London lettuce with apple and crème fraiche dressing; and London burrata and basil pesto with pickled figs & red fruits.
We recommend heading to Hide to try it out for yourself or, if you live in the London area, purchasing Crate to Plate's £6 Lettuce Box and selection of mixed herbs.
INFORMATION
Receive our daily digest of inspiration, escapism and design stories from around the world direct to your inbox