Magic mushrooms: the simple ingredient for revitalised health
From culinary delights to high-end skincare, the mushroom is experiencing a wellness renaissance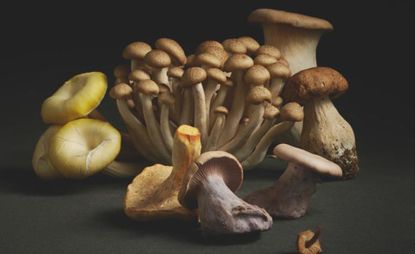 (Image credit: Gustav Almestal)
'I have come to the conclusion that much can be learned about music by devoting oneself to the mushroom,' says John Cage in his book A Mycological Foray - Variations on Mushrooms. The experimental composer was not alone in his belief that humble fungi are, in fact, a treasure trove of unexpected revelations. Chefs, skincare experts, and artists alike are harvesting the various benefits of the 'shroom for their own creations.
Recent studies have shown that the fungus is not just a flavoursome addition to the classic ramen or stroganoff, but also a bountiful source of health benefits. A daily dosage is said to ensure your immune system stays strong, your joints stay healthy and your blood sugar remains balanced.

In today's lockdown living, keeping anxiety levels at bay is paramount, and these fleshy fungi are also believed to reduce stress levels and improve mental clarity.
For inspiration on how to work these button-topped superfoods into your diet, take a page from the Campana Brothers, whose contribution to our May 2018 Artists Palate features a mushroom and beef take on a Brazilian culinary staple. Or, serve up some mushroom dischi volanti as seen in our December 2018 Entertaining Special.

Beauty experts are also utilising the unique benefits of shrooms. 'When researching ingredients to combat stress, I was so excited to discover the wide range of amazing benefits mushrooms have in the skin,' says Dr.Dennis Gross, who has incorporated four different types of mushrooms into his eponymous skincare line. 'They neutralise free radicals, reduce inflammation, increase blood circulation, increase firmness and elasticity, have hydration properties and even increase the body's production of amino acids.'
Likewise, natural skincare pioneer Tata Harper uses tremella mushrooms in her own line of products. The super absorbent Asain shroom can hold 1,000 times its weight in water and forms a flexible film on the skin to help keep the barrier intact.

Other brands like HyperSkin use the fungi-derived kojic acid to naturally reduce skin pigmentation, while Shiseido uses the prized Japanese snow mushroom in its Waso products for plump, dewy complexions.
The mushroom will no doubt become an ever more popular ingredient, as our growing fixation on health and wellbeing corresponds to a greater interest in natural solutions. Whether garnishing your plate or refreshing your face, the shroom is here to stay.
Mary Cleary is the Beauty & Grooming Editor of Wallpaper*. Having been with the brand since 2017, she became an editor in February 2020 with the launch of the brand's new beauty & grooming channel. Her work seeks to offer a new perspective on beauty, focusing on the pioneering personalities, product designs, and transformative trends within the industry.