What is the future of beauty post-Covid?
What will be the eye candy of tomorrow? In our March 2021 Style Issue dedicated Beauty & Grooming pages, we look to beauty in a brave new world, favouring unexpected colour combinations and avant-garde application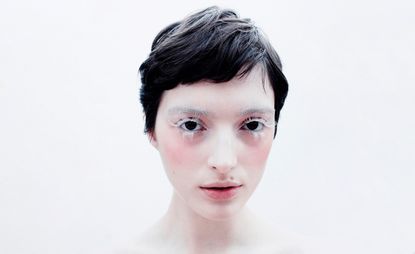 (Image credit: Chieska Fortune Smith)
The ubiquity of mask-wearing and increased time indoors has created a new cosmetic landscape, rife with experimentation and playful manifestations of colour and form. Here, we take a future-facing look at the role of beauty in our post-pandemic world.

To help us execute this vision, we turn to the latest launches from some of the biggest names in beauty, including Hermès, Chanel, and Gucci. Expressed through the make-up artistry of Kristina Ralph Andrews and hair by Teiji Utsumi, these looks are captured through the lens of Chieska Fortune Smith for a singular portrayal of contemporary cosmetics.
Byredo
The launch of Byredo's make-up line last year saw the brand's idiosyncratic ethos translated into a line of cosmetics that favoured unexpected colour combinations and avant-garde application. Byredo's latest product is an 18-colour eyeshadow palette that includes some of its most exuberant shades. We've combined a selection of those colours for a new take on the graphic 1980s style, creating a thoroughly modern cosmetic look at a time when the eyes are of the utmost importance.
byredo.com (opens in new tab)
Chanel
Blanched features are highlighted by the subtle crimson hues of Chanel's S/S21 offering. The brand's global creative make-up and colour director Lucia Pica displays her mastery of the colour red with a range that plays on the natural textures and tones of flushed skin. The collection's limited-edition Fleurs de Printemps blush creates a subtle tint of life among ultra-matte, white-out features.
chanel.com (opens in new tab)
Armani
The geometric lines and bold precision of Armani couture take cosmetic form with Eye Tint, the brand's liquid eyeshadow. The futuristic, graphic swirls of metallic ultramarine are echoed in the delicate curls of the hair, which are evocative of the up-dos seen on ancient Roman busts. The end result is a look that mixes elements of past and future for beauty that is entirely of the present.
armanibeauty.com (opens in new tab)
Gucci
Here, the dewy texture of healthy skin is amplified. First, Gucci's Fluide de Beauté foundation creates a flawless, even-toned base. This is then coated in the brand's ultrashiny gel face gloss for an exaggerated interpretation of clean skin, before being finished off with a matte nude lipstick for extra emphasis. It's an aesthetic that suits Gucci's characteristically bold take on beauty.
gucci.com (opens in new tab)
Tom Ford
The high-octane glamour of Tom Ford is given a painterly edge in this rendering of the brand's most flamboyant eye colour shades. The loose application of olive and burnt orange is offset by the dramatic linearity of the eyebrow, creating eye make-up that's as bold as the graphic geometries of the previous images.
tomford.com (opens in new tab)
Hermès
Hermès has added three vibrant pink shades to its Rouge Hermès lipstick range, which comes in refillable tubes designed by Pierre Hardy. We have playfully inverted the refinement of the lipsticks with a slightly smudged application, a sort of tongue-in-cheek interpretation of the often-unintended appearance of lip make-up under masks.
hermes.com (opens in new tab)
INFORMATION
A version of this article originally appeared in the March 2021 issue of Wallpaper* (W*263)
Mary Cleary is the Beauty & Grooming Editor of Wallpaper*. Having been with the brand since 2017, she became an editor in February 2020 with the launch of the brand's new beauty & grooming channel. Her work seeks to offer a new perspective on beauty, focusing on the pioneering personalities, product designs, and transformative trends within the industry.
With contributions from