Through the lens of Chieska Fortune Smith
Through the lens is our monthly series that shines a light on a photographer and Wallpaper* contributor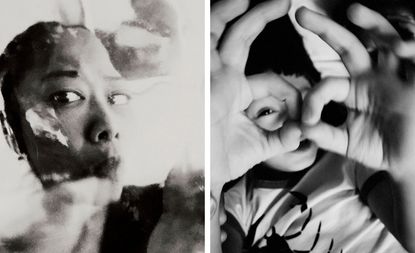 (Image credit: Chieska Fortune Smith)
Through the lens is our monthly series that shines a light on a photographer and Wallpaper* contributor
Born in Baltimore, Chieska Fortune Smith now lives in London. After studying international studies and Japanese art history at the University of Maryland, Fortune Smith then lived in Japan for eight years where she experimented with street photography and began to record close personal relationships between family and friends. For our March Style Issue, Fortune Smith brought her signature intense aesthetic to Wallpaper's first Beauty & Grooming shoot, which imagines the future of beauty in our post-Covid-19 world.
W*: Describe your style and process.
Chieska Fortune Smith: My work is rooted in classical timelessness and stories. When looking at one of my photos, I don't necessarily want you to be able to place when it was taken. This is influenced by my favourite era of photography; old family photos and vintage found imagery from the 20th century. I also like to create something that makes you linger, delve into the details of the image. When working with a subject, my first inclination is to make them feel comfortable because I believe that makes all the difference. I tend to wait for the person to fall into a pose, and simply just follow with my lens. It's a wonderful adventure that way and the final image is beautiful, more often than not.
W*: Tell us about how you approached the Wallpaper* shoot?
CFS: It was relaxed and so fun, we had a great little team. There was a lot of trust and communication from the start which was amazing, so the shoot happened very organically. As I mentioned, I often followed the models, so it was a joint effort of direction. The images are probably the most modern that I have done recently, but I still believe that they lend to my aesthetic of strong, feminine, raw portraits.
RELATED STORY
W*: What do you think is the most interesting thing happening in photography now?
CFS: There has been an unspoken barrier between the fashion industry and BIPOC, specifically photographers. 2020 was massive for shining a light on the wealth of talent that is to be discovered, especially amongst Black, Asian, and Minority creatives. There is definitely more of an active effort to seek these people out, which is refreshing and hopeful. To have Edward Enninful at the head of Vogue, then Ib Kamara and Lynette Nylander as the new heads of Dazed is very exciting. It's a necessary and exciting push upward for Black and Brown people.
W*: What's on your radar?
CFS: Right now, I'm really enjoying and combing through some of the books I received for Christmas, including Yasushiro Ishimoto's A Tale of Two Cities, an amazing book of Harry Gruyaert's colour photos and Cecil Beaton's Theatre of War. They are perfect inspirations and fuel for what I'm striving for with my own images.
W* What's next for you this year?
CFS: With the current global situation, in all honesty, I'm not sure. I will just keep working on commissions and projects that come my way and follow where that takes me.
INFORMATION
chieskafortunesmith.co.uk (opens in new tab)
Sophie is currently Photography Editor at Wallpaper*. Sophie joined the team following the completion of her photography degree in 2018, and works with Photography Director Holly Hay, where she shoots, commissions, produces, and writes on photography. Alongside this, she continues her art practice as a photographer, for which she was recently nominated for the Foam Paul Huf Award. And in recognition of her work to date, Sophie was nominated by the British Journal of Photography for the Futures photography platform in 2021.
With contributions from