Pierre Hardy brings perfect harmony to Hermès' beauty debut
With Rouge Hermès, the fashion house makes its first foray into beauty, to be followed by a full make-up range by 2023, and a skincare line after that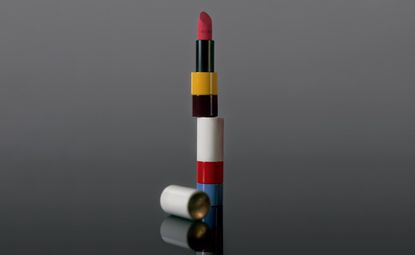 (Image credit: TBC)
Wallpaper* Newsletter
Receive our daily digest of inspiration, escapism and design stories from around the world direct to your inbox
Thank you for signing up to Wallpaper. You will receive a verification email shortly.
There was a problem. Please refresh the page and try again.
Pierre Hardy gently brushes his thumb over a gold-coloured indent at the top of a new Hermès lipstick tube. It is engraved with the house's ornate ex-libris emblem chosen by Émile-Maurice Hermès in 1923. 'The top curves inward a bit like a fingerprint, giving it a little softness,' says Hardy, who has designed shoes and jewellery for Hermès for 30 years. 'It's an anticipation of the gesture to come.'

With its brand-new beauty line, Hermès seeks to turn the task of applying make-up into a pleasurable ritual. Since its beginnings as a harness-maker, in 1837, Hermès has expanded its activities to more than a dozen métiers, everything from saddles to scarves. But the house is a latecomer to beauty, presenting its first make-up offering this March. It starts with a lipstick collection, Rouge Hermès, to be followed by a full make-up range by 2023, and a skincare line after that.

The lipstick results from three years of R&D under Hermès' artistic director Pierre-Alexis Dumas. 'Our first approach to beauty is completely consistent with what Hermès is about,' he says. 'It's first of all sensual; about revealing, as opposed to masking. It's about enhancing what is naturally there, and creating elegance and comfort and pleasure in being the best version of yourself.' Dumas' design team includes Jérôme Touron, creative director of Hermès Beauty (and formerly at Dior and Chanel), hired specifically to develop the make-up. Bali Barret, artistic director of Hermès Women's Universe, serves as a link to the house's silks and ready-to-wear, while Hardy created the collection's tubes and packaging.
Hardy gave us an early peek at the collection at Hermès' HQ in Paris. A coffee table was covered with a tiny forest of lipsticks in a rainbow of lush reds, pinks and oranges – the 24 basic colours of the permanent range (the number references Hermès' historic address, 24 rue du Faubourg Saint-Honoré) – plus a lip balm and a lip shine. The colours, ten matt and 14 satin, come from the house's archives (it boasts 75,000 shades of silk and 900 more in leather). Some are brand classics, as recognisable to Hermès aficionados as psalms are to fervent Catholics. 'Rouge H' is a rich red that dates back to 1925, 'Rouge Casaque' is a vibrant red that fires up many an online discussion board, and 'Orange Boîte' is the citrusy shade that makes hearts skip a beat when it comes in the shape of a gift box.

The lipsticks' silky feel is inspired by the house's buttery leathers – Doblis suede for matt and box calfskin for satin. Hermès has been creating fragrances since 1951, and the lipsticks have a subtle scent, conceived by in-house perfumer Christine Nagel, with notes of arnica, sandalwood and angelica. Hermès even tended to the products' sound; Hardy demonstrates the soft 'click' that a magnetised tube makes when shut.
Prior to this, Hardy had no experience with beauty products, and neither, really, did Hermès. He says there were advantages in approaching the design with a blank slate. 'I thought, let's act as though nothing else existed. I will try to create the quintessence of an object that is feminine, pure, simple. One that is immediately desirable but will stand the test of time, and that can convey the Hermès style: luxury and sobriety.'

The resulting tubes are colour-block cylinders made of metal that is lacquered, brushed or polished. 'Metal is an important material at Hermès,' says Hardy. 'It is used in harnesses, saddlery, buckles and handbags.' Each lipstick tube is made of 15 different elements by partner workshops in France and Italy. Refillable, they are meant to be kept as precious objects, like jewels.

The modern graphic design of the tubes contrasts with the classic ex-libris on the cap. The top half of the tube is white, or what Hardy calls 'the image of purity and simplicity'. Every six months, three limited-edition lipstick colours will join the permanent collection. Hardy will play around more freely with the colour blocks of these tubes, finding 'harmonies' with each individual shade. For the first edition, an intense purple lipstick comes in a tube with bands of red and cornflower blue, while a coral shade is offset by emerald green. The overall effect is very Memphis Group.

Each Rouge Hermès lipstick comes with a canvas pouch, and is sold in a small Hermès box, wrapped in recycled paper, with a Lucio Fontana-like slit down the middle offering a glimpse of that delectable orange. The house's leather atelier has created objects around the collection, such as a leather case and a mirror.

The new line also features a transparent lip pencil and a lip brush, the lacquered wooden handle designed by Hardy. He says, 'I studied visual arts, and these materials – brushes, pencils – resemble what we used back then. It is interesting to approach the question of femininity like a painter: what can we offer a woman so she can be an artist of her own beauty?'
INFORMATION
Rouge Hermès is available from 4 March
Receive our daily digest of inspiration, escapism and design stories from around the world direct to your inbox