Sarah Douglas rewinds a very different year of design at Wallpaper*
Wallpaper's Editor-in-Chief looks back on her favourite editorial moments from 2020 – a year when the design world could have stood still, but kept turning, powered by its incredible community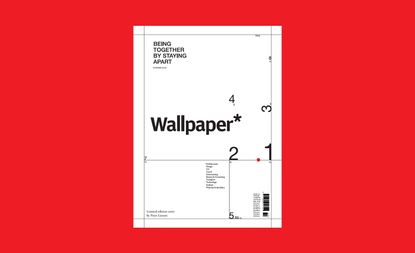 (Image credit: TBC)
2020 will go down as one of the most challenging, turbulent, and pivotal years in modern history, a year where we retreated into our bubbles as Covid-19 swept across the world. There were protests that compelled the world to address longstanding racial injustice, new warning signs that spurred us to fight the climate emergency, a realisation that the shifting plates of geo-politics will potentially transform how we live and work together for many years to come.

January started full of optimism with a packed calendar of design fairs, fashion weeks, exhibition openings, but with murmurs growing of the impending crisis. In February we were still all jetting off to Milan Fashion week as we were used to doing every year, unmasked, and looking forward to Salone del Mobile, however by the end of February our colleagues and friends in Italy were moving into quarantine and full lockdown by the beginning of March.
It took a while to comprehend what was happening, like everyone we coordinated our teams, but what initially felt like a precaution was suddenly a full-blown reality. It was a challenge making a magazine and website remotely – without the face-to-face discourse – but somehow we managed, partly out of endurance, but also by an overwhelming sense of responsibility to you – the reader, the designer, the creator, the maker, the brand, the educator and the next generation. I have never experienced such a united community force in the face of such adversity. There were of course harsh realities, but inspiring conversations and new ways of thinking quickly emerged, as the design community regrouped, re-imagined, and responded.
Here are the editorial highlights of our year:
Wallpaper* Poster Campaign
More than 1,000 readers from across the global creative community responded to our call for graphic innovation to reflect on the Covid-19 crisis and spread messages of hope. In our Summer 2020 Issue, available to download for free here, we presented a small edit of our favourite posters, including more from Piero Lissoni on the issue's limited-edition subscriber cover. Tacked to this virtual poster wall, which we first published in June, discover an extended edit of 50 outstanding posters. The full, 1,000 strong digital response can be found at #WallpaperPosterCampaign on Instagram. Thank you to everyone who got involved!
Wallpaper* World View
We launched the World View series here on wallpaper.com just as the first wave of lockdowns wrought havoc in the design industry and confined us all to our homes. Our idea was simple: to investigate new ways of working in the era of physical isolation, when we all need a sense of camaraderie. So we tapped into our global contributor network to showcase how designers in each of their territories are meeting challenges – social distancing, supply chain disruptions, show cancellations and the like – with creativity, resilience and generosity. We told stories of a Mexican fashion designer who fabricated 50,000 masks for essential workers, a Californian manufacturer of fine art pieces who turned to making front panels for ventilators, and a Danish furniture manufacturer who pledged 30% of every sale to support the country's independent restaurants. World View shared a message of hope in difficult times, and made us prouder than ever of being part of this industry.
Wallpaper* Re-Made launches
An evolution of a decade of Wallpaper* Handmade, Wallpaper* Re-Made is a new platform that champions design for a better world. We're bringing together the best and brightest creative and scientific minds, makers and manufacturers, to imagine ways of making and doing that are kinder, smarter, cleaner, and less exploitative of people and resources. Though the pandemic threw a spanner in our initial plans to put on a physical exhibition, our intrepid band of collaborators soldiered on, creating 23 design projects-in-progress ranging from planet-friendlier takeaway food packaging, to an e-trike and trailer made from low-carbon-footprint aluminium, to a colour therapy lamp made from shellfish waste. Re-Made strengthened our belief in design as a driving force for beter principles and healthier behaviours, and we look forward to following our design projects to fruition – perhaps even pursuing new ones – as we head into 2021.
Design Emergency Guest Edits the October issue
Design Emergency – an Instagram Live series from Paola Antonelli and Alice Rawsthorn that explores design's role during and after Covid-19 – was a ray of light and optimism in a dreadful pandemic, and so it was a no-brainer that we invited them to guest edit our October issue. Their 39-page section included profiles of one of the medical illustrators behind the spiky blob recognised worldwide as Covid-19, an Afghan tech entrepreneur who empowered teenage girls to design emergency ventilators, the co-founder of the social justice-minded MASS Design Group, and a pair of Pakistani telemedicine pioneers, among others. Alongside, we asked the consistently brilliant Studio Frith to guest art direct, and commissioned legendary photographer Brigitte Lacombe for a portfolio of portraits, shot over Zoom. The result is an incredibly inspiring document of the visionaries who have steered us through a time of crisis, and are rebuilding our lives for the better.
Wallpaper* celebrates Earth Day with Doug Aitken
We invited artist Doug Aitken to take over our Instagram feed on the 50th anniversary of Earth Day, on 22 April. 'Maybe for a minute we can think about how we move forward, how we use creativity to move into the future,' he said, introducing a series of his works that explore our connection to our planet. A video installation envisioning the Earth's interior, originally created for the National Museum of Qatar, was followed by his mirrored house in the snowscapes of Gstaad, his underwater pavilions off the Californian coast, and a forest of 365 chimes swaying and sounding in Sonoma's Donum Estate. 'We have the possibility to really retool how we create – the materials we use, our processes, the places and locations that we seek out, and how we structure information,' he urged.
Virgil Abloh cuts the Wallpaper* cover in half
Virgil Abloh took up our invitation to design the limited-edition cover of our September issue with characteristic daring, placing a simple dotted black line and scissor graphic on a matt white cover space – an invitation for the reader to cut the magazine in half. 'Cutting the physical object makes the magazine come alive and reinforces the concept that the magazine's media may be physical, but it also occupies a space figuratively and literally,' he explained in his cover proposal. As an added element of this cover takeover, he personally cut and autographed 184 copies of his cover to raise money for his scholarship fund, which supports fashion education for Black students of promise. Radical, fun and for a good cause, this is one of my favourite Wallpaper* covers to date.
Wallpaper* introduces a new nexus of creative architectural talent series, starting in London
Architecture is adapting to a changing world, and a new wave of young practices in London emerges. They are armed with bold ideas, digital tools, new studio set ups and innovative designs and approaches. In our Next Generation series, our brilliant architecture editor Ellie Stathaki shines a light on the emerging creative scene in London, through an ongoing series of profiles.
Wallpaper* offers its print magazine free to download, as a show of support
In March, the world was dealing with its new separation-filled reality, as lockdowns of varying degrees swept the globe. In a showcase of support – both to the design industry we love, and our valued readers – we decided to offer our printed magazine for free, as a digital download. We have continued this throughout the year, as each new issue goes on sale, and plan to do so until life eases tentatively back into normality. Tens of thousands of you, from all corners of the world, have made use of this offer and we are so pleased that our magazine has continued to inspire, and offer some form of escapism, in both its print and digital forms.
Wallpaper* launches Discovered to support the next generation of designers
Alongside our longstanding partners American Hardwood Export Council (AHEC), we announced Wallpaper* Discovered, a project that brings together 20 emerging designers from 16 countries. Each of them is creating a new object or piece of furniture, responding to themes of touch, reflection and strength. Their work will be produced by one of AHEC's manufacturing partners and then shown at London's Design Museum next June. Discovered is our initiative to ensure that the budding talents of 2020 – full of ambition, purpose and promise but currently deprived of opportunity – would not become a lost generation. By giving these young people a platform, and bringing on board a network of established designers, makers and design entrepreneurs to offer insight and advice, ensuring we protect and nurture tomorrow's creative leaders.
INFORMATION
Subcribe to Wallpaper* (opens in new tab)