Portable handwashing station wins Life-Enhancer of the Year: Wallpaper* Design Awards 2021
Responding swiftly to a public health emergency, Lagos designer Nifemi Marcus-Bello devised a portable, modular handwashing station that draws on local materials and manufacturing expertise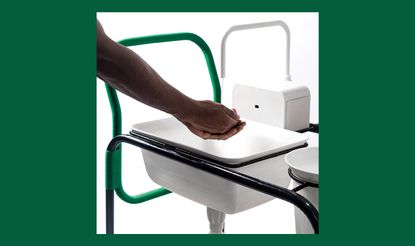 (Image credit: Dennis Osadebe)
Wallpaper* Newsletter
Receive our daily digest of inspiration, escapism and design stories from around the world direct to your inbox
Thank you for signing up to Wallpaper. You will receive a verification email shortly.
There was a problem. Please refresh the page and try again.
---
WINNER
---
'For the community by the community' portable handwashing station, by NMBello Studio
When the first wave of the pandemic compelled countries around the world to shut their borders, Nifemi Marcus-Bello was in Kigali, Rwanda, designing furniture for the Rwanda Institute of Conservation Agriculture as a consultant with MASS Design Group. As Marcus-Bello caught one of the last flights back to Lagos to be with his family, he pondered how Nigeria and his community would cope with this public health emergency.
'I knew design could play a crucial role, so when I got to Lagos, I spoke to a few friends who worked in the medical sector, and asked how we as designers could help,' he recalls.
One such friend was Dr Mambidzeni Madzivire, founder of a local startup that was advising a number of hospitals in Lagos on infection control. 'We spoke to Nigerian doctors and nurses, both local and in the diaspora, and found out that those in Lagos face a very different reality in terms of architecture, infrastructure, budget and resources,' Marcus-Bello continues.
Medical professionals told them it was difficult to wash their hands properly at overburdened healthcare facilities. Moving from one patient to the next very quickly left little time to dash back to the nearest available sink. Marcus-Bello's solution was to create a portable and modular handwashing station, made from easily accessible materials, in collaboration with local artisans, and making use of a grant received from Samuel Ross of A-Cold-Wall* and artist Daniel Arsham.
The station is built around a frame of tubular steel, the same material used to make local hospital beds, so it can be easily replicated by any local welder. A sink, bin, and the casing for the pump and touch-free sensor have been created by local ceramicists (recent graduates from the Yaba School of Technology in Lagos), though Marcus-Bello hopes to partner with a local recyclable plastic company on future iterations. Further elements – caster wheels and 25-litre water kegs (to hold clean water and used water respectively) – are readily available, even amid a pandemic.
The use of kegs, in particular, was inspired by rural water carriers of Nigeria ('meruwas') who wheel carts full of clean water kegs to communities without a stable water supply. 'There is nostalgia and familiarity around the design that allows the user to decipher it without needing much explanation,' says Marcus-Bello.
Relying on a battery-powered micro submersible pump that can run for 48 hours on a two-hour charge, Marcus-Bello's handwashing station can be pushed from ward to ward, a simple yet effective solution that allows medical practitioners to clean their hands – in spite of busy schedules and haphazard hospital layouts. His team has already produced two prototypes which are currently in use, with another six to come at the beginning of 2021.
Their goal is to upscale their operations, to popularise a product that draws on local materials and artisanship to facilitate public health – as the title of the project states, 'for the community by the community'.
Marcus-Bello's clever and conscientious design won over the judges of the 2021 Wallpaper* Design Awards, who unanimously named it our Life-Enhancer of the Year. Our reigning Designer of the Year, Sabine Marcelis, commented that it's 'a necessity taken for granted by so many of us, brought to a community in need. Design at its best is about solving problems like these to save lives and support communities.'
Adds Ivy Ross, vice president of hardware at Google: 'We should be creating more designs that manifest this way in the world.'
Lead Designer: Nifemi Marcus-Bello
Assistant Designer: Jaiye Oduyoye
Design Research: Dr. Mambi Madzivire (PhD)
Welder: Fatai Adisa
Weaver: Kofi Narh
Electrical Engineer: Samson Ojetade
Ceramicist: Segun Adetulo
Artist: Dennis Osadebe
---
SHORTLIST
---
These are the innovations that demonstrate design's pivotal role in overcoming the challenges of our time and helping us live more happily, healthily and sustainably, from from sanitising light sources to a 3D printer of beverages to a home office that expands and disappears at the click of a button
Integralis, by Artemide
The new Integralis technology, developed by Italian lighting manufacturer Artemide, offers an aesthetically pleasing alternative to the often unsightly sanitation lamps that are now a staple of offices and other public spaces. It combines a white light (with specific frequencies that inhibit the growth of bacteria, fungi and mold) with UV rays that can eliminate microorganisms, including viruses. The latter is emitted at intervals which are determined by a sensor – while a space is unoccupied, the UV rays become more intense, and vice versa to mitigate the risks of personal UV exposure.

Built as an open platform, the technology can be applied to existing lighting products, and activated via a dedicated app. While it can be integrated into all of Artemide's designs, it is particularly effective when paired with the Ernesto Gismondi-designed Discovery Space (pictured). A semi-transparent panel that can be installed vertically or horizontally, Discovery Space helps define the environment while offering a safe distancing solution.

artemide.com
Ösa Lite electric bike, by Cake
From Swedish electric motorcycle manufacturer Cake comes a versatile commuter moped with off-road capabilities. Ösa Lite is built around a utilitarian aluminium frame, with fairings conspicuously absent. Supporting its seat is a large grey bar – which the company refers to as a 'workbench' – where baskets, racks, toddler seats, side-racks and an additional passenger seat can be clamped on to create over 1,000 different configurations. Functional, lightweight and with a range of up to 92km, it is equally suited to urban commuting, last-mile deliveries and cross-country sojourns.

A tubular frame underneath the grey bar cradles the battery, which is likewise modular: the user can swap it out and replace with a fresh one for longer journeys, or use its integrated outlets to power all sorts of devices from a computer, to speakers and a projector for an outdoor movie screening, to power tools to build a cabin in the woods. Explains Cake founder Stefan Ytterborn, 'Whatever comes to mind and whenever, the access to power can bring traditional pursuits to new, virgin places and create entirely new experiences.'

ridecake.com; @ridecake
Pocket Office, by Ori
For city dwellers whose apartments cannot accommodate a fully-fledged home office, the Pocket Office by robotic furniture systems company Ori offers an elegant space-saving solution. The setup comprises two shelving modules, laid out in parallel along a discreet track system. During the day, the space between the modules can be expanded with the touch of a button (or a tap in the Ori smartphone app) to reveal a workspace with desk and chair, power outlets, a nook for computer screens, and generous shelving. Further features include in-built, dimmable LED lighting and sound-dampening cork and fabric panels, to create the optimal conditions for video calls.

By night, the Pocket Office can be easily closed up, leaving more room for the user to enjoy the entertainment centre (accommodating a TV and further display shelves) on the exterior of one of the modules. Beyond making clever use of limited square footage, the Pocket Office also facilitates mental separation between work and play, ensuring that the user can properly relax at the end of the day.

oriliving.com; @ori_living
Microbrewery and water filtration system, by Wayout
The flagship product for Swedish startup Wayout, this microfactory is marketed as 'a beverage 3D printer'. Each standalone unit, measuring 5.8 x 2.3 x 2.4m, is equipped with a full suite of water treatment facilities, powered by solar panels so it can be used in locations with unreliable electrical supply. It can take any source water (whether from a tap, borehole, river or ocean), purify it via reverse osmosis, UV filtering and desalination, to generate pure H2O. The water is then remineralised and chilled for serving. Each month, it produces 70,000L of drinking water, eliminating the need for 250,000 disposable plastic bottles and preventing eight tons of carbon dioxide from being released into the atmosphere.

Beyond still and sparkling water, the microfactory can also accommodate personalised ingredients to create craft beers, ciders and soft drinks (soft drinks are instant, beers and ciders take about a week per 500L batch before they are ready). A smartphone app allows the user to order ingredients, operate the brewery, monitor performance, and even launch auto cleaning. With the first unit already installed at an eco-retreat in Tanzania's Serengeti National Park, this microfactory promises to launch a revolution in localised beverage production.

wayoutintl.com, @wayoutintl
Receive our daily digest of inspiration, escapism and design stories from around the world direct to your inbox
TF Chan is a former editor of Wallpaper* (2020-23), where he was responsible for the monthly print magazine, planning, commissioning, editing and writing long-lead content across all pillars. He also played a leading role in multi-channel editorial franchises, such as Wallpaper's annual Design Awards, Guest Editor takeovers and Next Generation series. He aims to create world-class, visually-driven content while championing diversity, international representation and social impact. TF joined Wallpaper* as an intern in January 2013, and served as its commissioning editor from 2017-20, winning a 30 under 30 New Talent Award from the Professional Publishers' Association. Born and raised in Hong Kong, he holds an undergraduate degree in history from Princeton University.