A solar-powered microbrewery has design-led energy in Sweden
Wayout launches microbrewery and water purifier designed by Bernadotte & Kylberg and No Picnic in Sweden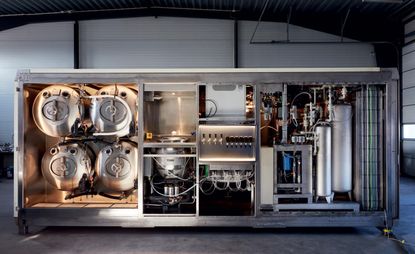 (Image credit: Christopher Hunt)
A revolutionary microfactory akin to a 3D printer for drinks has been created in Sweden. The brainchild of local start-up Wayout, the container-sized structure holds an advanced waterpurification system and microbrewery powered by solar panels. The modules, with customisable exteriors and serving interface designed by Swedish studios Bernadotte & Kylberg and No Picnic, are as compact as possible.
When Wallpaper* visited the assembly plant in Linköping, Wayout was finalising its second microfactory, to be shipped to an eco-retreat in the Serengeti National Park, Tanzania. It's no coincidence that Africa is an early destination – each module has the capacity to provide 70,000 litres of clean drinking water, avoiding up to 200,000 plastic bottles, per month. 'Since we can treat all types of water – even desalinate sea water – the idea is perfect for places with poor water quality,' says Martin Renck, one of Wayout's six partners.
The solar power, meanwhile, overcomes an unreliable electrical supply. User-friendliness is key to the project. Clients pay a subscription to run the microfactory, rather than applying for expensive loans to buy it, and it is controlled via an app. The ingredients are loaded manually, the rest is fully automated: water treatment, beverage mixing, brewing and cleaning. Still or sparkling water and soft drinks can be made instantly, while a simple click starts the brewing process, which takes seven to ten days. Three thousand litres of beer or cider can be stored. Factors from beverage quality to the need for new ingredients can be monitored from the Wayout office in Stockholm.
A separate module has been designed solely for purifying water. One of the first destinations for this is the Hunger Project in Kampala, Uganda, where Wayout will provide clean water and deliver it via a centre that, among other things, works to empower women. 'It's not just a meaningful product, it can change how we relate to the planet,' says Renck. 'Water is something everyone needs.'
INFORMATION