Learn how to curate a simple cheese board with perfect port pairings
The experts at artisan cheesemonger Paxton & Whitfield share tips for curating a simple but sophisticated cheese board, with port and cheese pairings for every taste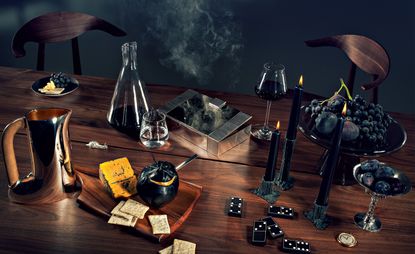 (Image credit: Jean-Pacome Dedieu)
Port and cheese never fail to please. Our guide – informed by leading artisan cheesemonger Paxton & Whitfield – will teach you everything you need to know about curating the perfect cheese board to serve up this classic after-dinner pairing.
Fonseca Siroco port with Lypiatt cheese
This crisp, dry port is made from a blend of white Port grape varieties grown on the higher and cooler vineyards of the Douro Valley in Portugal. Like most traditional ports, Fonseca Siroco is made by foot-treading the grapes but these grapes are allowed to ferment for longer than most other styles of port before it is fortified. The result is a full and fruity port that pairs perfectly with the rich and mousse-like Jersey cows' milk Lypiatt cheese from the Channel Islands.
Fonseca Bin 27 with Manchego Villarejo cheese
Fonseca Bin 27 ports are aged in seasoned oak vats to give them an added smoothness without sacrificing the vibrant fruit character of the grapes. The port's full-bodied palette displays intense notes of blackberry, cassis, cherry and plums, interwoven with elements of spice. Those tart elements pair perfectly with the blanched almonds and roasted hazelnut notes of Manchego cheese.
Fonseca Terra Prima Organic with Cremoso cheese
Fonseca Terra Prima Organic is a pioneer of the relatively young organic port industry. It was only in 2002 that it became possible to produce port made entirely from certified organic grapes, and Fonseca was one of the first to harvest the innovation's potential.
The highly concentrated port has an opulent black fruit nose that pairs perfectly with the bitter edge of Cremoso ewes' milk cheese. This Spanish cheese has a milky and creamy centre that makes it an ideal cheese board alternative for Camembert lovers.
Paxton's 10 Year Old Tawny with Schnebelhorn cheese
Paxton's 'Tawny' port derives its name from its soft tawny brown colour, which results from ten years spent in a wooden cask. The result is a subtler port with delicate wood notes that works best with the intensely rich flavour of Schnebelhorn cheese. Made in Saint Gallen, Switzerland, this rare cheese gets its distinctive taste from milk produced by cattle grazing on high-altitude pastures.
Paxton's Vintage 2000 with Old Groendal cheese
This is the crowning jewel of all ports, with a rich, full-bodied flavour that continues to develop the longer it stays in the bottle. Its big flavours mean it is best suited to blue cheeses and other strong varieties. Paxton & Whitfield recommends a cheese board pairing of Old Groendal, a Belgian cows' milk cheese with a dense texture and Gouda-style taste.
INFORMATION

fonseca.pt (opens in new tab)
paxtonandwhitfield.com (opens in new tab)
Melina Keays is the entertaining director of Wallpaper*. She has been part of the brand since the magazine's launch in 1996, and is responsible for entertaining content across the print and digital platforms, and for Wallpaper's creative agency Bespoke. A native Londoner, Melina takes inspiration from the whole spectrum of art and design – including film, literature, and fashion. Her work for the brand involves curating content, writing, and creative direction – conceiving luxury interior landscapes with a focus on food, drinks, and entertaining in all its forms