Elixirs of life: citrussy new colognes by Astier de Villatte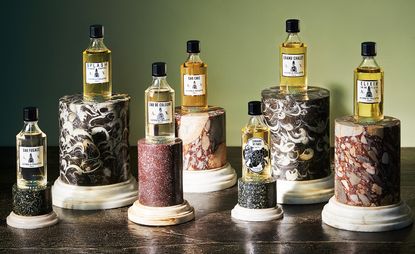 (Image credit: Sophie Delaporte)
The heir of a Parisian ceramic manufacturer from the 18th century, Benoît Astier de Villatte has built, together with Ivan Pericoli, an empire of masterfully crafted, timeless home accessories; in the original boutique at 173 rue St Honoré, one shops for white glazed tableware, titanium cutlery, borosilicate glassware and traditionally printed notebooks.

Informed by travelling and history, Ivan and Benoît added an olfactory layer to the brand in 2008. On display is a vast array of scented candles and incenses that encapsulate off-the-grid world destinations like Namche Bazaar, Alcatraz, Cabourg, Villa Medicis, Marienbad, Kobé or Yakushima.

This spring, Astier de Villatte enhances its collections with colognes designed by legendary perfumers Françoise Caron (star perfumer at Takasago and the visionary behind Hermès' 'Eau d'Orange Verte') and Christophe Raynaud.

'Absolute pleasure, elixir of long life, witch's perfume, these genuine colognes follow the standards of "Aqua Admirabilis", perfume created in the Middle Ages and named after the city of Cologne. The formula is simple: a low concentration of alcohol, a gust of invigorating freshness, essentially based on citrus notes, with no persistent trail,' explains Benoît Astier de Villatte.

Named 'Eau Chic', 'Eau Fugace', 'Grand Chalet' and 'Splash Orange Amère', they vary in style, mixing fresh citrus notes with an array of essences, such as blackcurrant, tarragon, neroli, patchouli, oak moss, musks, grapefruit, black pepper, cumin, linden blossoms, mimosas or blond wood. Their approach unfolds as a modern day variation on colognes.

For Commune de Paris – the rebellious Parisian label – Astier de Villatte and Caron imagined an unpredictable cologne of 1871; opening with an explosion of Sicilian lemons, with rosemary and bergamot, the perfume then shifts to more powdery scents with touches of suave labdanum, benzoin, cedar wood and patchouli – a subversive eau de cologne.

Presented in hand-blown bottles, each fragrance is available in three sizes: 50 ml and 150 ml vaporisers, and 900 ml splash vessels.
The fragrances are designed by legendary perfumers Françoise Caron (star perfumer at Takasago and the visionary behind Hermès' 'Eau d'Orange Verte') and Christophe Raynaud
Benoît Astier de Villatte explains, 'Absolute pleasure, elixir of long life, witch's perfume, these genuine colognes follow the standards of "Aqua Admirabilis", perfume created in the Middle Ages and named after the city of Cologne'
Presented in hand-blown bottles, each fragrance is available in three sizes: 50 ml and 150 ml vaporisers, and 900 ml splash vessels
INFORMATION
From €85. For more information, visit the Atelier de Villatte website (opens in new tab)

Photography: Sophie Delaporte