Acqua di Parma gives a trio of opera inspired scents a triumphant voice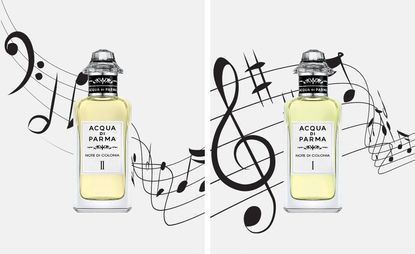 (Image credit: uk.acquadiparma.com)
A centenary is always worth celebrating, and the powers that be behind Acqua di Parma have decided to mark the occasion with three new perfumes, each inspired by the world of opera. The reason? Though these days the company is based in Milan and owned by the luxury conglomerate LVMH, its origins – as its name suggests – are in Parma, the Italian city of opera par excellence.

Each of the three new 'Note di Colonia', as the collection is called, is a reinterpretation of Colonia, the brand's signature cologne (and still its best-seller), first produced in 1916. In a nod to the past, the bottles are quite closely based on the original 1916 design, complete with faceted glass stoppers, though the labelling is rather less florid and more modern-looking.

Created by perfumer Delphine Lebeau, 'Note di Colonia I' is inspired by Germont's ebullient drinking song Libiamo ne' lieti calici from the first act of Verdi's La Traviata, and is closest to the original Colonia in character. The refreshing, zesty smell of a classic cologne, with lots of bergamot and neroli, is gradually subsumed within the softer, longer-lasting and slightly more feminine scents of rose, violet and lavender, underpinned by cedarwood and patchouli.

The operatic inspiration for the second celebratory fragrance (also formulated by Lebeau) comes from Puccini's epic Turandot, and its most famous aria, Nessun dorma. The citrusy elements of Colonia can still be discerned, but this time they're followed by the herby smells of basil and cardomom, with softer touches of vetiver and guaiac wood, giving it a rather gourmandising character.

The spiciness of ginger is tempered by vetiver, resinous olibanum and myrrh, jasmine and the slightly chocolatey scent of tonka beans in 'Note di Colonia III', created by the young French perfumer Nicolas Bonneville (who has also worked for Astier de Villatte). These attractively dry, incense-like notes make sense when you know that this third variation on the Colonia theme is derived from another popular opera classic, the triumphal march from Verdi's Aida, set in Ancient Egypt and first performed in Cairo in 1871. It's a fitting climax to this triumphal trio.
INFORMATION
For more information, visit the Acqua di Parma website