Palladian perfumery: Bottega Veneta debuts new fragrance collection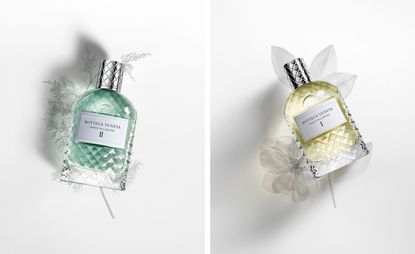 (Image credit: TBC)
Bottega Veneta's latest olfactory offering taps into the heritage of the 50 year old brand's home territory. Founded in the Veneto region of North Eastern Italy, the fashion house, best known for its signature intrecciato leather accessories, perfectly preserves the artisanal origins of the region. But alongside the celebrated craft expertise of the former Venetian Republic is also an architectural legacy that defined an era. Andrea Palladio, the Renaissance architect who famously reworked the Roman villa, built palaces and agricultural estates across the region for the local aristocracy.

Demonstrating renaissance sensibilities of calm, harmony and order, the gardens were an integral part of his villa designs, and the examples that have survived until today have become a source of inspiration to Bottega Veneta's Creative Director Tomas Maier. An architecture junkie, Maier was well versed in the work of Palladio before taking up his role with Bottega, and so the Palladian gardens were a natural starting point for a series of scents designed to represent the brand through its regional heritage.

To develop the collection, named simply Parco Palladian (I-VI), Maier called on three established perfumers, with whom he has already worked, to design six scents that represent a Palladian garden through the course of a day. Michel Almairac took the early morning slot – Parco Palladiano I evokes the rising sun beginning to hit the dew-drenched magnolia; II, the work of Alexis Dadier, is based around the green tones of the Cypress tree, harmonised with pink pepper while III, by Daniela Andrier, amplifies the scent of pear and fresh mint as the sun warms up and hits the plants. For IV, Dadier captures Azaleas struck with the full force of the midday sun, and for V Andrier takes a walk through the herb garden and mingles laurel, rosemary and sage. The closing act, VI, by Almairac, is a masculine rose, one that has basked in the hot sun through the day and whose braised notes permeate the air on the terraces by dusk.

The weighty bottles are textured with intrecciato weave, and are definitely the kind of receptacle that won't wonder far from the morning spritzing spot. Later in the year, more mobile versions, resembling slim test tubes, will be launched alongside cushioned woven leather pouches.
INFORMATION
Parco Palladiano I-VI, £190 each. For more information, visit the Bottega Veneta website
Receive our daily digest of inspiration, escapism and design stories from around the world direct to your inbox