Samuel Ross and Daniel Arsham team up to support black creatives
Artist Daniel Arsham joins Samuel Ross of A-COLD-WALL* in a further round of grant giving, pledged to support black artists, industrial designers and architects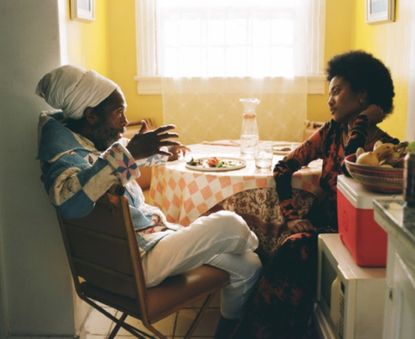 (Image credit: Ronan Mckenzie)
Samuel Ross of A-COLD-WALL* was one of the first industry leaders to make a concrete commitment in response to the current civil rights movement sweeping the globe, with his grant series announced in early June. Now, Ross has been joined by Daniel Arsham in a further round of grant giving. In the first of their series of joint initiatives, Ross and Arsham have pledged 10 grants totalling £25,000 ($30,000) to support black artists, industrial designers and architects.

'Beyond my financial support for Black Lives Matter and other organisations, I have been actively looking for additional ways to support Black creatives directly,' Arsham says. 'Police reform and social justice are just one part of the puzzle towards dismantling systemic racism in the United States. I reached out to Samuel Ross to enquire about his own initiatives in this area. As a result, I have matched the initial $30,000 that A-COLD-WALL* has given to black entrepreneurs for a new round of grants to black artists and architects. This is just one of many initiatives we are pursuing.'
'Aplicants from West Africa, South Africa, North America and the United Kingdom formed the majority,' says Ross, who's DMs filled rapidly as soon as the grants were announced. He explains the works submitted were 'less outsider art than expected – the majority of applicants are practitioners and well-versed, mature students exhibiting or in proto stages.' Ross says the grants are essential in bringing recognition to the work of under-represented creatives. 'The artists selected are exceptionally talented and incredibly proficient within their practises and yet have not accrued the visibility deserved. We need more visibility and collaboration between the arts and design institution and black artists, the design industry must engage.'
The 10 grant recipients selected by Ross and Arsham include Kusheda Mensah (a furniture designer from the UK); Jarret Key (a painter and sculptor from USA); Nifemi Marcus-Bello (an industrial designer from Nigeria); Ronan Mckenzie (a photographer and gallerist from the UK); Limbo Accra (an experimental architect from Ghana); Kumbirai Makumbe (a digital artist from the UK); Jeffrey Meris (a painter and sculptor from USA); Kobby Adi (an installation and photography artist the UK); LUWA (architectural designers from the UK); and Fumani Khumalo (a painter from South Africa).
It took three methodical but urgent days for Ross and Arsham to narrow down the many applicants. 'Though speed was a focus, the arts and design community need access to such funds now,' emphasises Ross. What drew him to particular creatives? 'The works find you – they pull on emotional chords, or offer a rationale; a well-considered solution to a self-researched brief sensitive to local happenings,' he says. 'It's essential to outline where you stand in the midst of a pandemic and civil rights movement – individuals and companies alike. The primary purpose of having a platform is communication – we're simply utilising the tools we have, moved by the realities at hand,' says Ross.
Tilly is a British writer, editor and digital consultant based in New York, covering luxury fashion, jewellery, design, culture, art, travel, wellness and more. An alumna of Central Saint Martins, she is Contributing Editor for Wallpaper* and has interviewed a cross section of design legends including Sir David Adjaye, Samuel Ross, Pamela Shamshiri and Piet Oudolf for the magazine.