Samuel Ross casts Acqua Di Parma Colonia in a bold new light
Samuel Ross reimagines the Acqua Di Parma Colonia perfume bottle, taking cues from modernism and sunlight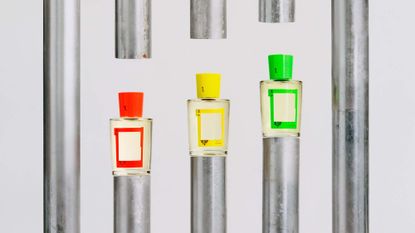 (Image credit: Acqua di Parma )
In partnership with Acqua Di Parma (opens in new tab)
Created in collaboration with British designer Samuel Ross, Colonia Limited Edition is a new reimagining of Acqua di Parma's signature fragrance bottle.
As the first iteration of a three-year partnership between Acqua di Parma and Samuel Ross' studio SR_A, this version of the brand's classic Colonia fragrance – first unveiled at Design Miami 2022 – is an artistic play on duality. A project of both conservation and renovation, Colonia Limited Edition by Samuel Ross reshuffles respective design codes to create a new blueprint while respecting brand origins and forms.
Acknowledging Acqua Di Parma's beginnings – the brand was founded in Parma, Italy, in 1916, with Colonia as its debut fragrance – the new limited edition bottle celebrates the perfume's timeless appeal. Ross' dynamic interpretation is an ode to the past, as seen through the designer's contemporary prism.
Ross is best known for his menswear brand A-Cold-Wall*, but his work spans industrial design, interior installation, architecture, furniture design, sound design and visual communication, and nods to brutalism and the Bauhaus. His sculptural investigations are a dialogue between craft, engineering and technology. He is always looking at ways to create something contemporary but also to integrate the artisanal touch, through unique patinas and an honest materiality.
Samuel Ross and Acqua Di Parma Colonia
For his collaboration with Acqua Di Parma, Ross looked to the architecture and attitudes of London and Milan for inspiration. Informed by the structures of Renzo Piano and Richard Rogers, he imagined the sun – an ongoing source of inspiration for Acqua di Parma – blazing across a European cityscape. The play of light informed his vision.
The result is a bottle in a range of three bold colours. Hyper-flat, super-pigmented, light-absorbing yellow reimagines Acqua Di Parma's signature colour. Dubbed 'Sun_Rise_Yellow' by SR_A, it is juxtaposed with primary shades of 'Grass_Blade_Green' and 'Ultra_Orange', an industrial nod to Ross' own practice and spectrum. Together the colours comprise a palette that pays homage to British and Italian modernism.
The bottle – its labelling pared right back – remains true to its original art deco lines, while the golden liquid inside is the same citrus blend as at its first unveiling. Hold the bottle up, watch the light refract, and recall moments in the sunlight.
Crafted in Italy, Acqua di Parma Colonia Limited Edition designed by Samuel Ross will be released globally on 15 March 2023; 300 numbered, special-edition collectors bottles, spanning the three colours, were released on 1 March.
acquadiparma.com (opens in new tab)