Samuel Ross on reimagining the classic Timberland boot as it turns 50
Part of Timberland's Future73 project, celebrating 50 years of its signature 6-inch boot, Samuel Ross of A-Cold-Wall* reinterprets the brand's archive with a special collection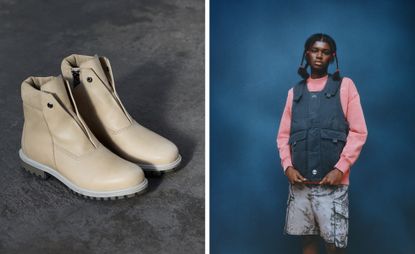 (Image credit: Left, courtesy of A-Cold-Wall*, right, courtesy of Timberland)
Polymathic designer Samuel Ross – who founded London-based label A-Cold-Wall* in 2015 – has built his career on collaboration, creating a vast output which spans fashion, furniture, fragrance, industrial design and technology through partnerships with Hublot, Nike, Beats by Dre, Acqua di Parma and more. Each is rooted in craft and experimentation – something Ross has previously credited to his upbringing, with parents who were both artists and dabbled across mediums. 'I'm the product of a highly educated household that values art and material,' he told Wallpaper* on the launch of a furniture collection at Design Miami in 2021. 'There [has always been] this narrative of making and craft.'
His latest A-Cold-Wall* collaboration, with American footwear label Timberland on a version of its signature lug-soled boots, is no different. 'I think it's good to start with what Timberland means from a cultural and historic standpoint, [and] craft is one of the key focal points which comes to mind,' Ross says of the project, which coincides with the style's 50th anniversary. 'I think this notion of tension and durability and sustenance – these were all underpinning topics that were quite key to ensuring when we started this design process.'
Samuel Ross reimagines the Timberland boot
Honed over a series of prototypes – Ross says there were 15 designs originally in the works – the final boot design strips the style of laces, replacing it with a zip closure to reflect the ergonomic, Brutalist-inspired aesthetic that defines his award-winning output at A-Cold-Wall* ('I've got this lifelong ambition to erode and take away as many eyelets and lacing systems as possible,' he says). That said, a desire for 'imperfection' comes in the single-wash leather, designed to age naturally as it is worn. 'The beauty of this shoe is how it will age and patina over time,' says Ross. 'It's about creating a beautiful object and a beautiful product before creating a fashion piece.'
As for the designer's personal connection to the classic 6-inch lace-up boot, Ross recounts memories of 'travelling around the Caribbean, where my family is from, and seeing the brand's influence on the culture', some 20 years ago, when he was a child. 'In places like Barbados and Saint Vincent there is a deep respect for heritage and ensuring the sanctity of craftsmanship. The opportunity to work on a project surrounding the anniversary of the 6-Inch boot immediately pulled a heartstring.'
To accompany the reimagined boot and boat shoe – the latter with a stacked sole and upper decorated with the A-Cold-Wall* and Timberland motifs – is a capsule collection of clothing, which sees Ross 'reappropriate' pieces from the Timberland archive (several of which, say the brand, have never been seen before). Comprising a parka, cargo shorts, insulated vest and crewneck sweater, among other pieces, Ross finished the designs with hand-dyeing techniques to 'establish craftsmanship as a thread of continuity between the footwear and clothes'. As such, Ross worked alongside artisanal makers in Italy on several of the pieces 'to bring these hand techniques which you can't just replicate'.
'You've got six different pigments which have been developed to then flick onto the back of the jacket to make sure that each piece is unique,' Ross explains. 'And these are simple notions but they're what we understand to represent human touch, to represent the idea of a maker. We don't want to make clothes which can be mass-produced, and that's the philosophy for this capsule as well. In my eyes that's the enemy.'
The collection arrives as part of a wider collaborative project by Timberland titled Future73, which sees six creative forces from around the world reinterpret some of Timberland's archival styles in their signature boot's 50th year. Alongside Ross, these include CLOT founder Edison Chen, artist Nina Chanel Abney, Opening Ceremony founder and designer Humberto Leon, textile designer Suzanne Oude Hengel and designer and sustainability advocate Christopher Raeburn. 'Our legacy, their vision,' runs the tagline.
'What is the feeling of Timberland and how does that correlate to some of my work from a very pragmatic standpoint?' says Ross of his own approach to the wide-ranging initiative. 'If you think about A-Cold-Wall* to a degree, it tries to kind of tackle some of the similar topics – this notion of endurance and tension and recontextualizing modern masculinity, which of course is so deeply tied to Timberland. That was the starting point. And then it was also how not to repeat what's already been produced – how do we not distort an icon but also give space for an icon to breathe?'
Timberland and A-Cold-Wall* Future73 capsule is available here.
Jack Moss is the Fashion Features Editor at Wallpaper*. Having previously held roles at 10, 10 Men and AnOther magazines, he joined the team in 2022. His work has a particular focus on the moments where fashion and style intersect with other creative disciplines – among them art and design – as well as championing a new generation of international talent and profiling the industry's leading figures and brands.