A-Cold-Wall* founder Samuel Ross presents two new furniture collections at Design Miami
Wallpaper* talks to British designer Samuel Ross ahead of his new furniture launches with gallery Friedman Benda at Design Miami (1 – 5 December 2021)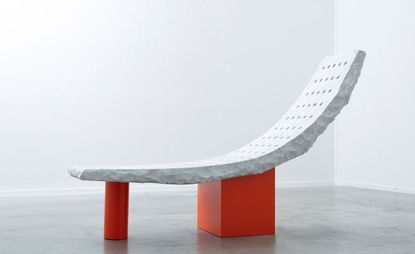 (Image credit: Oliver Matich, Daniel Kukla)
There is a lazy, quick take on Samuel Ross that positions him as simply an acolyte of Virgil Abloh and a younger, British varietal. Both have had superficially similar career trajectories, building international fashion brands around streetwear staples – Off-White in Abloh's case, A-Cold-Wall* in Ross'. Neither went to fashion school, but both have what Ross calls 'hard skills'; Abloh studied architecture, Ross illustration and graphic design. They both have collaborated with major sportswear brands, Nike most notably, to mutually beneficial effect.
Both share a ferocious work ethic and what can look like imperial ambition; they can come off as calculating and hyper-smart engineers of contemporary desire and the machinery of influence and status. And they are both, of course, Black men in what is still largely a white man's business. In truth, it is not that one has followed the other, but that both have understood and come to redefine luxury, the new possibilities of brand building, and a creative practice built around collaboration and transdisciplinary activity. Following in the footsteps of Kaws, Kanye, Takashi Murakami and Tom Sachs, they know that the distinctions between street art and fine art, streetwear and catwalk, commerce and activism have all but dissolved. Or rather, that the borderlands between these categories are the most interesting and transformative places to be.
Both have also created sculptural objects and furniture. Ross and designer Jobe Burns formed Concrete Objects in 2017, to create 'aesthetically inclined, functional objects' inspired by the Bauhaus and brutalism. In 2019, he launched SR_A, 'a studio operating within the fields of luxury industrial design, interior installation, architecture, furniture design, sound design and sculptural/visual communication'. He was awarded the Hublot Design Prize (opens in new tab) that year. And, as he says, his A-Cold-Wall* catwalk shows were, in effect, large-scale sculptural installations.
Furniture designs by Samuel Ross, and his Design Miami showcase
Earlier this year, under the SR_A umbrella, he created three chairs, 'Recovery', 'Signal-3' and 'Trauma', which were later acquired by Friedman Benda gallery in New York. Never short of conceptual ambition, Ross conceived the collection as tracking 300 years of Black experience, of wrenching dislocation, shattered and recovered identity, and class struggle. And, remarkably, they work as a fresh take on the most essential of design typologies. 'Trauma' chair, as the name would imply, is particularly powerful. Tall and imposing, like an African tribal throne, it is built in burned oriented strand board (OSB), lacquered with a mix containing molasses and peppered with die-cut holes. It talks of torture, slavery, wounding, scarring and healing, and has already been acquired by the Dallas Museum of Art.

At this year's Design Miami (opens in new tab), Ross and the gallery will present two new series of work. 'Rupture' includes a low table, stool and lounge chair, all in marble and steel, and 'Amorphous Strand', two benches in steel and fired OSB. These functional sculptures – a long time in the planning and signalling a new commitment to working in the 'fine art' space – seem to get at the specifics of Samuel Ross, the things that actually make him a singular designer and creative practitioner. 'Putting those materials together felt quite significant,' he says. 'It signals the permanence of me moving into design objects, into fine arts. I was always focused on reconstituted materials, and I was interested in the way you can allude to the idea of propagation. And those materials were fibrous and malleable, a bit more elastic. This feels far more concrete.'
'I've been working on this privately for the last five or six years. The pull of the art and design space is really having time to think, and time to iterate, to note and jot and sketch. The time to add to a cultural dialogue' – Samuel Ross
If the harder materiality of the new pieces marks Ross' new commitment to sculptural investigations, they are also part of a long-term conversation about craft, engineering and technology that began in his childhood. 'I think a lot has to do with perspective and identity,' he says. 'I was raised by two artists. My mother is a painter, my father a stained-glass artist and a painter. Both went to art school and both dabbled in design. I'm the product of a highly educated household that values art and material, so there is this narrative of making and craft and experimentation. And in the early days of A-Cold-Wall*, I was really looking at ways to integrate the artisan touch and unique patinas.'
This matching of industrial processes and craft processes has been a long-term concern for Ross: 'I've been working on this privately for the last five or six years. And there's been a lot of learning; how to work materials, fabrications, layers of engineering that come into play.' Now he has the confidence that he can say what he wants to say in these forms, materials and processes. And he wants to keep doing it. 'There's an emotion, a sensitivity, there's an expression, but there's also a want, need and desire to learn as much as physically possible about material,' he says. 'That physical process is so important. It's not really just about what I feel like doing, it's about what's the most efficient way to convey something.'
The universe of Samuel Ross
Ross is always generous in crediting mentors, confidants and other influences. And he says conversations with the Black Chicago-based artist Theaster Gates (opens in new tab) have helped shape his thinking around the new design pieces. 'He has a background in urban planning, in craft and engineering and woodwork, he understands the semantics of materials, the way they can deliver a message.'

Ross has always understood the potential of material as message. He had been working as an artist and a freelance designer and created a streetwear label 2wnt4 as a side project when, in 2013, Virgil Abloh messaged him on Instagram. Abloh was working on his Pyrex Vision project and was interested in Ross' work. Ross interned with Abloh during the inception of Off-White, before advancing to become design assistant at both Off-White and Kanye West's creative studio, Donda.
He launched A-Cold-Wall* – which he calls 'a material study for social architecture' – in 2015, when he was just 24. Backed with a 2,000-word dissertation, A-Cold-Wall* was designed to be a proper brand and not just a conceptual experiment, but it also encoded a particular take on race, class and the Black British experience.

Commercial success came quickly, but it has perhaps come at a conceptual cost, or at least diverted Ross' energies. Functional sculpture offers more space to talk about what he wants to talk about: 'The pull of the art and design space is really having time to think, and time to iterate, to note and jot and sketch. The time to add to a cultural dialogue,' he says. 'It's a completely different mindset to developing garments at the scale we now are. It's just as fulfilling, but with garments I'm really looking for problems to solve, in the supply chain, material costs, how we communicate with our audience. With the design work, I feel like I can add to channels of thought. I want to ensure that there is balance in what I call the agnostic truth about what it is to be Black British; to move through the class system, to have this dislocated relationship with Africa and West Africa because I'm Caribbean.'
The new pieces also address Ross' relationship with the promise of modernism and ideas around functionality, service and positive action in the public realm. He wants to leverage all he knows about design in the digital space and his street art and streetwear smarts to introduce the work, and the ideas behind them, to a different audience: 'The democratisation of fine art and design objects has been something that I've been wracking my brain about because it is a closed space for the most part. And so every artwork kind of exists in AR and VR, and as a 3D object, to engage that wider and younger audience.'
Ross is famously hard to keep up with in conversation; he has an intense hunger for ideas, for concepts, theoretical systems. Inevitably, the lack of diversity in design, and ways of addressing it, also commands a lot of his energy and attention. He also understands that there is a model that he, Abloh and others have helped redefine. It's a model centred around 'plurality, meritocracy and design, disciplines and deliverables'. It's about hard skills, hard work, clear intent and working across mediums, talking in a range of voices – much like his biggest influence, the Italian designer Massimo Vignelli.

We talk about the wave of young architects and designers of colour launching their careers with that kind of energy and creativity, using film, print, theatre, digital media and more to explain their work and practice. 'It's become the new norm and it feels highly optimistic,' says Ross. 'It is good to see people kind of stepping off the cliff and understanding there is a finite amount of time we all have and if we're going to really go at this, we should be high-risk.'
INFORMATION
Friedman Benda presents a solo booth showcasing Ross' latest works at Design Miami (opens in new tab), 1 – 5 December 2021
Ross' self-published book Object – Form. Form!, £250, is out now
samuel-ross.com (opens in new tab)
friedmanbenda.com (opens in new tab)
A version of this article appears in the December 2021 issue of Wallpaper* (W*272), on newsstands and available to subscribers (opens in new tab).