Konstantin Grcic designs a new kind of delivery vehicle for Wallpaper* Re-Made
Konstantin Grcic, aluminium producer Hydro, e-motorbike pioneer Cake and electric performance car maker Polestar pedal their clean, not-so-mean machine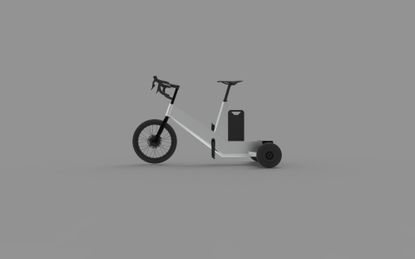 (Image credit: press)
The Covid-19 crisis seems to have put a kink in history, compacted time, accelerated and re-directed existing trends, prematurely tipped tipping-points. It has made what were already good ideas more vital and urgent. Konstantin Grcic's designs for a new kind of delivery vehicle – a lightweight, simple, flexible, super-functional trailer pulled by an electric trike – is that kind of idea.

When we first started plotting the launch of Re-Made, Grcic was inevitably among the first names on our wish list of collaborators, and the first to sign up. We knew scalability was vital, that whatever we came up with had to be possible and viable in many multiples. And Berlin-based Grcic is not just a premier league product designer, he is an avowedly industrial designer. Grcic works with big numbers.

Then we needed a maker, a material and a process that Grcic could run with. Hydro, the Norwegian aluminium production giant – like Grcic, a veteran Wallpaper* Handmade collaborator – seemed like a good fit. Hydro has 35,000 employees in 40 countries. Its aluminium can be found in buildings, boats, cars and much more and pretty much everywhere. It has also been investing in and developing recycled and lower-carbon aluminium. Hydro Circal 75R is at least 75 per cent post-consumer scrap. As well as avoiding the environmental impact of extraction, the production of recycled aluminium requires just five per cent of the energy required for primary aluminium. (Aluminium recycling is nothing new, of »course. The material can be infinitely recycled without a loss in quality, and there was a huge aluminium recycling drive in the US during the Second World War. It is estimated that almost 75 per cent of aluminium ever produced is still in use.)
Unfortunately, there aren't sufficient supplies of recycled aluminium to meet demand. Hydro's Reduxa primary aluminium at least has a lower carbon footprint than the industry average. Carried out exclusively at Hydro's Norwegian plants, which are all run on renewable energy, the manufacture of Reduxa creates 4kg CO2-equivalents per kilogram of aluminium, a quarter of the norm.
Suitably matched, Grcic got to thinking about what he could do with Hydro's more environmentally conscious aluminium. He was intrigued by a production process called friction stir welding (FSW), developed in the UK in the early 1990s and first employed on an industrial scale by Hydro. The technique means that two pieces of aluminium alloy can be fused together by a rotating tool that creates heat through friction.
'That was the spark of the idea,' says Grcic. 'I'm familiar with an aluminium profile casting and all that, but I hadn't heard of friction stir welding. So I looked into it. Welding aluminium is not easy because of its high conductivity. But friction stir welding manages to keep the heat very local and creates the right doses of heat for what you need. So it's a very precise, very clean way of bringing aluminium pieces together. And you don't get those ugly joins that you have to live with or machine away.'
'Every designer I talk to is fascinated by this technique because it feels like it just melts the material together,' says Hilde Kallevig, Hydro's head of group brand and marketing. 'And, of course, there are cost benefits, because you don't have to add another material, and a sustainability benefit, because the fewer materials you use, the easier it is to recycle.'
Now Grcic had to come up with a design that made good use of that process. 'Hydro developed FSW for the shipbuilding industry in order to create large aluminium platforms, made up of welded-together profiles. So we discussed what we could do with that. We could have taken it to an architectural scale, but, in the end, we are not architects. So I thought, OK, let's design something that is smaller than a house but bigger than a piece of furniture. And aluminium is strong and lightweight and perfect for vehicle construction. So we decided to look at the typology of cargo bikes.'
Grcic started to develop the idea of a utilitarian electric-powered delivery vehicle, scaled somewhere between the UPS/Amazon or similar delivery van and smaller pedalpowered mobile boxes. His original design – taking inspiration from the Piaggio Ape, a three-wheeled minivan first produced in Italy in 1948 and still in use there and around the world – was for a single-unit threewheeler, made entirely of aluminium profiles, with pedals up front and batteries connected to the rear wheels.
An updated design separated the 1.6m-long trike and a 2.4m by 1.4m articulated trailer, with a large battery pack now housed behind the trike's saddle stem. This core design was kept as simple and economical as possible, though Grcic imagined that covers for the loading area, a driver's cabin, a suspension system and even solar panels could be added if required.
'Other people are developing these e-cargo bike delivery vehicles; DHL and UPS have done them, Deutsche Post, too,' says Grcic. 'But they are designing them exactly for their needs. Our idea was to create something much simpler, more adaptable and not so purpose-made; to offer a very basic chassis that people could then play with. And you could deliver furniture with it or turn it into an ice cream van or vegetable stall. It could be anything really.'
We began this project before the Covid-19 crisis. And since then, bicycle sales around the world have boomed: first as people looked for ways to take exercise and enjoy roads emptier of cars and vans than they had been since the 1950s; and then as a way to avoid public transport as they slowly returned to work. And cities, London, New York and Milan included, have looked at ways to make the shift to pedal power more permanent and avoid combustion engines returning to the streets in the same, if not greater, numbers than before the crisis. A switch to electric bikes and light electric vehicles is seen as central to this cleaner restart for urban transport. The Hydro-Truck, as Grcic has provisionally tagged it, suddenly has fresh and serious momentum.
From the beginning of the project, though, it was clear that at some point we would need extra input, expertise and manufacturing muscle, a company at the forefront of research and development of battery power and electric vehicles. We had to develop a drivetrain and work out what kind of battery we would need to pull a fully loaded Hydro-Truck – and Grcic imagined loads of somewhere between 200kg and 500kg – up a hill in San Francisco. We would also need someone who could help us put a working prototype together using Hydro's parts. But we had what felt like a simple yet compelling idea, now extra-ripe with promise and potential. And we used it to pull in not one but two perfect partners.
Thomas Ingenlath, the former design chief at Volkswagen and Volvo, is now CEO of Polestar, Volvo's standalone performance electric vehicle brand. He also studied industrial design alongside Grcic at the RCA in London. The pair had lost touch but followed each other's careers at a distance. Polestar has also been developing strategic links with Cake, a maker of beautifully designed e bikes and electric motorbikes, founded in 2016 by Stefan Ytterborn and, like Polestar, based in Gothenburg. A serial design entrepreneur, Ytterborn founded the cycle helmet company POC, another Wallpaper* favourite, in 2004. A former Ikea designer, he launched the design agency Ytterborn & Fuentes in 1996. The agency's clients included Iittala, leading to a collaboration with a certain Konstantin Grcic.
Reintroductions made, it quickly became clear that there was now a team in place who were suitably charged up, connected and qualified to take the idea forward. Talk quickly turned to gaps in the market, Hydro- Truck's potential appeal everywhere from New York to New Delhi, possible ownership and rental models, whether the truck needed pedals, and the possibility that solar panels could unplug it from the grid.
Ingenlath suggested that a team of engineers who joined Polestar from its sister brand LEVC (the London Electric Vehicle Company, the firm behind the new electrified black cab) could work with Hydro on the practicalities of manufacturing. LEVC's TX Electric Taxi has an entirely aluminium frame. Meanwhile, Ytterborn and Grcic could refine the design and work on developing the battery and drivetrain.
Hydro-Truck, everyone agreed, could go places (even if exactly how was stil in the works). 'There's a whole casserole full of good ingredients there that we can use to create storytelling around the truck,' says Kallevig. 'Now we have to create a prototype that is affordable, manufacturable and more sustainable.'
Ytterborn is positive that can happen, with an eye to Wallpaper's 2021 exhibition during Salone del Mobile: 'I'm absolutely convinced that we can get to Milan and show something that makes a difference'.
INFORMATION