Victorinox blade sharpener e-bike is a whizz for knife repairs
Designers Jenkins & Uhnger, Victorinox, and Butchers & Bicycles cut a new path for an ancient street-based tradition with their blade sharpening e-bike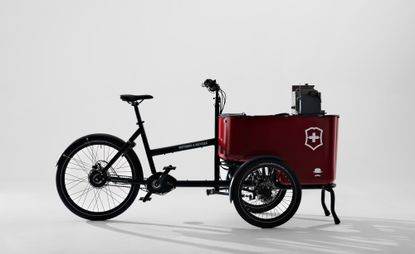 (Image credit: TBC)
Wallpaper* Newsletter
Receive our daily digest of inspiration, escapism and design stories from around the world direct to your inbox
Thank you for signing up to Wallpaper. You will receive a verification email shortly.
There was a problem. Please refresh the page and try again.
The arrotino, or knife grinder, has been travelling around Italy for centuries, sharpening blades in the streets, and it was this tradition that sparked an idea for Wallpaper* Re-Made. Last year, we tasked Norway-based designers Jenkins & Uhnger and Swiss knife expert Victorinox with modernising the concept.

Since the onset of the pandemic, the flexibility of this direct-to-customer service has become even more pertinent. But at the time of the project's inception, our main aim was to encourage repair over buying new, with the portable element offering added convenience. Repair is still at the forefront of our minds today, due to recent legislation in the EU and the UK requiring manufacturers of household electrical products to make spare parts available. The aim is to tackle premature obsolescence – when a product's short lifespan leads to wasteful and costly replacements for customers – and marks an encouraging advance in attitudes towards a 'right to repair'.
Wallpaper* Re-Made collaboration: Victorinox with Jenkins & Uhnger
Over the past year, the collaborators have been busy refining the project's design into a functioning prototype, composed of a compact water-cooled blade sharpener securely housed in a specially adapted cargo box that sits on an electric bike. The sharpening machine is mounted on a sheet of recycled plastic that conceals a rechargeable battery pack. Features such as a knife holder (storing up to six knives) and dedicated storage for accessories (including a compound block and a leather cloth for polishing) have all been integrated seamlessly into the design. Along with the iconic Victorinox red of the cargo box, these elements speak to the compact multifunctionality of the original Swiss Army knife. The designers have also considered packaging, including cardboard sleeves and a tape dispenser to safely secure the newly sharpened knives.

A large part of the project's recent development looked at whether the sharpening machine could be powered by the same battery as the e-bike, or even by solar panel. A rechargeable battery pack, allowing five to six hours of continuous sharpening, was chosen for this first prototype stage, to ensure a whole day's worth of usage. The collaborators also had to consider how the sharpener could operate in remote public places with no access to a charging point.
Even with its expertise around steel, knives and knife care, the team at Victorinox also had to think outside of the box. The biggest challenge was finding a sharpening machine of the right size and weight to fit in the e-bike's cargo box. Neither the industrial-sized grinders used in the Victorinox factory, nor the smaller products made for basic use at home would suffice. It needed a light and portable machine that still delivered the high quality that the company prides itself on. 'Product aftercare needs to be considered with the same focus on quality as production,' says the brand's chief production officer Erwin Müller. The selected machine is countertop-sized and can sharpen all blades with a straight cut: household knives, pocket knives, and even the edges of a lawn mower. But using it requires adequate training, as inexpert sharpening can cause lasting damage to the blade edge. Technical aspects to be considered include the angle at which the blade must be placed on the machine, and the necessary cooling time to ensure it does not get too hot, which could weaken and potentially deform the steel.
'We know that long-lasting, sustainable outcomes come from smaller incremental changes,' explains Veronika Elsener, Victorinox's chief marketing officer. 'It is our responsibility to produce in an effective and efficient manner, and we know that product care lies just as much in our hands as it does in the end consumer's.' Victorinox repairs around 1,000 knives a month, which includes oiling and cleaning its iconic pocket knives.
A travelling sharpening tool
From the start, the Victorinox team felt it would be important to choose an e-bike to fulfil the mobility side of the project, to increase productivity without leaving a large carbon footprint. The solution came with the introduction of a third collaborator, the aptly named Butchers & Bicycles, a Copenhagen-based cargo e-bike manufacturer founded by two cycle enthusiasts disappointed by the cargo bikes then on the market. The company, its name referencing the iconic Meatpacking District in Copenhagen where it is headquartered, offers a clean alternative to polluting delivery vans. Its patented 'built to tilt' technology removes the clumsy, awkward manoeuvres apparent in other cargo bikes, making it easy to turn corners, cycle over cobblestones, and go up onto kerbs in narrow and congested urban environments. 'With this technology, we can create a "two-wheel feel" with three-wheeled stability, taking the hassle out of riding the bike with precious cargo on-board,' says CEO Martin Piil Hansen.

Butchers & Bicycles' cargo box happened to be a perfect fit for the sharpener, necessitating only a few minor modifications to the existing design. The company's ethos also aligns well with the project. Easing people's daily lives, while bringing joy and family adventure through good-quality design, goes hand-in-hand with the travelling blade sharpener's celebration of craftsmanship and quality-made objects that can be passed down to future generations.
The pandemic may well have forced many people to reconsider their relationships with objects, and encouraged some to make do with what they have when things were not as readily available. However, 'it is still too easy to buy new, especially when all the shops were closed and online was the only option', reflects designer Thomas Jenkins. 'It's very hard for repair services to compete against the retail giants.'

The prototype will allow the collaborators to get a real gauge of customer demand. While Victorinox plans to integrate the travelling blade sharpener in its flagship stores in Zurich and London once restrictions are fully lifted, Jenkins & Uhnger have plans of their own. A long-awaited trip to Butchers & Bicycles' HQ in Copenhagen will be 'a kind of homecoming for the project', explains designer Sverre Uhnger.

Moving forward, further features such as a custom hood and a digital booking system are being considered. But the collaborators also share a belief in the bigger picture of the service as a whole. 'As a family-owned company for over 135 years, it is very important for us to keep innovating,' says Elsener. 'With everything we do, we always use our expertise to innovate, and this concept is definitely a first of its kind.' 
INFORMATION
This article appears in the August 2021 issue of Wallpaper* (W*269), now on newsstands and available for free download
jenkinsuhnger.com
victorinox.com
butchersandbicycles.com
Receive our daily digest of inspiration, escapism and design stories from around the world direct to your inbox
Sophia Acquistapace is a contributor to Wallpaper*. She coordinated the brand's annual Handmade exhibition in 2019 and assisted with the introduction of Wallpaper* Re-Made the year after. Having written for a number of August issues that focussed on design that can enrich and endure, she has since been exploring accessible design in spaces and brands.
With contributions from