Victorinox creates a mobile repair shop for Wallpaper* Re-Made
Designers Jenkins & Uhnger and Victorinox propose a mobile repair service for Wallpaper* Re-Made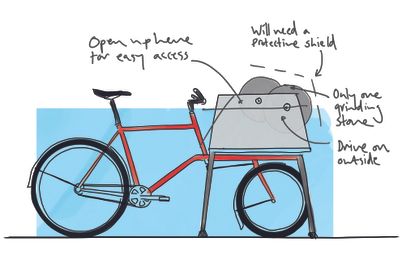 (Image credit: TBC)
How often do we just discard and buy new, rather than turning to repair? We kicked off this dialogue with Norway-based designers Jenkins & Uhnger, who noted that repair shops are often tired and rundown, when they ought to be one of the most vibrant, important places on the high street and a service people take pride in using.
Sverre Uhnger, who trained as a cabinetmaker, and Thomas Jenkins, as an engineering product designer, came together in 2015 based on shared principles. 'We are passionate about building things to last, but with the understanding that you also need to care for a product during its life,' says Jenkins.
While Wallpaper* Re-Made takes a glimpse into our future lives, it was imperative to look back to the past for inspiration. Jenkins & Uhnger researched repair services through history, and one example that resonated was the arrotino, the travelling knife sharpener. Such workers roamed the Italian provinces for hundreds of years, ringing their bells to get the attention of citizens who might need knives or scissors sharpened. They serve as a reminder that repair was once seen as an artisanal craft, not just a functional service.
Starting off on foot, the arrotino became ever more mobile with the advent of bicycles and then motor vehicles. But the tradition died out in the late 20th century. With this in mind, we set Jenkins & Uhnger the task of creating something that similarly incentivises people to bring new life to old objects, and transforms today's notions of repair into something more desirable and rewarding.
To work on this modern interpretation of the arrotino, we also called on Swiss knife expert Victorinox, which has been perfecting the art of blade-sharpening for 136 years. Currently the largest knife manufacturer in Europe, Victorinox produces more than 20 million household and professional knives each year from its headquarters in Ibach, in the Swiss canton of Schwyz. Each knife comes with a lifetime guarantee. 'We offer a repair service for all our products rather than supporting a throwaway culture. As a family owned company, we strive for sustainability in everything we do. Not for nothing do we consider our products for life,' says Veronika Elsener, the fourth generation co-owner and chief marketing officer of the company.
Overseeing the technical elements of our arrotino project is Erwin Müller, chief production officer and member of the executive board, who started at Victorinox as an apprentice more than 45 years ago. 'All Victorinox kitchen knives are given the perfect cut by hand. It's an interplay of the fineness of the grinding wheel, the right temperature that is generated with the cooling, and the expertise of the knife grinder, who places the blade at the right angle on the grindstone,' he explains.
Having explored both static and mobile options, Jenkins & Uhnger decided on the latter, reasoning that direct-to-customer potential is important. 'In our factory we have rather big, heavy grinding wheels and sharpeners. So I am curious to see how the designers will pull together a compact and transportable design,' says Müller.
The proposed design features a grinding wheel set on a custom bike frame that, when not in motion, is propped up on a stand so that the pedals rotate the wheel. 'It's one thing to solve the technical challenge, another to make this look desirable, too,' says Jenkins. The project is now entering the development phase, with technical details being discussed, such as the diameter of the grinding wheel and the optimal rotation speed. One challenge is the positioning of the handlebars and the grinding wheel so they do not get in the way of each other.
'It's exciting to work with such a specific function in mind. It really appeals to our inner nerds!' says Jenkins. Inspired by the versatility of Victorinox's original Swiss Army knife, the designers are exploring additional features, including a dynamo, which pedalpowers an LED light, as well as a built-in tachometer that measures the rotation speed of the grinding wheel. The next step would be to bring a bicycle partner on board to make the custom frame.
'It's been interesting to figure out how to relaunch a service that is in decline, by working out how it needs to be adapted to modern lifestyles,' says Uhnger. 'We'd like to see the sharpener used numerous ways, catering to the public at markets, as well as servicing restaurant kitchens. We also think it can be an educational tool, increasing awareness around making objects that last.' Of equal importance is the reintroduction of the human element to services that are now often automated and anonymised.
'We are not making a product, but a service,' says Jenkins. 'We hope that this will remind people that any old knife can be sharpened, be it one you got for Christmas last year, or your grandfather's classic penknife. As we see it, more services like this can evolve in the years to come.'
INFORMATION
jenkinsuhnger.com (opens in new tab)
victorinox.com (opens in new tab)
Sophia Acquistapace is a contributor to Wallpaper*. She coordinated the brand's annual Handmade exhibition in 2019 and assisted with the introduction of Wallpaper* Re-Made the year after. Having written for a number of August issues that focussed on design that can enrich and endure, she has since been exploring accessible design in spaces and brands.