Can design help us better understand the future?
Yosuke Ushigome, the self-styled 'creative technologist' and director at design studio Takram on the power of speculative design to make ideas tangible, humanise big data, and encourage healthier behaviours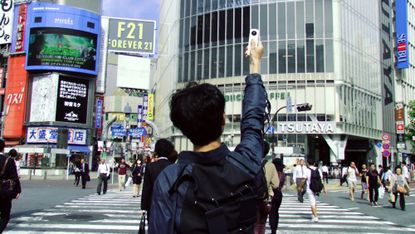 (Image credit: press)
When I first saw Yosuke Ushigome, now director at Takram's London office, he was part of an exhibition at Tokyo's 21_21 Design Sight in 2015. In a video titled Professional Sharing, Ushigome wears a homemade jacket with solar panels and pockets for various digital devices. He walks around Shibuya, as per requests from real-time clients, and gets paid for taking specific pictures at specific locations. Sometime during the video, he takes an online break while lending his devices' processing powers to someone mining a digital currency. Later he queues up at a popular restaurant on someone else's behalf, and likewise gets paid for his time. It was the sharing economy taken to the extreme, and a peek into the not-too-distant future, as he saw it at the time.
Yosuke Ushigome, creative technologist
Ushigome calls himself a creative technologist. He studied system design engineering and later mechano-informatics in Tokyo before doing a master's in design interactions at the Royal College of Art (RCA) in London. 'I wanted to be better at communicating technological and engineering ideas from a more humanistic perspective,' he explains. He studied under Critical Design pioneers Anthony Dunne and Fiona Raby, and has been working in design and technology ever since. 'I believe in the power of design to make ideas tangible – not to make you buy more, but to make you think.'

After graduating from the RCA, he freelanced and worked briefly at design studio Superflux in London before Takram approached him (and fellow RCA alumni Miles Pennington and Lukas Franciszkiewicz) in 2014 to help start its London office.
Today, Ushigome continues to spend much of his time visualising and speculating on what the future might look like. 'Takram started out as a company trying to bridge design and engineering, but today we do more work helping our clients define their vision,' Ushigome explains over Zoom.
With about 40 people in Tokyo, four in London and two in New York, Takram is the first Japanese design innovation studio to go fully global. Its services include branding, product and service design, and what it calls 'future vision design proposals'. It's not always easy to put one's finger on exactly what the company does. Scrolling through its website doesn't necessarily make it all that much clearer: there is a project featuring a cute-looking agricultural robot; a couple of branding projects for a small fruit farm in Hokkaido and Japan's largest online flea-market platform Mercari; and also, what on the homepage is described as a 'speculative design proposal for an automatic toileting system', adequately named Heavy Load.

Design is what ties all of these seemingly very different projects together. 'We really believe in the power of design, and design as part of research,' explains Ushigome, who works on most of Takram's more speculative and futuristic projects. Professional Sharing is a good example of how the company uses design to try and suggest what the future might look like. By realising and showcasing their visions, the designers encourage stakeholders and the public at large to think about what can lie ahead.
Humanising big data
Another example of using design to try and engage people to think more about the future is the RISAR prototype app, presented at the 2020 Design Indaba conference in Cape Town. On the app, people are asked simple questions that have a direct effect on the rising sea levels, like how they commute to work. Depending on their choices and their physical location, the app predicts and demonstrates how they might experience the rise of sea levels.

Using a phone camera and augmented reality technology, users can see the virtual sea rise right in their living room or in the park if they make environmentally irresponsible decisions. 'Of course, this is all a bit oversimplified, but I think it's a great way of humanising big data,' Ushigome says. It's a simple but powerful way of explaining something as complex as climate change; the amount of publicly available data on such phenomena can be overwhelming and difficult to relate to everyday life, but seeing your kitchen slowly fill up with water because you consistently take the car rather than ride a bicycle to work drives the issue home.
Such self-initiated projects often generate quite a bit of interest, which in turn helps Takram expand its service portfolio. Sometimes these projects are fully self-funded, other times Takram might approach another company with an idea, in the hope of collaboration and funding opportunities. Companies and government agencies also contact Takram for specific projects, such as the prototype Regional Economy Society Analysing System (RESAS) developed for the Japanese government in 2015. RESAS is a web-based system that gives clear and visually pleasing representations of nationwide data on topics such as population, economics, tourism and consumption, sourced from Japan's central Teikoku Databank. It is used today by policymakers throughout the country to make sense of phenomena such as the movement of people or goods within and across different prefectures, or the change in economic growth in one area compared to another. It is another example of what Ushigome likes to refer to as the humanisation of data. 'Data is only useful and relevant if understood, and design can be an excellent tool in making it so,' he says.
Over the last 18 months, Takram has been working together with Hitachi's Research & Development Group to create a website, sustainability-transitions.com, to share ideas for building a more sustainable world in small increments, or 'transitions'. It features key findings from interviews with 12 leaders in sustainability, from Jonelle Simunich, a senior foresight strategist at Arup, to Yuji Yoshimura, a professor at the Research Center for Advanced Science and Technology at the University of Tokyo. 'Thinking in transitions can give us a much fuller picture of how we build a sustainable future,' it reads. 'And it gives us practical, concrete steps we can take to help get us there.'

The website proposes ten transitions, including Centralised to Distributed, Degenerative to Regenerative, and Fossil to Renewable, and explains why they are necessary to build a sustainable future. It outlines opposing sets of qualities that define the current world (which sees energy as a resource, gradually running out while polluting the environment) and a preferable world (energy as a flow, renewably supplied and non-destructive). Importantly, it also offers very concrete proposals as to what each individual can do to help these transitional changes.

'I think that with Covid, being able to highlight and facilitate these kinds of discussions about the future is perhaps more important than ever,' Ushigome says. He goes on to explain that, if anything, Takram has received more enquiries because of the pandemic. Perhaps clients are more willing to entertain speculative design proposals in uncertain times such as these? Takram and Ushigome might not have all the answers, but their innovative and forward-looking approach is sure to make you stop and think.
INFORMATION
takram.com (opens in new tab)
yosukeushigo.me (opens in new tab)