Nine designers work socially distanced wonders with wood
American Hardwood Export Council (AHEC) and Benchmark Furniture launch 'Connected' with Design Museum – a project that celebrates working from home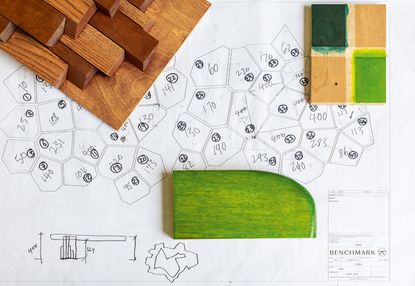 (Image credit: David Cleveland )
Behind the Berkshire workshop of British furniture brand Benchmark flows the River Kennet. On any given day, its slowmoving water is alive with water voles, brown trout and demoiselles, but recently it has been home to something else – pieces of red oak and cherry that would eventually form parts of a chair, designed by Alexander Groves and Azusa Murakami of Studio Swine.
The chair in question is part of Connected, Benchmark's latest collaborative project with the American Hardwood Export Council (AHEC). Initiated and carried out against the backdrop of a global pandemic, Connected has seen nine designers come up with something that would enhance their working-from-home experience. The obvious twist is that they have been unable to visit the workshop or see their pieces in the flesh, and have instead relied on a lot of Zoom calls, countless WhatsApp conversations, and a good helping of trust.
'Without a physical visit, it's a much bigger leap of faith for the designers to trust the craftsman from a technical, visual and sensory perspective,' explains Sean Sutcliffe, who co-founded Benchmark alongside Terence Conran 36 years ago. 'They're having to take our word on things that they would normally feel and see in person.'
That trust is how Studio Swine's thronelike chair came to be submerged in the river, which flows through the Conran estate, home to the Benchmark workshop. Mark Carey, who headed up the project on the production side, explains that in order to steam-bend the wood, they needed to get it adequately drenched. Thus, the backrest, arms and front legs were lowered into the water and left for a week before being put into the steaming box and clamped up into their final form. Resourcefulness at its finest.
It's this kind of problem-solving approach that makes Benchmark unique. Its workshop employs 58 craftspeople, many of whom did their training at nearby colleges and are experts in their field.
'When I go to a craftsman with an idea, the answer is all too often "No, we can't do that",' says Wallpaper* Designer of the Year Sabine Marcelis, who has spent the lockdown in her Rotterdam loft alongside her partner and newborn baby. For Connected, she has created a simple-looking maple-veneer box named 'Candy Cubicle', which opens at its middle to reveal (but, most importantly, hide) an acid-yellow interior, and the tools for home working – namely her partner's 'ugly' monitor. 'At Benchmark, they really want to push the limits and challenge themselves,' she adds. 'It's also a chance for them to showcase what they're capable of.'
As with previous collaborations between AHEC and Benchmark, such as Legacy and The Wish List, sustainability is at the core of Connected. The nine designers chose from three woods to work with: red oak, maple and cherry – which together, according to AHEC, account for 40 per cent of the standing timber in American hardwood forests, but remain a largely untapped resource. 'Red oak is the most widespread, while the soft maple is the fastest regenerating hardwood species,' says David Venables, European director at AHEC. Part of the work conducted by AHEC is to make 'unfashionable' woods modish again, as a way of making use of everything that nature supplies. 'The choices consumers make through designers and manufacturers have a direct effect on the composition of the forest and we are trying to show designers that the obvious species aren't always the only "right" woods to use,' he adds.
The material, as well as the lockdown, appears to have reignited an appreciation for the natural world in the designers. From Thomas Heatherwick's maple planters, CNC-carved using an algorithm based on biomimicry and providing welcome greenery at his new London home, to Studiopepe's 'Pink Moon' chair based on lunar movement, each designer has drawn on nature in order to feel closer to it.
'The predicaments faced by the designers as a result of the pandemic have been similar, and it's their crying out for nature that struck me,' Sutcliffe says. 'They all want to express the grain of the timber, and almost make the woodiness even more woody.'
For all the common threads, the designers' individuality shines through in each case. While Maria Bruun has gone for a simple, typically Scandinavian-style table enhanced by clever joinery and her choice of rippling maple, Jaime Hayon's 'Mesamachine' is an out-and-out lesson in complexity – showcasing his signature humour and a great deal of moveable parts in cherry wood.
For Ini Archibong, Connected was a way of channelling his concerns about the wellbeing and livelihood of others during the Covid-19 crisis. 'The Gate' is characteristically fantastical, both in form and concept. Its hexagonal plinth, made up of a mix of red oak and cherry, was inspired by the basalt landscape of the Giant's Causeway, while its tabletop is representative of the earth and sky. Archibong also incorporated tactile, moveable brass petals in the piece to keep his children occupied.
Maria Jeglinska-Adamczewska's seat is subtly curved, and was crafted using a process similar to barrel-making. Sebastian Herkner devised a modern take on the Lazy Susan for his tabletop, allowing organically shaped trays to slide along it in an oh-so-satisfying way.
Having had no physical contact during the process, the designers will see their pieces in person for the first time when they go on show at London's Design Museum from 11 September. Perhaps a bit risky? 'I don't think so,' says Marcelis. 'With Benchmark, there's a blind trust that it's going to be OK.'
Explore the 'Connected' by Benchmark and AHEC projects below
'Nordic Pioneer' by Maria Bruun Rippled maple
Bruun's choice of wood, rippled maple, is one often used for stringed instruments and has a wiggling grain formed by a genetic mutation. She has designed a gateleg table with a timber hinge, allowing a work surface, for example, to be raised and lowered as needed. It comes with a chair, and stackable stools with rounded wooden seat pads to match the table and chair feet.
'Arco' by Maria Jeglinska-Adamczewska Cherry
Jeglinska-Adamczewska's designs are all about sculptural curves, with forms based on the architecture of Benedictine abbeys. The shape of her chair has been constructed using barrel-making techniques, while her accompanying table features angled legs and planks that have been grainmatched and machined.
'Humble Administrator's Table & Chair' by Studio Swine Red oak and cherry
Throne-like in its stature, Studio Swine's chair features perhaps some of the most ambitious steam-bending undertaken by the Benchmark workshop – it took six craftspeople and a specially constructed jig to complete. The design duo's cleanlined cherry table design incorporates a simple laptop shelf.
'Pink Moon' by Studiopepe Maple
The 'Super Pink Moon' phenomenon (a supermoon occurring in April) is named after a pink spring wildflower, Phlox subulata, and is often associated with new beginnings. Studiopepe's 'Pink Moon' collection features a maple 'moon', suspended within a Charles Rennie Mackintosh-inspired chair frame. Table legs feature graphic, stained timber inlays.
'Mesamachine' by Jaime Hayon Cherry
Hayon's collection features a table with storage and extendable shelves, a bench, and two stools, each with a smiley face carved into its top in a typical show of wit. Earlier in his career, wood was Hayon's material of choice, and Connected offered him the opportunity to revisit it. He was keen to let the cherry wood speak for itself, opting to finish it simply with a clear oil.
'Stammtisch' by Sebastian Herkner Red oak and maple
Narrow tracks run along the tabletop of Herkner's 'Stammtisch' collection, allowing plinth-like trays to move across its surface in a swift, satisfying motion. Keen to create a 'landscape', he has used different woods and finishes: the table is in bleached red oak with a white matt oiled finish, the larger tray is in ammonia-fumed maple, and the stools and small tray are in scorched red oak.
'The Kadamba Gate' by Ini Archibong Red oak and cherry
Archibong's outdoor collection is inspired by the Giant's Causeway in Northern Ireland. The table's underframe is made from stepping stone-like extrusions in a mix of timbers. The cambered red oak top is coated in a glossy green lacquer, with inlay brass details doubling as drainage. Two matching benches have seat pads made by leather specialist Bill Amberg Studio.
'Candy Cubicle' by Sabine Marcelis Maple veneer
During lockdown, Marcelis became fed up of seeing her architect partner's monitor on the dining table of their open-plan loft. So she devised her 'Candy Cubicle' – a plain maple veneer box that conceals tools for working, including an all-important space to hide the monitor. In a nod to the briefcase scene in Pulp Fiction (its contents remain a mystery), she created an acid-yellow interior, only visible once the box is opened.
'Stem' by Thomas Heatherwick Maple
When Heatherwick moved close to his studio in London's King's Cross, a home office wasn't a priority – until lockdown hit. Then, keen to create a green, Zoom-friendly work space, he designed a glass-topped table with stack-laminated, CNC-carved table legs that double as planters, a shelving unit, and a CNC-carved seat upholstered in Gotland shearling. Inspired by nature, each carved rib on the timber is unique
A version of this article originally featured in the October 2020 issue of Wallpaper* (W*258)
INFORMATION
'Connected' is on view at Design Museum, 11 September -11 October
designmuseum.org; benchmarkfurniturecom; americanhardwood.org