New V&A gallery explores contemporary history through design
'Design: 1900 – Now', a permanent gallery at the V&A in London, opens with a thematic display charting the 20th and 21st centuries' most relevant social movements. We talk to curators Corinna Gardner and Johanna Agerman Ross to discover highlights from the collection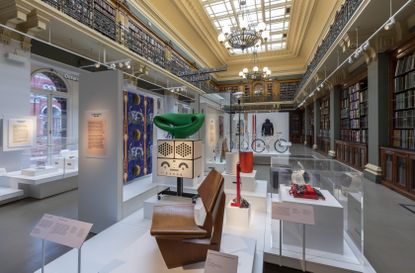 (Image credit: TBC)
The V&A unveils its new contemporary design gallery. 'Design: 1900 – Now' presents over 250 objects including furniture design (opens in new tab), fashion, media and technology, with a focus on design and society charting the evolution of man-made objects from craftsmanship to the digital age.

The gallery's display, explains Johanna Agerman Ross, 'aims to position design as a means for understanding the way we live together, and to explore how designed things prompt us to ask questions of our past, present and future'. Agerman Ross joined the V&A in 2016 as curator of twentieth century and contemporary furniture, and has worked closely with senior curator of design and digital, Corinna Gardner, on the displays.

After nearly two years of closure – the gallery has been in the making since autumn 2019 and was delayed by the pandemic – the space reopens to the public with more than 50 new acquisitions and a new focus on the Museum's Rapid Response collecting project, showcasing design objects that respond to current social themes including, most recently, pandemic design (opens in new tab) and responses to episodes of racism.
'Design: 1900 – Now' at the V&A
'We thought about the pressing issues of today, and how they might be informed or reflected by the recent past,' says Gardner. 'We asked ourselves, "Where is design at its most current"? Society impacts on design, but design also impacts on society: how do we reflect that across the past 120-plus years?'

The curators' approach features six major themes, roughly arranged in chronological order, including: Automation and Labour, covering the earlier part of the 20th century up to the 1930s; Housing and Living, looking at domestic innovations between 1920 and 1940; Crisis and Conflict, focusing on the period between 1935 and 1955. Across the hall, inside one of the V&A's library spaces, is the Consumption and Identity display, exploring the period between 1955 and 1975, and Sustainability and Subversion, looking at the 1960s up to the year 2000. A further section on Data and Consumption explores the past two decades and the more technological side of design. The curators stress that these sections aren't offering a strict chronological perspective; in fact, items from different periods are shown together within each thematic area, demonstrating the long-lasting influence of different design movements and moments in history.
Design and contemporary history: in pictures
Each thematic display at the V&A's design galleries explores a seminal moment in the history of the 20th and 21st centuries, analysing design's role in shaping and responding to the biggest issues of our times through objects and their wider contextual meaning.
The rise of industrial design: Automation and Labour
'Today we might be concerned about robots taking our jobs, and that [same] worry about mechanisation and automation, but also the promise and possibility, was keenly felt at the beginning of the 20th century,' says Gardner. Earlier objects on display show the idea of what mechanisation can offer in terms of new design aesthetics and new possibilities for making. The display spans from the Bauhaus, with examples such as Marcel Breuer's tubular metal chair, to more recent objects such as Ikea's 'Lampan' lamp, a response to the challenge to design 'the world's cheapest lamp'.
Designing the urban space: House and Living
The second section on display explores, as Gardner explains, 'the infrastructure of the city, and the lived experience of the urban environment', from the home to the city. Highlights include the newly acquired British Road Signage system by Margaret Calvert and Jock Kinneir, as well as domestic product innovations ranging from the compact 'Barbican Basin', to Naoto Fukasawa's CD player for Muji, and Konstantin Grcic's multifunctional 'Mayday' lamp for Flos.
Design's role in addressing global issues: Crisis and Conflict
From the Second World War to the modern day, this section looks at activism initiatives (opens in new tab) and design's ongoing role in reacting and addressing global issues. 'We look at the world as a place made up of the mass movement of people: we're currently experiencing the biggest movement of people since the Second World War, with over 270 million people, being called migrants by the UN and 70 million of them being refugees,' explains Agerman Ross. Pieces such as the 'Tala' curry measure by Jasleen Kaur (a Scottish artist who grew up in a Sikh household in Glasgow), notes the curator, 'speaks of the experience of creating your own unique culture in the place that we call home'. Sub-themes, the curators say, include facing issues of racism and designing with ingenuity when resources are scarce – an example being social enterprise Granby Workshop, created in Liverpool by Assemble.
Design's added value: Consumption and Identity
One of the questions that led the two curators throughout the process of creating the new gallery displays was: 'When did design become design?' The traditionally sexier side of design is explored in this section, with examples of Italian midcentury design, and pieces chronicling the added value a designer can bring to an object: case in point, Philippe Starck's sculptural 'Juicy Salif' lemon squeezer for Alessi (opens in new tab), and Virgil Abloh's intervention on Ikea products.
Design as a tool for innovation: Sustainability and Subversion
'Here you have that desire for different worlds, socially, economically, but also environmentally,' says Gardner. 'The objects that we bring together here are those of repurposing, of recycling, but also where designers are railing against prevailing norms.' Displays include Christien Meindertsma's 'Flax' chair, the result of innovative design and manufacturing processes led by the designer using a new material for furniture production. But, perhaps most interestingly, there are also examples of design thinking that didn't quite work in practice, such as the 'WOBO (World Bottle)', designed by N John Habraken in 1963 and intended to double as a brick after use. 'This was an idea that wasn't fully realised, but that metrical measure of success is always an interesting point to think through, when looking at products and objects of this nature,' explains Gardner, also citing Yves Behar's 'One Laptop Per Child' – 'brilliantly influential in the design world, much more limited in its impact in the real world'.
21st century design: Data and Communication
More recent technological advancements in the world of design in this section include Front's 'Sketch' chair, developed by the designers as a three dimensional hand sketch. The chair is shown next to Future Systems' desk for Conde Nast's Jonathan Newhouse, created in 1999; while it is an early example of computer design from the practice, the desk was hand-built by a boat building workshop in the UK.
Addressing the most pressing issues of today: Rapid Response Collecting
Showcased throughout the galleries are the V&A's Rapid Response collection: launched in 2010, this series of 50 objects examines design's role in shaping and responding to the biggest issues of our times and aims to spark a wider conversation about design. The most recent aquisition in this collection is a pair of posters by Asian-American artist Amanda Phingbodhipakkiya, created to respond to the recent wave of crimes against AAPI communities in the USA during the Covid-19 crisis. Another recent object in the collection is a snorkeling mask, adapted by an Italian doctor at the beginning of the pandemic in 2020, to be used as an emergency breathing mask and made available through a freely downloadable file.
INFORMATION
'Design: 1900-Now' is at the V&A, rooms 74, 74A & 76
vam.ac.uk (opens in new tab)
ADDRESS
Victoria & Albert Museum
Cromwell Rd
London SW7 2RL
VIEW GOOGLE MAPS (opens in new tab)
Rosa Bertoli was born in Udine, Italy, and now lives in London. Since 2014, she has been the Design Editor of Wallpaper*, where she oversees design content for the print and online editions, as well as special editorial projects. Through her role at Wallpaper*, she has written extensively about all areas of design. Rosa has been speaker and moderator for various design talks and conferences including London Craft Week, Maison & Objet, The Italian Cultural Institute (London), Clippings, Zaha Hadid Design, Kartell and Frieze Art Fair. Rosa has been on judging panels for the Chart Architecture Award, the Dutch Design Awards and the DesignGuild Marks. She has written for numerous English and Italian language publications, and worked as a content and communication consultant for fashion and design brands.