The worlds of science, design and rave culture collide in Peter Saville's glassware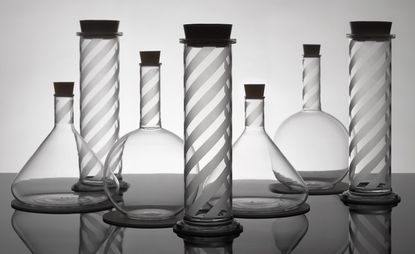 (Image credit: TBC)
Peter Saville's new glassware for the Museum of Science and Industry (MSI) is a nod to not only Manchester's part in the industrial revolution, but also to its role in the postmodern cultural overhaul enacted by punk and rave. Styled after laboratory flasks, each of Saville's three vases has his diagonal warning stripes design etched across it, a symbol he originally re-appropriated for Factory Records when he co-founded it in 1979.

This graphic sampling of hazard stripes for Factory (which was hand-drawn; this was pre-web) was a way of reclaiming Manchester's industrial identity, which by the 1970s had become associated with unemployment and the past. The stripes appeared across the label's record sleeves and promo material, and designer Ben Kelly incorporated them into his interior scheme at the Haçienda, most famously on the floor.
The vases are MSI's first venture into design products beyond your average museum shop merchandise. MSI is part of the Science Museum Group, which is embarking on a new series of product design partnerships with high profile designers at its London museums, starting with a collaboration with Zaha Hadid Architects that pays tribute to the firm's new Kensington mathematics gallery.

This collaboration is part of a current wave of cultural institutions integrating the club scene of the 1980s and 1990s into art history history and design heritage. Saville thinks the realities of ageing and economics are driving the resurgent interest in rave culture in the arts and design world, both among creators and audiences. 'It's a cycle,' he says, explaining, 'A quarter of a century ago "rave" was the principle youth movement, so it was immersive and formative for many who now form an affluent consumer strata and have cultural appreciation.'
Saville has served as consultant creative director for the City of Manchester since 2004, and the glassware launch comes in advance of the museum's integration into a broader cultural vision for Manchester, one that seeks to inspire popular enthusiasm by emphasising the legacy of the Haçienda and Factory Records. Saville's three-stripe design, originally created for MSI's entrance gates in 2013, combines that recent history with city signage from further back, namely Manchester's coat of arms, which uses three stripes to represent local rivers Irwell, Medlock and Irk. Saville stripped the number of hazard lines he used for Factory back to three for MSI to echo this symbolism.

As Manchester was the birthplace of the industrial revolution, MSI essentially tells the story of the machine age. Saville's postmodern reclamation of that faded, jaded era through his design is therefore particularly pertinent to the institution's purpose. MSI now owns Factory's archives of design drawings, posters, guest lists and business correspondence, primarily made up of the collection of Rob Gretton (manager of New Order/Joy Division and partner in Factory and the Haçienda), and has on loan a number of objects from the Anthony H Wilson Estate (Tony Wilson founded the Haçienda and was known as Mr Manchester). To top it all off, a new Manchester concert hall, designed by OMA, is set to open beside MSI; it's called The Factory – a reminder that today's youthful rebellion will be tomorrow's cultural canon.
INFORMATION
First editions of the flasks are £99 each. For more information, visit the Science Museum website (opens in new tab)