Pleasure island: the decadent interiors of Australia's first lady of modernist design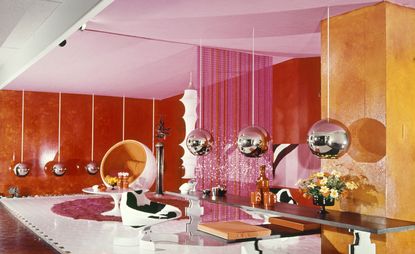 (Image credit: Photography: Mary White)
Glossy surfaces, bright colours and futuristic shapes come alive in an exhibition of Australian design legend Marion Hall Best. Opening tomorrow and curated by Michael Lech, the exhibition 'Marion Hall Best: Interior' at the Museum of Sydney surveys the legacy of one of the most prolific Australian designers.

Australian design and architecture has generally stood (and still stands) a bit far from the rest of the world. Despite it, the country has a strong tradition of the modernist movement. Designers such as Gordon Andrews, Douglas Snelling, Grant and Mary Featherston, along with sculptor Clement Meadmore, developed a strong sense for shapes and colours in their work since the 1940s. Marion Hall Best (1905–1988) stands as a talented individual among all of them, creating some of the most spectacular spaces in 20th-century Australia.

Before she focused on creating residential and commercial interior projects, Best studied at the Frensham Art School in Mittagong in the 1920s, where she became very interested in modern art. 'The sensuality of colours of modernist paintings has greatly influenced her,' says Lech, who worked with archive materials, photos, original interior objects and more to showcase the Best's design universe.
Marion Hall Best sitting on the lawn at The Grove, Woollahra, with nine iconic chair designs by the likes of Eero Aarnio, Harry Bertoia and more, 1970. Courtesy of Caroline Simpson Library & Research Collection, Sydney Living Museums
In the late 1930s, Best set up stores selling products from local artists and designers who she also approached to design her own collections of decorative fabrics. At the same time, Best also had a significant merit in importing the latest interior trends from Europe and the USA. She was the first in Australia to offer iconic products from Herman Miller and Marimekko in her stores.

Best mixed all these ingredients in her avant-garde interior cocktails, which were devoted to sensual pleasures and a hedonist approach to life. Her most celebrated interiors were designed between 1950s and 1970s. 'Most of her spaces are unfortunately gone. Today we can admire her work just in the archives,' adds Lech. A room she designed for Mary Quant in 1967 featured Scandinavian and Italian design classics, dressed in the shiny sparkling space painted pink, red and orange.

A mirrored ceiling, reflecting Achille Castiglioni's 'Taraxacum' lamps and a bright green wall characterised another famous project: a room for Mr Peter Sculthorpe, designed for the 1971 exhibition 'Rooms on View'.

Best mastered European and American modernist schemes and gave them glamorous sensitivity and energy in the Southern Hemisphere. While her legacy in Antipodean design culture is strong, it is still fairly unknown outside of Australia. The exhibition at the Museum of Sydney gives the opportunity to raise international awareness of the original work of this first lady of Australian design.
Installation view of a room for Mr Peter Sculthorpe, designed by Marion Best and Deirdre Broughton for the 1971 exhibition 'Rooms on View', celebrating SIDA's 20th anniversary. Courtesy Caroline Simpson Library & Research Collection, Sydney Living Museums
Marion Hall Best in Marimekko, 1968. Courtesy of Caroline Simpson Library & Research Collection, Sydney Living Museums
Best's shop on Queen Street, Woollahra, 1968. Courtesy of Caroline Simpson Library & Research Collection, Sydney Living Museums. Gift of Deirdre Broughton
INFORMATION
'Marion Hall Best: Interiors' is on view 5 August – 12 November. For more information, visit the Museum of Sydney website (opens in new tab)
ADDRESS
Museum of Sydney
Cnr Phillip and Bridge Streets
Sydney NSW 2000
VIEW GOOGLE MAPS (opens in new tab)