Sale force: an auction of iconic works is set to finalise funds for Design Museum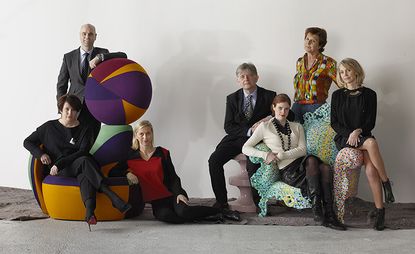 (Image credit: Marius W Hansen)
'Time for Design' is the powerhouse auction raising money for the relocated Design Museum. Pictured: members of the committee, with pieces to be auctioned, from left to right: Davina Mallinckrodt (sitting on a piece from Martino Gamper's 'Metamorfosi' collection, estimate: £5,000–£7,000); Alexander Payne; Anne-Pierre d'Albis-Ganem; Deyan Sudjic (sitting on 'Bishop' stool by India Mahdavi, estimate: £500–£700); Cora Sheibani (sitting on 'Poltrona di Proust' armchair by Alessandro Mendini, estimate: £30,000–£50,000); Isabelle Hotimsky; Laure Ghouila-Houri
Five floors up in London's emblematic Berkeley Square, Oscar Niemeyer's sensual 1970s masterpiece, the 'Rio' chaise longue, sits balanced in a corner, the sunshine hitting it just so, as if it had been beamed down to Earth. Nearby, a black, angry-looking version of Nendo's 'Cabbage Chair' stands stoutly next to Frank Gehry's lyrical 'Cross Check' chair, all beautiful bent strips of intersecting maple veneer.
Lined up for mugshots against a bare wall at the sleek Mayfair headquarters of auction house Phillips, the three seats could not be more different in origin, intent or execution but, nonetheless, they have a common thread: all will hit the market on 28 April – with some 70 other lots – when Phillips hosts 'Time for Design', an auction in support of London's relocated Design Museum.
This £80m project is scheduled to open on Kensington High Street in November. Proceeds from the auction will help to fill the final fundraising gap for the John Pawson-designed overhaul, which will transform the Commonwealth Institute – a Grade II-listed, 1960s modernist building just south of Holland Park – into a 10,000 sq m destination for those design-obsessed, or merely curious.
'An auction seemed a good way of making a public statement,' explains museum director Deyan Sudjic, who is curating the sale. 'While most of our fundraising has been with individual donors, trusts and foundations, this is a way to open up to a wider group and show the museum's range of interests.'
Whether it's the first edition of Norman Foster's sculptural 'Arc' table, a steely blue 'Ribbon Pouf' by Maria Pergay or a naughty vase by the Haas Brothers, the sale arguably features something for everybody. And that includes the unexpected – such as an 'Irish Green Falcon' guitar donated by U2's Bono. 'What this auction is trying to say is that the museum (together with Phillips) thinks that this is the world of design now,' says Sudjic. 'It features amazing pieces; the kinds of things we'd like to have in the museum.'
There are plenty of rare finds and museum-quality pieces on offer, including an Aldo Rossi desk prototype, designed for Molteni & C in 1989 but never produced, and an unopened example of Gaetano Pesce's vacuum-packed 'UP3' chair (it self-inflates when the packaging is removed). And artist and designer Rolf Sachs, a trustee of the Design Museum, has donated the first edition (of five) of Ron Arad's 'London Papardelle', a woven stainless-steel chair that seems to unroll onto the floor. 'I've always wanted a "Papardelle",' says Alexander Payne, worldwide head of design at Phillips. 'It became such an important part of Arad's vocabulary, and the idea that we can sell the first one is huge.'
For seasoned collectors and newcomers alike, the sale is an opportunity to buy into a premium selection of historical treasures and contemporary works, all in the name of charity. Shopping as patronage, if you will. 'It is a charitable auction, but it's not the kind of thing where you sit at a dinner and you're embarrassed into buying stuff you don't really want,' says Sudjic. 'The contents warranted a proper sale on the open marketplace.'
In addition to donations from collectors, artists and designers, manufacturers and galleries have stepped up, with the likes of Apple and Flos creating one-offs for the occasion. 'The catalogue reads like a Who's Who of contemporary design,' notes Payne. 'And a what's what,' adds Sudjic. 'It's kind of a manifesto for the museum – a preview of what to expect in terms of range, quality and the way it is put together.'
The lots have been gathered with the help of a 21-strong auction committee (including Payne and Sudjic) that's a roll-call of design-world royalty and the very well-connected: from Design Miami's executive director Rodman Primack, designer Marc Newson and architect David Adjaye, to PR power-player Davina Mallinckrodt, Parisian curator Anne-Pierre d'Albis-Ganem and London-based jeweller Cora Sheibani (daughter of the Swiss art dealer Bruno Bischofberger).
'I grew up around art and design, and the museum is five minutes from my house, so it felt natural to get involved,' says Sheibani. 'We're an international group and this allowed us to tap into a global network, which is obvious in the scope of the sale.' Mallinckrodt, director of London PR firm Cultural Agenda, has been involved with the museum for several years. 'The thing that's so exciting about design is that it has something to offer everybody, and that's very much what the museum aims to communicate,' she says.
The museum's move from its current home – a 1940s warehouse in Shad Thames in south-east London – represents a colossal upgrade in terms of space, location and visibility. When it opens its new doors in the west, it will be close to both the Serpentine and the V&A, bringing it into dialogue with the capital's other great museums.
'We're aiming to make design more widely understood,' says Sudjic. 'In the same way that before Tate Modern opened, contemporary art was seen, at best, as a harmless interest for a small group of people, or a joke. But now it's centre stage. I think design is a way to understand the world. And we will be leading the conversation on design, which doesn't ever stand still, but is always changing. Which is why it's so exciting and interesting, isn't it?'
As originally featured in the May 2016 issue of Wallpaper* (W*206)
INFORMATION
'Time for Design' takes place on 28 April. For more information, visit the Phillips website
Photography: Marius W Hansen
ADDRESS
Phillips
30 Berkeley Square
London, W1J 6EX
Receive our daily digest of inspiration, escapism and design stories from around the world direct to your inbox