Virgil Abloh's cover intervention sees Wallpaper's September issue cut in half
Taking over the limited-edition subscribers' cover of our September issue, the design polymath highlighted the magazine as an object, and personally cut and signed 184 copies – available for sale on canary---yellow.com – to benefit his "Post Modern" Scholarship Fund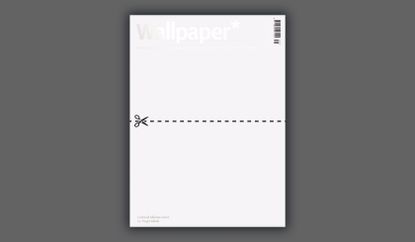 (Image credit: press)
In the most groundbreaking addition yet to Wallpaper's limited-edition cover series, designer Virgil Abloh is cutting our September 2020 issue in half.

We invited Abloh to take over our cover to coincide with our exclusive first look into 'Project Geländewagen', an art project with Mercedes-Benz chief design officer Gorden Wagener that reinterprets the German brand's classic G-Class SUV series.

Like the artwork, which has a stripped-down appearance and a specially developed exterior paintwork to 'show remnants that a hand touched it', Abloh's cover is understated, tactile and radical. The cover space is a matt white, with the requisite Wallpaper* masthead and cover credit visible only as a layer of gloss varnish.
Across the centre of the cover is a horizontal dotted line in black, with a scissor graphic that invites the reader to cut the magazine in half – an act meant to highlight the magazine as an object. 'Cutting the physical object makes the magazine come alive and reinforces the concept that the magazine's media may be physical, but it also occupies a space figuratively and literally,' Abloh explained in his design proposal.

As an added element of his cover takeover, Abloh has personally cut and autographed 184 copies of his cover.Titled '2 for the Price of 1', these special editions are now available for sale from his website, canary---yellow.com.

The cutting took place on 25 August 2020, at premises of Abloh's regular collaborators Oetee, who worked with him on his exhibition 'Figures of Speech' at the Museum of Contemporary Art Chicago last year.
'I was trying to develop an idea that was more than just a 2D cover. I treated the magazine like a 3D object, essentially a call to action,' he explains. 'The only graphic design essentially present requires the end user to cut it in half. The essential premise is that readers respond to it however they wish. It's a proposition that needs an end user; the idea is democratic.'

'We're a generation on the fringe of digital being ever-present, but print also being an emotional connection to the past. Projects like this can meld those two worlds together, and be engaging to both,' he continues.

All profits from the cut and signed covers will go to the Virgil Abloh™ "Post Modern" Scholarship Fund, which is dedicated to fostering equity and inclusion within the fashion industry by providing scholarships to students of promise of Black, African-American, or African descent. The scholarships are managed in partnership with the Fashion Scholarship Fund (FSF), an American non-profit association that supports the future of fashion.
'It's important that the door is left open for kids just like me,' reflects Abloh, the son of Ghanaian immigrants in Chicago who ascended the ranks to become one of the world's foremost designers. 'The future of fashion, the future of design, the future of management and all these careers is an urgent matter. It is vital that figures like me embed within their work a component to fortify that effort.'

For an in-depth look at Project Geländewagen, by Wallpaper* Germany Editor Sophie Lovell and photographers Bafic and Frederic Seemann, see here.
INFORMATION
The cut and autographed covers are available for purchase now), $30, with all profits donated to the Virgil Abloh™ "Post Modern" Scholarship Fund, see canary---yellow.com.

Abloh's cover design is the latest addition to the Wallpaper* limited-edition cover series, which features a specially created artwork by a different artist, architect or designer each issue. Limited-edition covers are available to subscribers only; for more information, see wallpaper.com/subscribe
TF Chan is a former editor of Wallpaper* (2020-23), where he was responsible for the monthly print magazine, planning, commissioning, editing and writing long-lead content across all pillars. He also played a leading role in multi-channel editorial franchises, such as Wallpaper's annual Design Awards, Guest Editor takeovers and Next Generation series. He aims to create world-class, visually-driven content while championing diversity, international representation and social impact. TF joined Wallpaper* as an intern in January 2013, and served as its commissioning editor from 2017-20, winning a 30 under 30 New Talent Award from the Professional Publishers' Association. Born and raised in Hong Kong, he holds an undergraduate degree in history from Princeton University.