Bosco Sodi creates limited-edition cover for Wallpaper's December 2020 issue
For our December 2020 issue, artist Bosco Sodi explored notions of perfection by contrasting his clay sculptures with the concrete forms of his Casa Wabi art foundation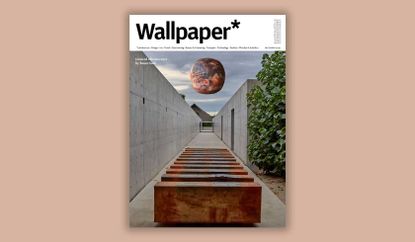 (Image credit: Bosco Sodi)
Tasked with creating the limited-edition cover for Wallpaper's December 2020 issue (opens in new tab), artist Bosco Sodi presented an image of his clay sculptures at Casa Wabi, his art foundation in Puerto Escondido, Mexico.

Resembling giant bricks arranged in parallel, these untitled pieces are undeniably minimalist. Yet they reflect a different type of minimalism from their Tadao Ando-designed backdrop, characterised by right angles and smooth concrete volumes. In contrast, Sodi's pieces are rougher, unevenly coloured, with naturally-occurring cracks and clear traces of the artist's hand.

Within our studio profile, Sodi describes this aesthetic as 'pre-industrial minimalist': embracing nature in all its imperfections, rather than insisting on mathematical ideals. It reflects his longstanding fascination with the Japanese idea of wabi-sabi, which discovers beauty in the elemental and rustic.

Sodi began to work in clay in 2015, at his Casa Wabi studio not far from where the cover photograph was taken (he also has studios in Brooklyn, Mexico City and Barcelona). His process involves drawing clay from the ground, shaping it into the desired forms by hand, and then firing them for up to 14 hours in an open-front kiln that is fed coconuts, wood, and jacaranda seeds. Each of these materials creates a different patina. The pieces are dried in the open air, exposed to the elements and developing cracks and crevices that evoke arid landscapes.

While Sodi is personally involved in the creation of each sculpture (touch and feel are essential to 'that exchange of energy between the artist and the object', he says), he also relies on the assistance of workers who are trained in Oaxacan clay firing, and in doing so, he sustains a traditional craft and supports the local community.
exclusively to our subscribers (opens in new tab)
RELATED STORY
Artist Bosco Sodi, photographed in his Brooklyn studio on 18 September, in front of an untitled white painting now on view at his solo exhibition, 'Vers l'Espagne' at Kasmin Gallery, New York
Sodi has often stacked his smaller clay pieces to create monumental sculptures – a notable example being Muro (2017), a public art intervention which saw him build a brick wall in New York's Washington Square Park, and then invite passers-by to dismantle it brick-by-brick and take part of the artwork home. The following year, he completed the land art installation Atlantes near Casa Wabi, which consisted of 64 gigantic clay cubes each comprising 1,600 bricks.

The new pieces on Sodi's cover design, however, are meant to stand alone: six of them appeared in his recent show at Manhattan's Kasmin Gallery, titled 'Vers l'Espagne', their terracotta hues contrasting with a series of white paintings installed on the gallery walls. The superimposed sphere, meanwhile, is from his outdoor installation 'Perfect Bodies', a stone's throw from Sodi's Brooklyn studio and on view through 20 December.

The installation title, like the clay sculptures themselves, is an elegant summation of Sodi's philosophy: 'They're perfect bodies because they're unique,' he tells us. 'Perfection comes from uniqueness. It's the unrepeatable, the traces of time, and the cracking that makes the work perfect.'
INFORMATION
Bosco Sodi's cover is the latest addition to the Wallpaper* limited-edition cover series, which features a specially created artwork by a different artist, architect or designer each issue. Limited-edition covers are available to subscribers only; for more information, see wallpaper.com/subscribe (opens in new tab)
'Perfect Bodies' is at Perfect Bodies Auto Collision, 184-186 Conover Street, Brooklyn until 20 December. pioneerworks.org
TF has been editor of Wallpaper* since December 2020. He is responsible for our monthly print magazine, planning, commissioning, editing and writing long-lead content across all our content pillars. He also plays a leading role in multi-channel editorial franchises, such as our annual Design Awards, Guest Editor takeovers and Next Generation series. He aims to create world-class, visually-driven content while championing diversity, international representation and social impact. TF joined Wallpaper* as an intern in January 2013, and served as its commissioning editor from 2017-20, winning a 30 under 30 New Talent Award from the Professional Publishers' Association. Born and raised in Hong Kong, he holds an undergraduate degree in history from Princeton University.