Bosco Sodi on minimalism, imperfection, and the emotive power of art
As painter and sculptor Bosco Sodi opens major solo shows in Malagá, Manhattan and Brooklyn, we visit his studio to discover a creative process that embraces the accidents of nature. A version of this story will appear in the December 2020 issue of Wallpaper, on newsstands 12 November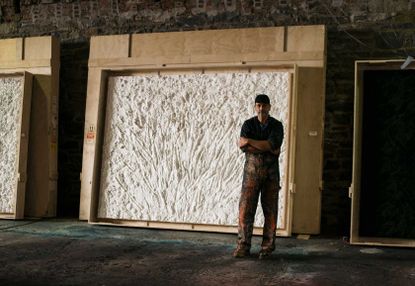 (Image credit: Spencer Wells)
Wallpaper* Newsletter
Receive our daily digest of inspiration, escapism and design stories from around the world direct to your inbox
Thank you for signing up to Wallpaper. You will receive a verification email shortly.
There was a problem. Please refresh the page and try again.
Bosco Sodi's painting studio is set in a mid-19th-century warehouse in Red Hook, Brooklyn, a long, cavernous space with austere stone walls, exposed ceiling beams, and towering doors that open onto the waterfront. With its impressive proportions, it could comfortably accommodate a small army of technicians and assistants. Indeed, given the scale of Sodi's work (the titular painting for his 2010 show 'Pangaea', at the Bronx Museum, measured 400 x 1,200 cm), one imagines a similarly sizable studio team. Yet Sodi prefers to work by himself, relying on an assistant only for the most physically demanding tasks.

'I prefer to have nobody here. Painting is a very intimate process, so I don't like having my concentration broken,' he says.

Sodi's paintings are driven by materials: pigments, often in striking hues that push the limits of the human eye, personally sourced from around the world (India, Morocco and Japan are a few favourite spots); sawdust, collected from workshops near his studio rather than ordered to custom specifications; glue and water. He personally mixes them in giant buckets, intuiting the measurements as he figures out the ingredients' specific chemical properties. Likewise, he likes to assemble his own canvas stretchers and stretch his own canvases, insisting that touch and feel are essential to 'that exchange of energy between the artist and the object'.
Lying the canvases flat atop upturned buckets, he throws on fistfuls of paints with his bare hands, splattering layer upon layer over a four to five day period. 'And when I see the first crack, I stop totally and let the painting go by itself. Because if I get into the painting when it's already becoming alive, I will alter the outcome, and it would not have that natural and organic feeling.'

Left out to dry for a few weeks, a painting develops further cracks and fissures that evoke the arid landscapes of Sodi's native Mexico. Finally, Sodi stands it up and properly sees it for the first time. He relishes the fact that the outcome is impossible to predict: 'That's what makes me come every day to the studio – the excitement of not knowing what's going to happen.' Time, as it turns out, is a brilliant co-creator. Vivid as the works-in-progress may be, it's the finished pieces with their weathered surfaces that linger longer in the viewer's memory, able to summon the same awe and wonder as ancient fossils.
Above: The dyes are mixed with sawdust (collected from workshops near his studio), glue and water within giant buckets, taking on a slurry-like consistency. Below: Sodi lies his canvases flat and then throws on fistfuls of the slurry with his bare hands, in deliberate and powerful movements
As Sodi focuses on one colour at a time, his shows of new work tend to be monochromatic. In early September he opened 'Ergo Sum' at the Centro de Arte Contemporáneo in Málaga, Spain, featuring a series of black paintings. For his birthday last year, Sodi had received a small container of pigment from his son of 'the blackest black', a material that absorbs so much light that it obliterates any semblance of texture from the surface it coats. Captivated by the material, the artist proceeded to acquire it in large quantities to create paintings that meditate on nothingness: inscrutable from afar, they only reveal themselves as complex topographies when the viewer draws close.

A more recent show, 'Vers l'Espagne' at Kasmin Gallery, New York has five entirely white works, each measuring 268 x 353 cm. They pay homage to three paintings of the same dimensions by Joan Miró, titled Peinture sur fond blanc pour la cellule d'un solitaire (painting on a white background for the cell of a recluse). Miró's originals consisted of blank white canvases each embellished with a solitary trembling line – an ostensibly simple gesture that spoke volumes about minimalism and freedom. The same ideas animate Sodi's artistic practice, and so his admiration for Miró is no coincidence. Since his first encounter in 1992, at the age of 22, he has returned to Barcelona's Fundació Joan Miró many times to see these paintings (for part of the noughties, Sodi lived in the Spanish city and would visit the paintings every month).
RELATED STORY
Whereas Miró's work was a pure expression of the artist's intention, Sodi's tribute incorporates elements of nature: he thought of his house in upstate New York, with a small lake that is frozen and blanketed with snow in the winter. In the same way, Sodi used to hit the snow with tree branches to create imprints, he now applied a surface treatment to his white paintings. 'So I went upstate and chose branches whose rhythms I liked. And I began to create paintings the same way I always have. But once I was done putting the material on, and while it was still completely fresh, I marked the branches on the paintings,' he recalls. 'I wanted to give this sensation of purity, of simplicity, while keeping a resemblance to the organic.'

The same deference to nature and chance is evident in Sodi's sculptural works within the Kasmin show – six monumental terracotta-hued blocks, made from local clay at his Casa Wabi art centre in Puerto Escondido, Mexico. Formed by hand, dried in the sun and then fired in a traditional kiln with coconuts, wood and jacaranda seeds, their geometric forms are tempered by their cracked and scorched surfaces. Sodi calls the pieces 'pre-industrial minimalist'. 'American Minimalism was based on perfection, here it is the contrary.'
A borough away, back in Red Hook, Sodi is presenting another series of clay sculptures in the most un-gallery-like of settings: a commercial outdoor parking lot. Against a backdrop of concrete and corrugated steel, he is showing large-scale spheres and cubes that were likewise created at Casa Wabi. The title, 'Perfect Bodies', is derived from the auto body shop that used to occupy the site (a sign bearing the name 'Perfect Bodies Auto Collision' remains on view), but also a clever commentary on the Japanese philosophy of wabi-sabi, which embraces imperfection and has been a driving force of Sodi's work for many years.

The installation's curator, Dakin Hart, describes its sculptures as 'the petrified remnants – or organic vanguard – of a Jurassic invasion'. But beyond conjuring a prehistoric past or imagining a dinosaur-dominated future, Sodi hopes that 'Perfect Bodies' will root his viewers in the present, offering a breath of fresh air to those who have only recently returned to seeing art in person.
Despite the pandemic, it has been a prolific few months for Sodi – in addition to his trio of shows, he's also published two books: a monograph with Rizzoli, and a pocket-sized volume of his own reflections on art and life with Mexico City-based Dharma Books and Publishing. Both have offered Sodi an opportunity to take stock of his practice, but it's the latter, presented as a series of short paragraphs, that offers us the clearest picture of his intentions:

'I wish the viewer might capture the ungraspable and that my work awakens his deepest feelings,' he writes. 'My desire is to give viewers a new point of reference that reminds them that life is a profoundly magical experience.'
In a film by Spencer Wells and Peter Eaton, made for Wallpaper* during the shoot at Bosco Sodi's Brooklyn studio in September, the artist reflects on his creative processes, the unpredictability of painting, and his new work for a show at Kasmin gallery, New York
INFORMATION
'Vers l'Espagne' is at Kasmin, 509 West 27th Street, New York until 12 November, kasmingallery.com
'Ergo Sum' is at CAC Málaga until 6 December, cacmalaga.eu
'Perfect Bodies' is at Perfect Bodies Auto Collision, 184-186 Conover Street, Brooklyn until 20 December, pioneerworks.org
Bosco Sodi, published by Rizzoli, rizzoliusa.com
En cuarentena, published by Dharma Books + Publishing, dharmabooks.com.mx
Receive our daily digest of inspiration, escapism and design stories from around the world direct to your inbox
TF Chan is a former editor of Wallpaper* (2020-23), where he was responsible for the monthly print magazine, planning, commissioning, editing and writing long-lead content across all pillars. He also played a leading role in multi-channel editorial franchises, such as Wallpaper's annual Design Awards, Guest Editor takeovers and Next Generation series. He aims to create world-class, visually-driven content while championing diversity, international representation and social impact. TF joined Wallpaper* as an intern in January 2013, and served as its commissioning editor from 2017-20, winning a 30 under 30 New Talent Award from the Professional Publishers' Association. Born and raised in Hong Kong, he holds an undergraduate degree in history from Princeton University.
With contributions from