Sarah Douglas celebrates 25 artist covers for 25 years of Wallpaper*
To kick off Wallpaper's 25th-anniversary celebrations, editor-in-chief Sarah Douglas selects 25 of her favourite artist-designed covers, from David Hockney to Virgil Abloh, Barbara Kruger to Yayoi Kusama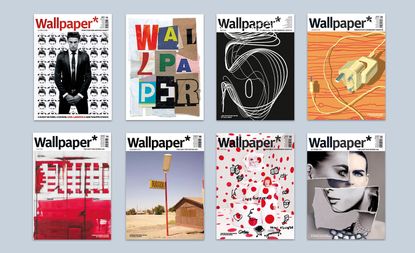 (Image credit: press)
We launched our Limited-Edition Subscribers' Cover series in 2006 to coincide with Wallpaper's tenth anniversary. In the subsequent 15 years we have been honoured to invite such luminaries as Louise Bourgeois, Thomas Demand, David Hockney, Daniel Buren, Laurie Simmons, Anish Kapoor, Zaha Hadid, Dieter Rams, Jeff Koons, Barbara Kruger, Isaac Julien, Chris Burden, Sarah Morris, Karl Lagerfeld, Wim Crouwel and many more to grace our cover.

Freed from the practicalities of the newsstand, our esteemed guests are given carte blanche. The results are things of beauty in their own right, but collectively provide a window for the changing face of creativity; an essential complement to any coffee table, the limited-edition covers justify the subscription price alone!

To celebrate our 25th anniversary, I was delighted to go back through the archive, recalling some of the stories behind the covers, and remembering lost friends. The series has been a pleasure, an honour, and a constant source of inspiration, and I am grateful to all of our wonderful collaborators, so much so that it has been an agonising process to whittle down the shortlist, but here are 25 of my personal favourites:
Cover artist: Zaha Hadid May 2006 (W*88)
It all began in 2006. To mark Wallpaper's tenth anniversary, we invited ten artists to create limited-edition covers, among them was this dynamic monochromatic design by the legendary Zaha Hadid.
Cover artist: Alan Fletcher December 2006 (W*94)
It was a mischievous and unprecedented suggestion by Alan to exclude the Wallpaper* masthead from his cover design. But as the graphic design hero explained at the time, 'if you're going to do it, you may as well bloody do it'.
Cover artists: Robin and Lucienne Day January 2009 (W*118)
Robin and Lucienne Day's covers will always hold a special place in my heart, as I visited the Days in their Chichester home to invite them each to design a cover. Their house was magical and filled with original work and prototypes. Lucienne was focused and sharp; Robin had a twinkle in his eye. They said to return in a week. Duly, I returned one week later, bringing them cake, and returning with these two artworks under my arm.
Cover artist: Cerith Wyn Evans May 2009 (W*122)
Collaborating with the ever-playful Cerith was a lot of fun, and when he said he wanted his cover to glow in the dark, we had to make it happen. It was another Wallpaper* first, but it's so effective!
Cover artist: Karl Lagerfeld October 2009 (W*127)
Few people have influenced fashion and the visual arts as consistently, and with such longevity as Karl Lagerfeld, so we were honoured to invite 'The Kaiser' to contribute a guest cover alongside Philippe Starck. Karl created a 'peelable' cover starring model and muse Baptiste Giabiconi, which could be peeled back to unveil another, more revealing cover. The adhesive strip had to be applied by hand to more than 100,000 copies, making it one of the most ambitious Wallpaper* covers to date, but also one of the most coveted.
Cover artist: Anish Kapoor December 2009 (W*129)
To coincide with Anish Kapoor's major show at the Royal Academy in London, in which the artist invaded the galleries in spectacular form with what was termed 'red goo', Anish graced our cover with the very same red goo. When it was finished, I went to his studio, picked up the artwork – carefully so as not to dislodge any of it – and carried it to the photographer's studio. Just as we were about to go to print, Anish let slip that he'd found the image of the pink flowers online. Anxiously, we mailed the photographer responsible to request permission, but fortunately, she was honoured and gracious in her loaning of the shot.
Cover artists: Jake and Dinos Chapman September 2010 (W*138)
Jake and Dinos agreed to do a cover each. Each week that followed, they promised to send us their artwork. Three days before printing, I insisted we needed it urgently. A couriered envelope then arrived on my desk, containing two 6x4in photographs of abstract sculptures. To my eye, these were not the work of Jake or Dinos, so I asked where they had come from. As it turned out, they'd found them on their studio floor after an artist sent them in for review. I responded with an email that may have included the word 'disrespect'. On receiving their reply, [then editor-in-chief] Tony Chambers and I looked at each other, nodded, and without saying a word, knew that this email should be the cover. That evening, by chance, I bumped into Dinos at Moro at Exmouth Market. I told him what we were printing; his smile said it all – it was always about 'irreverence on toast' – so I think they got exactly what they were after.
Cover artist: Barbara Kruger December 2010 (W*141)
Barbara Kruger is an emotive, moving and powerful artist, whom I admire deeply. She loved this collaboration so much that she displayed it in her museum exhibitions.
Cover artists: Subodh Gupta & Bharti Kher June 2011 (W*147)
In 2011, as part of our BRIC nations series, we spent a month in India producing our Re-Born in India issue. Following a miscommunication outside an ancient temple, [then photography director] James Reid and I misplaced our driver. Thankfully, we found a ramshackle hut with 'Taxi' written on the front and a sleeping man inside. We subsequently endured the most hair-raising, death-defying, journey to Subodh's studio. Shaken but relieved to have arrived in one piece, we settled our nerves with a glass of Coca-Cola, and invited them to contribute a guest cover. The result was a joint self-portrait titled In Another Life – in full traditional dress and backdrop; they told me they had a lot of fun doing it.
Cover artist: David Hockney January 2012 (W*154)
It was thrilling when David Hockney agreed to create a cover. We discussed the theme of the issue, 'The Next Generation', and he spoke about his experiments at the time with drawing on his iPad (at that point the iPad had only been around for a couple of years). This inspired his cover, made on his own iPad while at home in Bridlington.
Cover artist: Yayoi Kusama June 2012 (W*159)
For her cover, Kusama created a hand-drawn message of 'Love forever'. The illustration was composed over a photograph of the artist posing next to her characteristically polka-dotted piece, With All My Love For the Tulips, I Pray Forever, wearing matching attire.
Cover artists: Linder & Paolo Roversi September 2013 (W*174)
For my first cover as creative director, I was honoured to bring together Linder and Paolo Roversi for this star-studded fashion collaboration. On the day of the shoot, [then fashion director] Isabelle Kountoure and I were holed up in the photo studio with Paolo, Linder and artist and model Saskia de Brauw. While shooting, Paolo had the idea to photograph a portrait of Linder in homage to her 1981 work, She/she. The result is an amazing combination of Paolo's vision and photography, Linder's collage art, and a wonderful expression of Linder's beauty, and more broadly feminine beauty, over time.
Cover artist: Rick Owens September 2014 (W*186)
You would think that a creative visionary like Rick Owens would be intimidating, but not at all. Writing emails in only CAPS, he is incredibly personal, warm, hands-on and enthusiastic. We suggested he might draw something. 'I don't draw, I just drape,' he replied, returning with a specially created installation. It saw a bare-torsoed figure – an ambiguous fusion of him and one of his fitting models – brandishing a flaming torch. The figure stands beneath the Wallpaper* logo caked in a soy Styrofoam and polymer plaster concoction, or what the designer appetisingly termed 'white vomit'.
Cover artist: Carlos Cruz-Diez January 2016 (W*202)
Ah, the wonderful Carlos Cruz-Diez… I had the pleasure of meeting, visiting the studio of, and working with this incredible and prolific artist, then 91. His eyes sparkled with life, warmth, energy and generosity… just like his cover artwork.
Cover artist: Wolfgang Tillmans July 2016 (W*208)
In 2016, Wallpaper* – then headquartered opposite the Tate Modern – had front row seats to the Switch House expansion by Herzog & de Meuron. Witnessing the development in real time was like architecture as theatre – my idea of heaven. Wolfgang was on site to document the creation of Tate's 'bit on the side', which included an original artwork for Wallpaper's cover. It features an image of the then newly completed stairwell, manipulated using an old photocopier.
Cover artist: Tom Sachs February 2017 (W*215)
Tom was a Design Awards judge that year, so we invited him to create the limited-edition cover. In true Tom Sachs form, and after many amusing and lively conversations, he FedExed over this drawing of his chosen winner for 'best new grooming product': Dyson's 'Supersonic' hair dryer. James Dyson got in touch to say how much he liked it and wanted to order extra copies of the magazine, despite Tom mischievously characterising the hair dryer as a 'marital aid'.
Cover artists: Martino Gamper & Brigitte Niedermair April 2017 (W*217)
While gathering ideas for a collaboration with Italian fabric house Dedar, Martino and Brigitte stumbled across an unlikely source of inspiration. They noticed that when the internet was slow, Google Images would load in a grid of placeholder boxes, showing only the dominant colour of each image. Seeing the potential in this algorithmic composition, they searched for works by iconic artists – from Giotto to Klein – quickly screenshot the fleeting grid before the images loaded, and based an entire collection for Dedar on the results. For their Wallpaper* cover, they drew on Google Images results for Henri Matisse's 1909 painting, Dance.
Cover artist: Jenny Holzer July 2017 (W*220)
Jenny's limited-edition cover featured her work Design for Linens from Counter-Intelligence Document, part of her Redaction Paintings series, based on documents redacted by the US government before they entered the public domain. She followed the pattern of fragmented sentences and obscured words, transforming them into block-coloured paintings that became both abstract and architectural.
Cover artist: Jony Ive December 2017 (W*225)
A virtually blank cover – pure white, with the magazine logo set in rainbow colours and bar code erased – became the talk of the design and technology industries. Jony's design subverts the conventional cover formula by setting the characters of the Wallpaper* masthead in Apple's original rainbow colour spectrum. Despite the absence of a traditional visual, his cover bears the hallmark of Apple's design – light, minimal and enduring.
Cover artist: Isaac Julien June 2019 (W*243)
For his cover, Isaac channelled visionary architect Lina Bo Bardi through gold foil and a die-cut collage. In 2010, I had the pleasure of visiting Bo Bardi's iconic Casa de Vidro in São Paulo for Wallpaper's Born in Brazil issue (W*135); Isaac's multi-part tribute to the Italian-born modernist took me straight back to this astonishingly vibrant city.
Cover artist: Doug Aitken November 2019 (W*248)
subversive images that saw time-worn signage in the American West reworked with 21st-century text. As expected, the images were witty, poignant and vivid, so much so that we couldn't just run one, we had to run three.
Cover star: Alex Israel February 2020 (W*251)
At Wallpaper*, we love a good experiment, and thankfully so do our ever-obliging printers. So, to coincide with Alex judging the 2020 Wallpaper* Design Awards, he cut a window through the cover to create a double portrait. 'It made sense that on the other side of that cut-out would be an image of me looking at my favourite city in the world: LA,' he said.
Cover artist: Virgil Abloh September 2020 (W*257)
Taking the crown for 'most radical cover intervention', Virgil quite literally cut our September 2020 issue in half. Bisecting the all-matt-white cover and gloss varnish masthead is a horizontal dotted black line with scissor graphic. Abloh personally cut, autographed and sold 184 copies of his cover, directing proceeds to the Virgil Abloh™ "Post Modern" Scholarship Fund, dedicated to championing diversity and inclusion in the fashion industry.
Cover artist: Sophie Calle November 2020 (W*259)
After 14 years of dreaming of working with Sophie Calle, it finally happened. The artist would be unrecognisable on her limited-edition cover were it not for her signature eyewear; she is, after all, disguised as a tree. Her cover image is rooted in A L'Affût (On the Hunt), a project exploring the thrill and mundanity of the matrimonial chase, which she presented in an exclusive 20-page portfolio within the issue.
Cover artist: Daniel Arsham October 2021 (W*270)
And finally, I couldn't think of anyone more fitting to create our 25th-anniversary cover. Daniel only offers his epic treatment to cultural icons; so to be considered in that realm, and to see him take on the Wallpaper* logo truly is an honour for the magazine.
Wallpaper's October 2021 25th-anniversary issue is on newsstands and available to subscribers from 9 September 2021
INFORMATION
wallpaper.com/subscribe (opens in new tab)