Alex Israel judges Wallpaper* Design Awards 2020
He runs a sunglasses brand, he's released a feature-length teen romcom, and his paintings are held in collections at major museums around the world; Alex Israel is a multihyphenate who has blurred the boundaries between High Art and Pop product, commerce and concept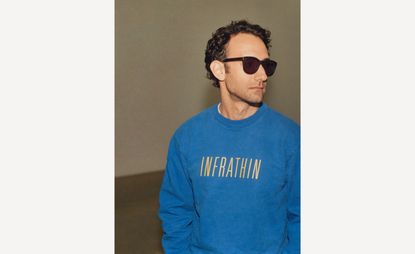 (Image credit: Niall O'Brien)
'In my lifetime the world has become so much less binary, so much more fluid, and that's been a big part of my goal as an artist – to reflect our new world through my work. I try not to have too many hang-ups,' the artist reflects. 'Sometimes we imagine boundaries to exist when they don't. I've always been more interested in riding the wave, not fighting it. Learning new things compels and inspires me.'

In 2011, Israel shot his popular web series As It Lays – a talk show/portraiture project for which the artist interviewed famous Los Angeles residents (Rachel Zoe, Perez Hilton, Marilyn Manson and Jamie Lee Curtis all appeared). Working on the set design for the show, Israel came up with some of his most best-known works to date, including his Self-Portraits, a series of the artist's profile painted onto panels — which Israel originally designed as the logo for As It Lays, inspired by the title sequence Hitchcock used of his silhouette in Alfred Hitchcock Presents. The Self-Portraits, Israel says, have since 'come to encompass all that I do as a kind of umbrella logo for my entire practice.' New works in the ongoing series are showing at the artist's first solo exhibition in London.

The Self-Portraits are also a reference for Israel's limited-edition cover for the February 2020 Design Awards issue of Wallpaper*. 'I grew up reading Wallpaper* and will forever be in awe of how clearly it translated the globalist sensibility of the '90s into magazine form. It fed my appetite for learning about modernist architectural gems tenfold, and changed my relationship to architecture, design and tourism.' He says. 'I wanted to cut a window through the cover as both an architectural gesture, and also to reference an architectural intervention I made using my Self-Portrait outline in both video (As It Lays ) and exhibition design (at Greene Naftali Gallery) last year. For Wallpaper*, it made sense that on the other side of that cut-out would be an image of me looking at my favourite city in the world: LA.'

In 2014, Israel began to develop his Self-Portraits further, incorporating representational imagery. It was a pivotal realisation for the artist, who began to make the panels larger, and to frame his day-to-day observations in the shape of his head. He does all of the painting at Warner Brothers Studios, 'in the scenic art department using a very specific, Hollywood, scenic painting technique that combines airbrush and paintbrush-work.'
The application of airbrush aligns his work with those of artists like Judy Chicago and John Chamberlain, who starting using airbrush on canvas in the 1960s in South California. 'In LA, airbrushing has long been used to create surfboards, custom cars and even movie sets — and LA artists have adopted it in pursuit of a So-Cal, "Cool School" look. By no coincidence, it's also the technique best suited to capturing the gradient colour patterns of the LA sky in paint.' Israel explains. 'I recall experimenting with gradients simultaneously on the computer, and with spray paint in my studio at school, to figure out how to achieve the look I wanted for the various components of my set design – and then guiding the scenic art department at Warner Brothers to help me realise the vision at full scale.'
RELATED STORY
It's just one of the elements that embeds Israel's work in the visual vernacular of Los Angeles and its mythology. 'I was born and raised in LA and grew up on a steady diet of the mainstream entertainment it has long produced. The city is such a big part of who I am, that I can't imagine myself or my work without it.' His work focuses on the magical and surreal qualities that are so particular to Los Angeles, from its pastel-hued light to the shadows cast through its immigrant palm trees and the lights glittering from the Hollywood Hills, a place where some dreams are made. But Israel is not oblivious to the more difficult sides to his hometown. 'It's hard to drive around the city these days and not feel deeply saddened by the increase in the number of Angelenos now living homeless on the streets.
As a teenager, Israel interned for two of the city's pre-eminent artists: the late John Baldessari and Lita Albuquerque. It had, he says, an enormous influence on his practice. 'Up until that point I didn't know any professional artists or have any idea whether being an artist was a possible life-career-pursuit. They showed me a path forward, and made the whole thing feel real. The commitment to art history in John's work, to mainstream media, and to rigorous philosophical pursuit through language and semiotics, and the elegant synthesis of these commitments, never stops inspiring me.' Israel also spent five years after college working at blue-chip galleries, a museum and an auction house, learning the machinations of the art market first hand. 'In that time, I both grew to understand the art world, and I built up the courage to eventually commit to my work full time. Being an artist is a scary pursuit, and for me, it was made less scary as I learned more and more about the path of an artwork once it leaves the studio, and about contemporary art's potential.'

'Some people believe artists shouldn't see the way the art world works for fear that it may corrupt their practice, but I've always felt the opposite — that the more I know, the freer I might be to make art without the anxieties of not knowing what's going on behind the curtain.' Israel adds.

With his natural affinity to and understanding of a broad array of art forms, Israel was invited to join the panel of judges for the Wallpaper* Design Awards 2020. He has a particular fondness for David Adjaye's Ruby City art centre, winner of the Best new public building category: 'The red concrete surface is simultaneously of this world and alien, asserting the power of colour and texture to comfort, connect, transport and inspire all at once.'
INFORMATION
'Alex Israel: Always On My Mind', 16 January – 14 March, Gagosian Grosvenor Hill. gagosian.com
Receive our daily digest of inspiration, escapism and design stories from around the world direct to your inbox
Charlotte Jansen is a journalist and the author of two books on photography, Girl on Girl (2017) and Photography Now (2021). She is commissioning editor at Elephant magazine and has written on contemporary art and culture for The Guardian, the Financial Times, ELLE, the British Journal of Photography, Frieze and Artsy. Jansen is also presenter of Dior Talks podcast series, The Female Gaze.