In memoriam: Carlos Cruz-Diez (1923-2019)
Carlos Cruz-Diez, the Venezuelan artist whose experiments with light and colour changed the face of kinetic art, died on Saturday in Paris. He was 95.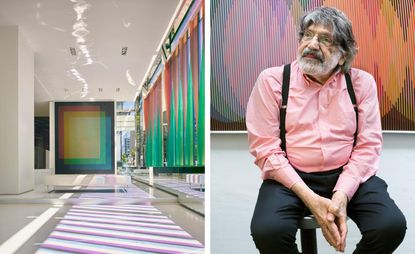 (Image credit: Hedrich Blessing & Rose Marie Cromwell)
Born in Caracas in 1923, Carlos Cruz-Diez discovered a love of drawing as a child, enrolling at age 17 at the city's School of Fine Art, where his peers included Jesús Rafael Soto and Alejandro Otero, who alongside Cruz-Diez would become the foremost Venezuelan artists of the 20th century.

Graduating in 1945, Cruz-Diez worked as an illustrator for local newspapers and then as creative director for an international advertising agency, while finding his own artistic voice as a painter. His early work was figurative, often denouncing the social issues of the day. 'I don't believe that art is disassociated from people and society,' he would later say. 'But telling somebody they are poor doesn't mean you are solving their problems – that made me go on a long introspective journey of what art should be, and what an artist should paint.'

His study of Bauhaus and the European avant garde, as well as the interplay between colour, light and perspective, led him on a path towards abstraction. In 1954 he began to work on abstract reliefs in plywood, acrylic paint and modulated cardboard strips, and five years later his created his first Physichromie (physical colour), a structure designed to unlock the additive, reflective and subtractive qualities of colour. The series would continue and evolve over the next six decades.
Stepping in front of a Physichromie is a theatrical, even transformative experience. Despite its straightforward composition – a striped background punctuated with parallel perpendicular bars, the judicious placement and choice of palette is such that the work never appears static. Instead, as light conditions shift and one shuffles around the work, new ranges of colour seem to unravel, compelling one to reconsider what it means to see. 'I conceive a work to the extent that the viewer moves in front of it,' he told Wallpaper* last year. 'These works are like light traps, where colours evolve and transform in a perpetual presence, unlike traditional painting where colour was applied once and remains unchanged, becoming a past event, not of the present.'

In 1960 Cruz-Diez relocated to Paris, lured by developments in international abstraction. He would be based there for the rest of his life. Pushing the experiential dimension of his work further, in 1969 he installed 'Labyrinthe de Chromosaturation' on Paris' Boulevard Saint Germain. Comprising 20 monochromatic colour chambers, the work would saturate the viewer's retina in one shade of colour at a time, and reinforce Cruz-Diez's idea of colour as a 'main event', rather than an addition to form or narrative.

A solo exhibition at the 35th Venice Biennale in 1970 cemented his reputation, and in the ensuing decade Cruz-Diez began to work on projects on an architectural scale, including floor and wall murals at Caracas' Simón Bolivár International Airport, measuring 270x9m. Over time, Cruz Diez's chromatic compositions would find their way to monumental building façades, landscape designs, public walkways, and in 2014, even a historic battleship, which Cruz-Diez camouflaged in distinctive manner for the First World War centenary commemorations in Liverpool.
RELATED STORY
Fashion, too became an occasional stomping ground for Cruz-Diez. He worked with the Venezuelan designer Oscar Carvallo on two collections, in 2008 and 2014, injecting fresh dynamism into his kinetic art by draping it over the body. He also had a special relationship with Prada, which paid homage to him in a series of Physichromie-inspired shop façades around the world.

Cruz-Diez was honoured in his home city in 1997 with the opening of the Carlos Cruz-Diez Print and Design Museum. In 2005, his family established the Cruz-Diez Art Foundation in Houston, to preserve his artistic legacy by way of facilitating exhibitions and organising pedagogical workshops.
His studio in Paris – based for decades in Belle-Epoque era old butcher's shop, before moving in 2016 to a larger workshop nearby – equally became a family enterprise, with his children and eventually grandchildren assisting in the creation of his pieces. When Wallpaper* Editor-in-Chief Sarah Douglas visited the studio in October 2018, she was met with Cruz-Diez's warmth, generosity, and a twinkle in his eye. Into his later years, he continued to go into studio day after day, and was always quick to embrace new technology. He would come to rely exclusively on a computer to visualise his work.

When Wallpaper* profiled Cruz-Diez in late 2015 (he was then 92), on the occasion of his permanent installation opening at Washington DC's CityCenter, he showed no signs of slowing down, and even mused, 'I think it was the artist Raymond Duchamp-Villon, who said that the hardest thing for any artist is the first 75 years'. His signature exploration into colour was also reflected in our September 2015 issue, when he shared his menu for a week's worth of comforting soups in our Artist's Palate series. With a different colour for each day of the week, he proved himself to be a purist through and through. He went on to create a very special limited edition cover for our January 2016 issue, pictured above.

His vision of colour was matched only by his enthusiasm for creation, and for those of us who were fortunate enough to have been in his orbit, his exuberant personality. Our world will be less vibrant without him.
TF Chan is a former editor of Wallpaper* (2020-23), where he was responsible for the monthly print magazine, planning, commissioning, editing and writing long-lead content across all pillars. He also played a leading role in multi-channel editorial franchises, such as Wallpaper's annual Design Awards, Guest Editor takeovers and Next Generation series. He aims to create world-class, visually-driven content while championing diversity, international representation and social impact. TF joined Wallpaper* as an intern in January 2013, and served as its commissioning editor from 2017-20, winning a 30 under 30 New Talent Award from the Professional Publishers' Association. Born and raised in Hong Kong, he holds an undergraduate degree in history from Princeton University.