Artist's Palate: Carlos Cruz-Diez's coloured soups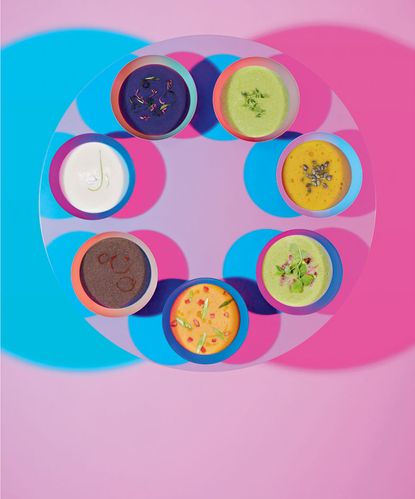 (Image credit: John Short)
Few artists have explored the possibilities of colour as comprehensively as Venezuelan Carlos Cruz-Diez. A pioneer of the kinetic and op art movements, he has dedicated his 60-year career to dissecting the notion of colour through experiments with different wavelengths of light. His extensive output ranges from paintings and sculptures to installations and even pedestrian crossings. Now aged 92, Cruz-Diez reveals a love for fundamentals by sharing his menu for a week's worth of comforting soups. With a different colour for each day of the week, he proves himself to be a purist through and through.

Pictured above, a week of coloured soups, clockwise from top right: Monday, spinach; Tuesday, cream of squash; Wednesday, pea; Thursday, strawberry gazpacho; Friday, black bean; Saturday, Venezuelan celery; Sunday, red cabbage.
Green Monday: spinach soup
2 large potatoes, peeled and chopped
1 chopped onion
1 clove garlic
1.5 litres chicken broth
salt and pepper to taste
6 cups spinach leaves
olive oil
quarter of a cup evaporated milk
1 tbs butter

Cook the potatoes, onions, garlic and chicken broth in a pot over a medium heat until the potatoes are falling apart. Add salt and pepper to taste. Sauté the spinach with a touch of olive oil. Blend everything with the evaporated milk and butter. Return the soup to the pan, cook until boiling, stirring frequently.

Orange Tuesday: Venezuelan cream of squash
1.8kg squash
6 ½ cups chicken broth or chicken bouillon (enough to cover the squash)
5 to 8 stems of coriander
olive oil
1 tsp crushed garlic
third of an onion, chopped
third of a bell pepper, sliced
half stem of leek, sliced

Peel the squash and remove the seeds. Cut it into big chunks and place in a large pot. Cover entirely with the chicken broth or bouillon (1 bouillon cube per cup of water). Boil the squash at a medium to high heat for about 13 minutes. Add the coriander and continue to boil for another 7 mins. Stir occasionally and remove accumulated foam from the top. Meanwhile, heat a pan with a little olive oil. Toss the remaining vegetables in the pan and sauté until brown, then set aside. Test the squash by taking out a large piece and try to mash it with a fork, as if making mashed potatoes. If you can do this easily, then it's done. Add the sautéed vegetables to the squash pot, stir and remove from the heat. Let it cool. Grab all the solid pieces and place in a blender or food processor. Blend together and gradually add as much of the liquid remaining in the pot as necessary, to reach the right creamy consistency. Serve hot.
Ochre Wednesday: ochre pea soup
500g ochre peas
2.3 litres water
80ml oil
4 strips bacon
120g onion, grated
2 cloves garlic, crushed
80g leek, white part only, chopped
2 tsp salt
pinch ground white pepper
3 tsp butter
120ml thick cream

Wash the peas and soak overnight. Drain, and put in a large pot with the water. Bring to a boil and simmer for 40 to 50 mins, or until soft. In another pan, brown the bacon. Set aside, keeping the fat in the pan. Add the onion, garlic, leek to the pan and fry for 5 mins. Add salt and pepper. Reduce the heat and continue cooking for 15 to 20 mins. Then blend the contents of the pan with the cooked peas to make a smooth soup. Add 2 to 3 cups of water if necessary (depending on desired consistency). Pass through a strainer. Return the soup to the pot, bring to a boil and add the butter and cream if desired. Remove from the heat. Serve topped with chopped bacon.
Red Thursday: strawberry gazpacho
900g tomatoes
75g peppers
90g green peppers
1 clove garlic
60g of breadcrumbs
225g olive oil
750ml water
600g strawberries

Wash the vegetables, cut the tomatoes and remove the seeds. Crumble the bread. Put the vegetables and breadcrumbs in a bowl and cover with olive oil and water. Mix well, cover with plastic wrap and leave in the refrigerator for at least 8 hours. Wash the strawberries, remove the stub and add to the marinated vegetables. Shred the vegetables, until creamy. Pass through a cone strainer to remove any lumps. Serve cool.
Black Friday: black bean soup
750g black beans
10 cups water
third of a cup oil
1 red pepper
1 cup bacon, cut into small pieces
1 large onion, chopped
4 cloves garlic, crushed
salt, pepper
cumin

Clean and wash the beans. In a pressure cooker, cook the beans with the water, a splash of olive oil and the red pepper. In a pan fry the bacon over a low heat to break out the fat and lightly toast. Put it aside. In the same pan, fry the onion and garlic and season with salt, pepper and cumin. Add more oil if necessary. When the beans are tender, add the sauce and correct the seasoning. Simmer for 10 mins. When serving, add 2tbs olive oil and garnish with bacon bits.
Yellow Saturday: Venezuelan celeriac soup
500g celeriac (about 2 to 3 big pieces)
4 ¼ cups chicken broth
salt
optional ingredients:
quarter onion
coriander
basil
leeks
2 tbs butter
queso blanco
cream cheese

Peel the celeriac root. Use a knife first for the tougher parts, and then you can use a regular potato peeler for the rest. Cut the root in half, so that it fits in a pot and the broth covers it. Cook at a high heat for about 25 mins, or until the root is soft, just as you would boil potatoes. Before cooking, for extra flavour, you can add the optional onion (in big pieces so it's easy to remove later), coriander, basil and leeks. Once the celery root is done, remove the optional ingredients (or leave if you wish), and remove the celeriac root from the broth. Purée the root (and optional ingredients if you wish) using a food processor, and then slowly add the stock, little by little, until you reach the desired consistency, adding the optional butter if desired. Return the mixture to the pot and cook at a low heat for another 10 mins or so. You can add the remaining broth if it starts to thicken too much. Serve with optional cubes of queso blanco, or toast, or cream cheese, or all three. I like to have the cream cheese on the table and just scoop some into my soup and eat a little piece with each spoonful.
Blue Sunday: purple cabbage soup
2 potatoes
1 litre clear chicken broth (see below)
half purple cabbage
1 sprig holy basil
coconut milk (to adjust the colour)
sea salt

For the chicken broth:
1.5 litres water
1 stem leek
1 stalk celery
half onion
1 clove garlic
1 bay leaf
dried thyme
3 peppercorns
sea salt
1 bunch parsley
1 chicken thigh

To make the chicken broth, gather all the broth ingredients in a pot. Cook over medium heat for 1 hour. Strain well to make a clear broth and leave to cool, then refrigerate. Remove the fat deposited on the surface.
For the soup, peel and cut the potatoes into small pieces. Cook in salted water until tender. Liquefy to a smooth mixture and add the chicken broth. Cut the cabbage into thin strips. Immerse in a pan of boiling water for a few seconds then immediately plunge into a bowl of iced water to stop the cooking and set the colour. Wash and clean the sprig of purple basil, cut and liquefy with the drained cabbage. Heat the chicken broth and potatoes. When boiling, add the cabbage and basil. Temper the colour with coconut milk and serve immediately. Garnish with cabbage, beet and radishes.
INFORMATION
Photography: John Short. Interiors: Maria Sobrino
Pei-Ru Keh is the US Editor at Wallpaper*. Born and raised in Singapore, she has been a New Yorker since 2013. Pei-Ru has held various titles at Wallpaper* since she joined in 2007. She currently reports on design, art, architecture, fashion, beauty and lifestyle happenings in the United States, both in print and digitally. Pei-Ru has taken a key role in championing diversity and representation within Wallpaper's content pillars and actively seeks out stories that reflect a wide range of perspectives. She lives in Brooklyn with her husband and two children, and is currently learning how to drive.