Artist Nari Ward's recipe for ackee and saltfish patties
Nari Ward's staple Jamaican dish offers more than it says on the tin. As featured in our monthly Artist's Palate series, where we interpret recipes in homage to our favourite contemporary art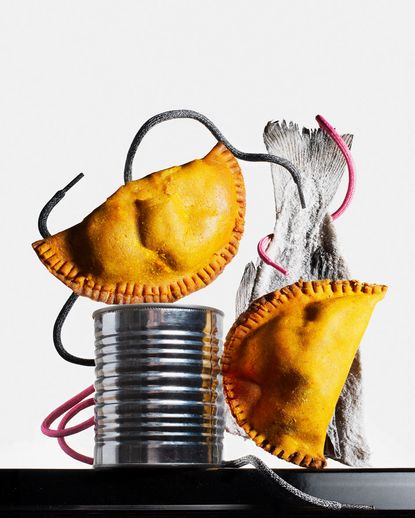 (Image credit: Nicolas Polli)
From his 1993 installation Amazing Grace – 365 discarded baby strollers entwined with fire hoses in an abandoned fire station in Harlem, New York – to wall installations of bright shoelaces spelling out 'We the People', Nari Ward powerfully grapples with what it means to be American today. As befitting a nation of immigrants, the artist has often alluded to his Jamaican roots, not least in his favourite recipe, a combination of ackee and saltfish (the national dish) and Jamaican patties. 'This humble meal immediately brings me back to my early memory of going to our neighbourhood bakery on the island,' he explains. Our image, accessorised with Allbirds' recycled plastic bottle shoelaces, pays homage to Ward's 2013 artwork Canned Smiles: a series of sealed cans containing mirrors that he allegedly smiled into, simultaneously critiquing the cliché of the happy Jamaican and celebrating his dual identity.
How to create Nari Ward's Jamaican ackee and saltfish patties
For the ackee and saltfish
Ingredients
1lb dried salt cod
2 tbs olive oil
1 tbs fresh thyme leaves
1 large yellow onion, peeled and chopped
4 garlic cloves, peeled and finely chopped
1/4 tomato, cored and chopped
1/4 each red and green bell pepper, chopped
1/2 scotch bonnet or habanero chilli (optional), stemmed, seeded and finely chopped
2 scallions, sliced
19oz can ackee, rinsed and drained
kosher salt and freshly ground black pepper
Method
Place the cod in a 2-quart saucepan and cover with 2in of cold water. Bring to a boil over a high heat, then cook for 20 minutes. Drain the cod, return to the saucepan, and repeat the process twice more. Transfer the cod to a bowl and flake into large chunks with a fork; set aside. Heat the oil in a 12in skillet over a medium-high heat, then add the thyme, onion, garlic, tomato, peppers, chilli, if using, and scallions, and season with salt and pepper. Cook, stirring, for about 10 minutes until soft. Add the cod, stir and simmer for another 5 minutes, then add the ackee and stir gently for another 2 minutes.
RELATED STORY
For the pastry
Ingredients
4 cups all-purpose flour
1 tsp salt
1 tsp of ground turmeric, curry or annatto
6 tbs vegetable shortening
1 cup ice cold water, plus more if needed
Method
Add the flour, salt and turmeric to a mixing bowl, and mix thoroughly. Rub the shortening into the flour with your fingers until there are small pieces of shortening completely covered with flour.
Pour in half the water and bring the mixture together with your hands. Keep adding water, a little at a time, until the mixture forms a dough. Wrap the dough in clingfilm and refrigerate for 30 minutes before using.
For assembly
1 large egg
Method
Preheat the oven to 350°F/180°C. Beat the egg with a tablespoon of water to make an egg wash and set aside. Flour a work surface and rolling pin. Unwrap the dough and roll out. Using a bowl approximately 4-5in wide, cut out circles. Place about a tablespoon of the salt cod filling in the middle of the circle. Dip a finger into a cup of water and moisten the edges of the pastry. Fold over the other half and press to seal, then crimp the edges with a fork. Cut off any extra to make it look neat or to make another patty. Place the patties on a parchment-lined baking sheet and continue to work until all the dough is rolled and filled. Brush the assembled patties with egg wash, then bake for 30 minutes or until golden brown.
INFORMATION
TF has been editor of Wallpaper* since December 2020. He is responsible for our monthly print magazine, planning, commissioning, editing and writing long-lead content across all our content pillars. He also plays a leading role in multi-channel editorial franchises, such as our annual Design Awards, Guest Editor takeovers and Next Generation series. He aims to create world-class, visually-driven content while championing diversity, international representation and social impact. TF joined Wallpaper* as an intern in January 2013, and served as its commissioning editor from 2017-20, winning a 30 under 30 New Talent Award from the Professional Publishers' Association. Born and raised in Hong Kong, he holds an undergraduate degree in history from Princeton University.
With contributions from