Michael Heizer's Nevada 'City': the land art masterpiece that took 50 years to conceive
Michael Heizer's City in the Nevada Desert (1972-2022) has been awarded 'Best eighth wonder' in the 2023 Wallpaper* Design Awards. We explore how this staggering example of land art came to be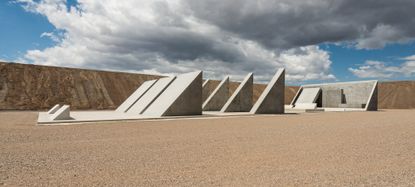 (Image credit: Photography: Ben Blackwell, Eric Piasecki © Michael Heizer, courtesy Triple Aught Foundation)
Michael Heizer began work on City in 1972. In September 2022 – 50 years, $40m and manifold logistical hurdles later – the American artist's mega-sculpture in the Nevada desert finally came to fruition.
Much like its Area 51 neighbour, City is a project swathed in intrigue, mystery and myth. The land art installation – more than one mile long and sited in Nevada's Garden Valley – is divided into a series of 'complexes' featuring immaculate, undulating mounds of locally-sourced compacted dirt, and angular concrete shards and volumes that jut towards the sky as though they've pierced through the Earth's crust.
Born in Berkeley, California, in 1944, Heizer had excavation embedded in his consciousness from childhood. Aged 12, he took a year off school to join his father, a renowned field archaeologist, on a dig in Mexico. While his father analysed rock samples, the young artist made drawings of the sites, an exercise that would form the bedrock of an extraordinary career.
Remote parcels of land would become Heizer's raw material, the exploration of positive and negative space his signature. Through monumental landscape interventions, the artist has come to redefine what sculpture can be – beyond the confines of conventional art spaces – and quite literally moved the earth in the process.
He became one of the key proponents of the land art or 'earthworks' movement. But while Robert Smithson was piecing together Spiral Jetty, and Judy Chicago was 'feminising' the male-centric landscape with ephemeral Atmospheres, Heizer was giving birth to an idea that would sustain him for half a century.
City is a life's work; an unwavering commitment to a vision. 'This was a largely DIY project by a self-taught artist at the scale of new town planning. It was a Sisyphean chore,' wrote Michael Kimmelman, architecture critic of The New York Times – who had visited the evolving site of City since the 1990s – in an article last year. 'The project was conceived in a fit of apocalyptic cynicism about the fallout in the valley, the Vietnam War, the future. But City at the same time was also, clearly, a love letter to this part of the world.'
Heizer, whose family have inhabited Nevada since the 1800s, began this love letter to the state in 1967, pre-City. In the Sierra Nevada mountains, he dug two large pits – one lined with plywood, another with sheet metal – and declared this a work of 'ultra-modern art'. Heizer went further with Double Negative (1969), two 50ft-deep canyon-like crevices in Nevada's Mormon Mesa, created by extracting 240,000 tonnes of sandstone and rhyolite.
These projects remain extraordinary feats, in vision and execution, but City is unlike anything the world has seen, in scale, concept and form. It was conceived after the artist visited Yucatan and Chichén Itzá, and draws on the pre-Columbian ritual cities of Central and South America and Native American mound-building traditions. The final result (though Heizer deems the work unfinished) resembles a Mayan-meets-modernist ruin.
From the sky, City could perhaps be mistaken for something functional; an inappropriately located dam, a deserted skate park, a complex agricultural system, or, as Kimmelman describes it, an 'art-world Atlantis'. It is owned and managed by the Triple Aught Foundation, a Nevada-based non-profit institution. As per the artist's wishes, few will reach it – six people per day to be precise, on a reservation-only basis on specific days for the first year of operation. Those fortunate enough to get tickets are collected from the closeby-ish town of Alamo and shuttled to the majestically-remote sculpture via dirt tracks through barren, sparsely-habited valleys.
Heizer's once-in-a-generation masterwork doesn't defy categorisation, but instead seems to encompass them all: endurance art (for artist and visitor), sculpture, architecture, assemblage, performance, drawing (on land and in space) and earthwork – but City could just as well be on the moon.
tripleaughtfoundation.org (opens in new tab), gagosian.com (opens in new tab)
The winners of the Wallpaper* Design Awards 2023 are revealed in the February 2023 issue, available in print, on the Wallpaper* app on Apple iOS, and to subscribers of Apple News +. Subscribe to Wallpaper* today (opens in new tab)
Harriet Lloyd-Smith is the Arts Editor of Wallpaper*, responsible for the art pages across digital and print, including profiles, exhibition reviews, and contemporary art collaborations. She started at Wallpaper* in 2017 and has written for leading contemporary art publications, auction houses and arts charities, and lectured on review writing and art journalism. When she's not writing about art, she's making her own.