Artist's palate: Landon Metz's recipe for cacio e pepe
New York-based artist Landon Metz's recipe for cacio e pepe is a minimal yet magic addition to our monthly artist's palate series, an homage to our favourite contemporary art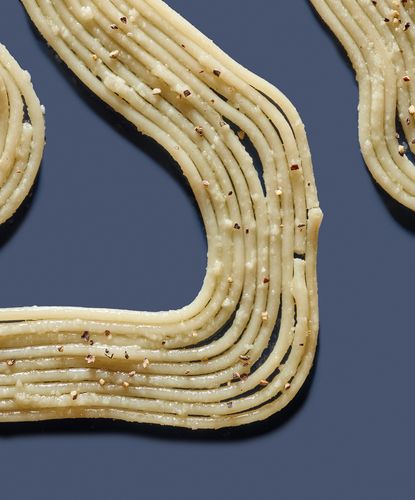 (Image credit: Neil Godwin at Future Studios for Wallpaper*)
The key to a successful cacio e pepe, says New York-based artist Landon Metz, 'is for each ingredient to be of the highest quality: punchy peppercorns, unsalted butter, a sharp pecorino Romano'. Like Metz's pared-back paintings, which involve the application of thin washes of acrylic dye onto raw canvas, his favourite dish is proof that the precise execution of a simple formula can yield remarkable results. It's about 'stripping back the noise to have a raw experience with life. I'm interested in experiences that manage to transcend the sum of their parts,' he says. 'Sometimes the simplest things can be magic.'
Landon Metz's recipe for cacio e pepe
Ingredients
200g spaghetti
freshly ground black pepper
a little butter or olive oil
50g very finely grated pecorino Romano
Method
Cook the pasta, a little less than the recommended cooking time, in just enough water to cover it, until al dente. Siphon off around 100ml-150ml of the cooking water, then drain the rest. In a separate pan, over a low heat, toast some freshly ground black pepper in a little oil or butter. Add the drained pasta and 100ml cooking water to the pan, then sprinkle over the cheese and leave (don't stir) for about 30 seconds. When the cheese has melted, toss together well to coat the pasta, adding a little more water if the sauce needs loosening. Serve sprinkled with more freshly ground black pepper.

In November 2023, Landon Metz will have a solo exhibition at von Bartha Gallery in Basel, Switzerland. landonmetz.com, waddingtoncustot.com
A version of this article appears in the March 2023 issue of Wallpaper*, available in print, on the Wallpaper* app on Apple iOS, and to subscribers of Apple News +. Subscribe to Wallpaper* today!
TF Chan is a former editor of Wallpaper* (2020-23), where he was responsible for the monthly print magazine, planning, commissioning, editing and writing long-lead content across all pillars. He also played a leading role in multi-channel editorial franchises, such as Wallpaper's annual Design Awards, Guest Editor takeovers and Next Generation series. He aims to create world-class, visually-driven content while championing diversity, international representation and social impact. TF joined Wallpaper* as an intern in January 2013, and served as its commissioning editor from 2017-20, winning a 30 under 30 New Talent Award from the Professional Publishers' Association. Born and raised in Hong Kong, he holds an undergraduate degree in history from Princeton University.