Remembering the mind-bending art of Dan Graham (1942–2022)
American artist and writer Dan Graham, whose hybrid output warped perceptions and defied genre has died in New York aged 79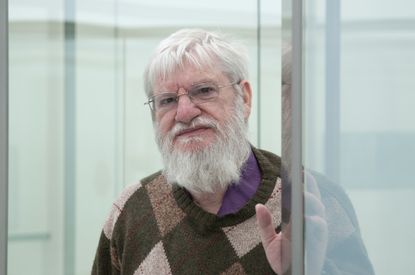 (Image credit: Ken Adlard)
Pioneering American visual artist, writer and curator Dan Graham has died in New York City aged 79. Through cognitive and visual experiences, his art occupied an in-between, fluid and hybrid space, cloaking complex theories in a veil of simplicity.

Throughout his 50-year career, Graham moved seamlessly between photography, architecture, sculpture, filmmaking and live performance, alongside critical and speculative writing that spanned everything from rock music reviews to astrology and art theory essays. He was best known for his 'pavilions' – hybrid structures blending sculpture and architecture – theatres of perception that toyed with illusion and geometry, casting viewers as both spectators and protagonists.
Considered one of the pioneers of conceptual art (though a term he recently disavowed) he broke rules, re-wrote conventions and imagined an art beyond the white-walled, cubic confines of the gallery.

Graham began his career in art as a gallery director at New York's John Daniels Gallery, exhibiting the work of minimalist legends such as Carl André, Donald Judd, Robert Smithson, Dan Flavin and Sol LeWitt (including the latter's first solo gallery show).

In 1965, Graham's attention shifted to his own conceptual and post-conceptual art ideas. His initial breakthrough work was Homes for America (1966–67), a magazine-style photograph-text composition based on a cheap 1960s suburban housing development in New Jersey. Graham used conceptual satire to portray these characterless housing grids – built on a promise of desirability and positive social reform – as alienating and soulless variations on a theme of monotony.
Though working in a minimalist tradition, Homes for America critiqued a certain kind of minimalism, one where repetition was never interrupted, and mass production rendered craftsmanship and design obsolete. As Graham told the Brooklyn Rail in a 2012 interview: 'There was this whole idea of defeating monetary value in the air in the '60s, so my idea was to put things in magazine pages where they'd be disposable with no value. And that was a hybrid also because the work was a combination of art criticism and essay: magazine page as an artwork.'

In the 1970s, Graham's focus turned to the architectural installations for which he is best known. These 'pavilions', geometrically-configured structures involving two-way mirrors, steel and glass, served as environmental 'punctuation marks', diversions from the expected rhythm of urban life, a moment of pause, and crucially, an invitation for viewers to spectate but also inhabit.

These walk-in structures create feelings of instability on solid ground. They watch, reflect and ensnare those who enter in a disorientating combination of self-reflection, self-awareness, self-absorption. Viewers, or participants, find their bodies warped, dislocated, or merged with other bodies – trippy, unsettling and sense-stretching, they're about observing and being observed.
Holding a mirror up to modernity, Graham's practice explored consumerism, the philosophy of surveillance and the psychology of space. His legacy is an art that made you see yourself, and your surroundings, a little differently.

Notable pavilion works include Public Space/Two Audiences (created for the 1976 Venice Biennale), Two Way Mirror with Hedge Labyrinth (1989), and Hedge Two-Way Mirror Walkabout (2014) created on the roof of the Metropolitan Museum of Art in collaboration with landscape architect Günther Vogt.

Graham's key exhibitions included solo shows at Castello di Rivoli Museo d'Arte Contemporanea, Turin(2006), the Museum of Contemporary Art, Los Angeles, USA (2009); The Metropolitan Museum of Art, New York (2014). He also participated in dOCUMENTA 5, 6, 7, 9 and 10 (1972, 1977, 1982, 1992, 1997) and showed work at the Venice Biennale (1976, 2003, 2005).
Harriet Lloyd-Smith is the Arts Editor of Wallpaper*, responsible for the art pages across digital and print, including profiles, exhibition reviews, and contemporary art collaborations. She started at Wallpaper* in 2017 and has written for leading contemporary art publications, auction houses and arts charities, and lectured on review writing and art journalism. When she's not writing about art, she's making her own.