Artist's palate: Lee Bul's recipe Pyongyang naengmyeon
Enter a new dimension with Lee Bul's gravity-defying recipe for Pyongyang naengmyeon, as featured in our Artist's Palate series, a monthly homage to our favourite contemporary art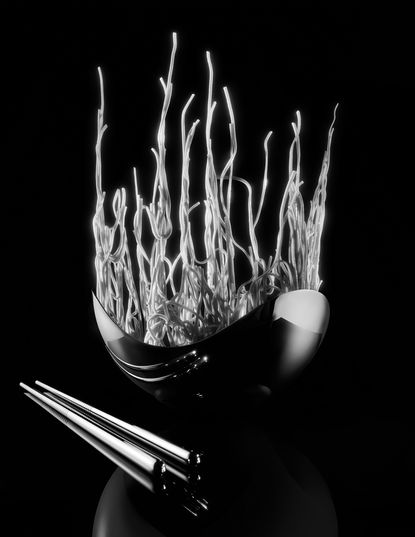 (Image credit: FuturNeil Godwin at Future Studios for Wallpaper*e)
Since emerging in the 1980s, South Korean artist Lee Bul has captivated viewers with futuristic installations and performances that probe patriarchal structures and the relationship between humans and machines. This recipe, a cold noodle dish originating from North Korea, is her favourite for a hot summer day. 'It's often associated with longevity and good health,' says Lee Bul. 'I find it sculptural, as it's served in a metal bowl and every ingredient can be discerned. It's not until they all come together that we really perceive all these rich flavours and centuries of tradition.'
Recipe for Pyongyang naengmyeon
Ingredients
2 cups bought chicken broth
2 cups bought beef broth
2 tbsp white, apple cider or rice vinegar
200g buckwheat noodles
1 egg, boiled and halved
½ Korean cucumber, very thinly sliced
1 Asian pear, very thinly sliced
Pickled radishes, very thinly sliced
Cooked beef brisket, very thinly sliced
Korean mustard and rice vinegar, to serve
Salt and pepper, to taste
Method
Mix the two broths in a large bowl with the vinegar, season with salt and pepper, then cover and leave to chill in the fridge overnight. When ready to serve, cook the noodles according to the packet instructions, then rinse well in cold water and transfer to bowls. Pour over the chilled broth, adding some ice cubes if preferred. Top with egg and slices of cucumber, pear, radish and beef. Serve with bowls of mustard and rice vinegar for extra seasoning.
Lee Bul's solo exhibition at the Gothenburg Museum of Art, Sweden runs from 11 March – 27 August 2023, goteborgskonstmuseum.se (opens in new tab); lehmannmaupin.com (opens in new tab)
This article was originally published in the April 2023 issue of Wallpaper*, available in print, on the Wallpaper* app on Apple iOS, and to subscribers of Apple News +. Subscribe to Wallpaper* today (opens in new tab)
Harriet Lloyd-Smith is the Arts Editor of Wallpaper*, responsible for the art pages across digital and print, including profiles, exhibition reviews, and contemporary art collaborations. She started at Wallpaper* in 2017 and has written for leading contemporary art publications, auction houses and arts charities, and lectured on review writing and art journalism. When she's not writing about art, she's making her own.