Kudzanai-Violet Hwami creates limited-edition cover for Wallpaper's January 2021 issue
Each month Wallpaper* offers a leading creative figure carte blanche to design a limited-edition cover. For our January 2021 Next Generation issue, young Zimbabwean artist Kudzanai-Violet Hwami drew on her experience of social media to create a new painting, Plains of the Christmas Cow.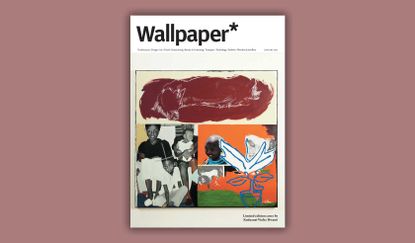 (Image credit: press)
The vivid brushwork and confident colour palette of Kudzanai-Violet Hwami's paintings suggest a mature hand. But there is something about their composition that is indicative of the artist's youth. They suggest the inexhaustible variety of life while pointing to the experience, familiar to every digital native, of scrolling through Instagram and Tumblr. Within the same canvas, she often shows multiple domestic scenes, intermingling images from her family archives with found photography of unknown figures.
We asked the 27-year-old artist to create the limited-edition cover of our January 2021 Next Generation issue. The painting that she created, Plains of the Christmas Cow, is emblematic of her approach: the top half is dominated by a cow in repose, sketched in evocative white strokes on a crimson background; while the bottom half incorporates a black-and-white family portrait, a smiling toddler, a cave painting-like scene of hunters encircling a stag, and a leafy potted plant.
'The painting or image is meant to be read as a film reel which cuts and skips from one scene to the other,' she explains. 'Unrelated images meet at junctions on the canvas, and the viewer is invited to fill the gaps, much like how we fill and edit gaps of Instagram or Tumblr accounts.'
Within the magazine, Hwami tells writer Amah-Rose Abrams how she found her voice as an artist. Hwami started drawing as a child, inspired by the Cartoon Network. Then as a pre-teen, she turned to Tumblr both as a creative outlet and as a way to discover her sense of self: 'I spent a lot of time on the internet as a pre-teen and in that socially awkward stage of my life, I found it more comfortable to escape and exist in cyberspace,' she recalls.
RELATED STORY
Hwami's paintings feel contemporary in many ways: there are hints of social media within the grid structure, and the juxtaposition of varied imagery that reveal a sense of common humanity; while the motifs are decidedly international, representing a generation that is comfortable traversing geographical and cultural boundaries. As Abrams writes, '[Hwami's] paintings fuse aesthetics from all the places she has lived, from Zimbabwe to London, with an occasional nod to the graphic cartoon aesthetic she grew up loving. You can see the influence of these animations in the movement in these paintings. Even as the figures are static, the compositions they sit within are not.'

Our decision to feature Hwami in our Next Generation issue proved prescient – just a day before the issue arrived on newsstands, the artist joined the roster of Victoria Miro gallery. Her first exhibition with them will be held in summer 2021.
Read more about Hwami, and discover Wallpaper's edit of the most groundbreaking creative talents of the next generation in our January issue – now on newsstands and available as a free PDF download.
INFORMATION
Kudzanai-Violet Hwami's cover is the latest addition to the Wallpaper* limited-edition cover series, which features a specially created artwork by a different artist, architect or designer each issue. Limited-edition covers are available to subscribers only; for more information, see wallpaper.com/subscribe
TF Chan is a former editor of Wallpaper* (2020-23), where he was responsible for the monthly print magazine, planning, commissioning, editing and writing long-lead content across all pillars. He also played a leading role in multi-channel editorial franchises, such as Wallpaper's annual Design Awards, Guest Editor takeovers and Next Generation series. He aims to create world-class, visually-driven content while championing diversity, international representation and social impact. TF joined Wallpaper* as an intern in January 2013, and served as its commissioning editor from 2017-20, winning a 30 under 30 New Talent Award from the Professional Publishers' Association. Born and raised in Hong Kong, he holds an undergraduate degree in history from Princeton University.