Annabelle Selldorf designs limited-edition cover for Wallpaper's May 2020 Issue
Each month Wallpaper* offers a leading creative figure carte blanche to design a limited-edition cover, available exclusively to our subscribers. For the May 2020 issue we invited architect Annabelle Selldorf, in conjunction with our 16-page headline feature on Hauser & Wirth's first ground-up gallery space, on Manhattan's West Side. Here, Selldorf shares her insights into architectural photography and the secret life of things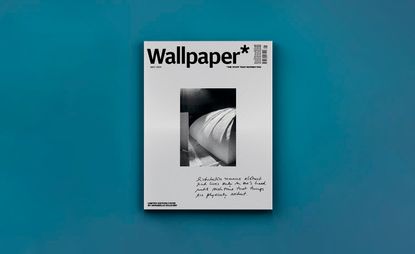 (Image credit: Annabelle Selldorf)
'Architecture remains abstract and lives only in one's head until such time as things are physically evident,' writes architect Annabelle Selldorf on her limited-edition cover for our May 2020 issue (W*254).

Her black-and-white cover image was taken at Hauser & Wirth's latest building, on Manhattan's West Side. A close collaborator with the gallery for more than two decades, Selldorf had previously designed their spaces in Zurich, London, LA, as well as two other locations in Manhattan. Still, the new 542 West 22nd Street, due to open in autumn 2020, marks a milestone as their first ground-up, purpose-built space.

The white element in the foreground is the cupola for the building's main stair volume, temporarily placed within the top-floor exhibition space while the building was nearing completion. 'Every day changes were afoot that were exciting to observe, as they brought to end a long process of thinking and planning this project,' recalls Selldorf of her site visits earlier this year.
'This was one moment that I could enjoy the cupola as a three-dimensional item – before being installed and thereafter being an integral element of another space,' continues the architect. 'There it was – a small object placed out of its intended context and bathed in this powerful light. It bespeaks process and the secret life of things.'
Shot on iPhone, the image reflects Selldorf's personal relationship with photography. She takes photos in lieu of keeping a diary, building them into 'a kind of visual notebook of things that trigger ideas, or a record of things I see and want to remind myself of.'
INFORMATION
Selldorf's cover is the latest addition to the Wallpaper* limited-edition cover series, which features a specially created artwork by a different artist, architect or designer each month. Limited-edition covers are available to subscribers only; for more information, see wallpaper.com/subscribe.
A PDF of the May 2020 issue, including our 16-page headline feature on Hauser & Wirth New York, is available as a free download here.
The new gallery space at 542 West 22nd Street is due to open in autumn 2020, hauserwirth.com.
TF has been editor of Wallpaper* since December 2020. He is responsible for our monthly print magazine, planning, commissioning, editing and writing long-lead content across all our content pillars. He also plays a leading role in multi-channel editorial franchises, such as our annual Design Awards, Guest Editor takeovers and Next Generation series. He aims to create world-class, visually-driven content while championing diversity, international representation and social impact. TF joined Wallpaper* as an intern in January 2013, and served as its commissioning editor from 2017-20, winning a 30 under 30 New Talent Award from the Professional Publishers' Association. Born and raised in Hong Kong, he holds an undergraduate degree in history from Princeton University.