Timeless is a Tokyo house whose ambition belies its size
The latest Japanese house by Apollo Architects is Timeless, a Tokyo home for a couple reinventing their living arrangements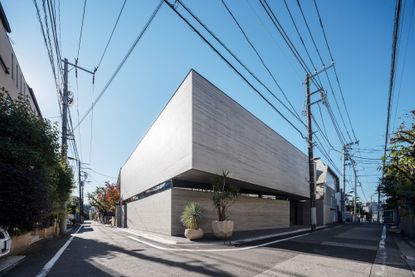 (Image credit: Masao Nishikawa)
Maintaining privacy while providing natural light-filled, spacious rooms is often a challenge for Tokyo residents. Architects have to consider houses built right up to neighbouring plots, and roads just outside the windows, often without the protective border of a pavement. In Japanese architecture studio Apollo Architects' most recent residence, Timeless, such challenges have been neatly solved by the use of two internal courtyards that allow plenty of natural light into the spacious, 300 sq m home. The commission for this Tokyo house came from a couple who had been living on the plot previously but, after their three children had grown up and flown the nest, were keen to rebuild to fit their current lifestyle.
From the outside, it would be easy to dismiss this Japanese house as a giant box trying to fill out the footprint to the max. There is only a sliver of a window, placed too high for passing pedestrians to peek in and extending across both sides of the house that face outwards to the streets. This window, a single door, and a garage are the only elements that hint at the life inside the building.
Enigmatic exterior disguises Tokyo house lit from within
As you step inside, however, this impression swiftly changes. A large south-facing courtyard gives the illusion of a much more spacious home. The family dog runs freely between the living room, study and bedrooms, which are all connected by the courtyard. The smaller courtyard is facing north, serving to bring light into the entrance and first-floor living area. The material palette is kept to a minimum, composed of concrete, big slabs of tile, glass and hardwood floors, nodding to minimalist architecture styles.
Oversized potted trees allow the courtyard to remain flexible, clean and modern, without the hassle of too much gardening, while a small area planted with local Japanese greenery and large bamboo gives a sense of place. Furnishing is likewise modern and carefully selected to bring a sense of warmth, through natural materials such as tanned leather, to the serene interiors.
INFORMATION
apollo-aa.jp
Receive our daily digest of inspiration, escapism and design stories from around the world direct to your inbox