In Vancouver, architect Arno Matis blends Asian and West Coast design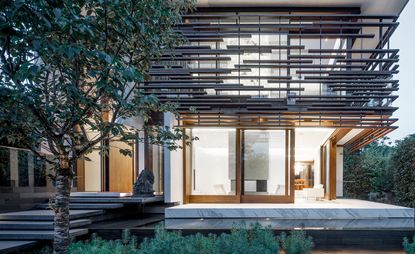 (Image credit: press)
On a corner lot in a traditional Vancouver neighbourhood, architect Arno Matis has created a contemporary home that blends Asian and West Coast features, with a scale and design that still respects the site.

In storied Dunbar, an area carved out of forest a century ago, most of the 1930s and 40s era housing closes itself off to the surrounding greenery, like the tiny neighbouring peaked roof stucco bungalow to the West of the Matis designed home. On the other extreme, new 'monster' homes have invaded the neighborhood with loud designs and insensitivity to the surrounding built and natural environment.

Here, Matis has instead created an elegant residence in a palette of wood, stone and glass that opens itself up to the outdoors. And by creating 'biomimetic' wooden screens that offer texture and shading, evoking a tree canopy, he has essentially returned the site to the forest. The brief from his clients – a professional couple who travel extensively in Asia – was to create a 'retreat' – but one that could accommodate them as well as an aging parent within a relatively small 4000 sq ft footprint (mandated by local zoning).
Take an interactive tour of Floating House

Matis' response was to plan the three-storey home around the central core 'like a high-rise' and to 'make the perimeter as transparent as possible'. Structural elements are contained and minimised, with a central column disguised by two fireplaces, a floating stairwell hanging from a single steel stringer and a cantilevered roof supported by a healthy mix of steel with concrete.

While the architect was partly inspired by Louis Kahn's Esherick house, unsurprisingly for Matis, who began his career working for Arthur Erickson's colleague Bing Thom, there are some very Ericksonian moments here as well: West Coast/Asian infused water elements and greenery, including an infinity pool at the south facing entrance, and a waterfall that cascades into an East facing sunken garden, but also a sense of terracing in the sequencing of the house.

From the everyday entrance at the north, the three levels flow into each other with a grace and fluidity. From the garage one enters a courtyard that terraces down into the kitchen, with the sequence continuing into a reflective pool and garden, creating a sense of leaving the outside world behind and entering into a meditative space. But also notable is the use of concrete – that Erickson famously called 'the marble of our time'.


By developing a special blend of white concrete, white sand and white aggregate, Matis transcends the greyness of the West Coast rainforest. In a subtle play of gravity and light, he has created a translucent lantern house floating on water, gently elevating the neighbourhood aesthetic.
INFORMATION
For more information, visit the Arno Matis website
Receive our daily digest of inspiration, escapism and design stories from around the world direct to your inbox