Paris Fashion Week S/S 2024: Chanel to Miu Miu
Paris Fashion Week S/S 2024 concluded fashion month with a schedule spanning both the city's established houses and some new arrivals – from Peter Do's Paris debut to a one-off show from Italian house Marni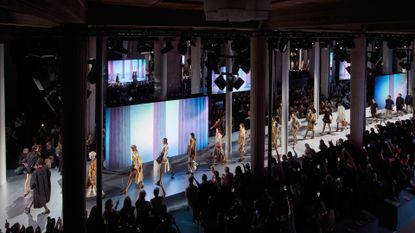 (Image credit: Courtesy of Miu Miu)
Last stop, Paris. Fashion month concluded with Paris Fashion Week S/S 2024, a nine-day schedule that spanned shows from the city's blockbuster houses – Dior, Chanel, Louis Vuitton, Givenchy, Balenciaga and Saint Laurent among them – alongside a series of new arrivals in the fashion capital.
These included a one-off Marni show from Francesco Risso, seeing the Italian house present its latest collection in Karl Lagerfeld's former private residence; a Paris debut from Peter Do who has previously shown in New York (and features in our recent Wallpaper* USA 300 guide to creative America), as well as the first collection from former Lacoste creative director Louise Trotter at Carven.
Elsewhere, there were returns to Paris Fashion Week from Maison Margiela and Mugler, as well as a raft of younger labels – highlights included Duran Lantink, Kiko Kostadinov and Vaquera, each bringing their distinct, energetic style to the week.
Here, in the Wallpaper* round-up, is the best of Paris Fashion Week S/S 2024.
Best of Paris Fashion Week S/S 2024
Miu Miu
A typically intriguing show from Miuccia Prada provided an apt closing act to a season that has largely centred on an exploration of the quotidian wardrobe, seeing real garments reimagined in various ways – from the pragmatic to the strange. It is a mode of design that has long defined Miuccia Prada's collections at both Miu Miu and Prada, her work often reconsidering archetypal garments in unfamiliar ways (on numerous occasions she has noted being drawn to pieces traditionally considered ugly, driven by a desire to make them beautiful). For this season's show – which continued several hallmarks of recent seasons, including super-abbreviated mini skirts, low-slung underwear-bearing waistlines and an influence of sportswear in polo shirts and swim trunks – she said she was inspired by the 'radically expanding' concept of contemporary beauty which is nonetheless infused with historical influence.
'This collection is a search for a reflective definition, a reactive address of beauty for modern times,' she said via the accompanying notes, presenting the collection on a cast which included the musician Troye Sivan, former house muse Rosemary Ferguson, and Priscilla actress Cailee Spaeny, who closed the show. As such, flourishes of glamour clashed with the mundane: a petticoat white lace skirt was worn with a slouchy Harrington jacket, a glorious gold brocade dress over an everyday sweater and shirt, while a pair of vertiginous heels hung out of a model's handbag (on her feet were moccasins, as if exchanged in search for comfort). Meanwhile, a video work by Qatari-American artist Sophia Al-Maria – in which a samurai sword-wielding female protagonist traversed what the house called 'a landscape of technological ruins' – was played on numerous screens around the Palais d'Iéna OMA-designed show space. 'Instead of rigid paradigms, there is a radical expansion, a rich plurality,' the collection notes concluded. 'Not beauty, but beauties, an embracing of unique characters, the joy of life.'
Duran Lantink
If Amsterdam-based designer Duran Lantink initially rose to prominence for his pieced-together upcycled garments – which would sometimes feature the labels of two brands stitched together as a signature – recent seasons have seen the 2023 Andam special prize-winner divert towards a laser-focus on silhouette, creating strange but satisfying forms which teeter between art and fashion. Particularly amid a season of relative restraint and pragmatism, it has made hiim one of Paris Fashion Week's most exciting prospects, and there is certainly some satisfaction in encountering a designer who has taken a longer path towards honing his style (his eponymous label was first founded in 2016). For S/S 2024, Lantink said he was thinking about 'shape': denim hotpants were transformed bulbous forms which recalled rubber rings and sat low at the waist – a silhouette which ran throughout, on jersey skirts or narrow bra tops – while dresses had a exaggerated hourglass silhouette. Watersports were a vague theme, with swim trunks layered over trousers or wetsuit-inspired chaps over a pair of jeans, while other archetypal garments – low-slung chino pants, striped silk pyjamas, double-breasted tailoring – were gently remoulded by Lantink into unfamiliar new forms. Where this fascinating designer goes next is anyone's guess, though in a week filled with more well-established names, he nonetheless stood out as one of the best.
Chanel
The modernist Villa Noailles, a Robert Mallet-Stevens-designed hilltop residence in the southern French town of Hyères, provided the starting point for Virginie Viard's latest Chanel collection. Commissioned by Charles and Marie-Laure de Noailles, a pair of wealthy art patrons, the home would host gatherings of the international avant-garde – from Jean Cocteau and Eileen Grey to Pablo Picasso and Max Ernst – amid its angular architecture and serene gardens (in more recent years, it has been home to the Hyères fashion festival, which celebrates emerging design talent and is sponsored by the house).
Here, it set the scene for a breezy and desirable riviera-infused collection that Viard described as 'an ode to liberty and to movement'. The villa's outdoor spaces – 'from its cubist chequered garden to its sunken flower beds' – were a particular inspiration, emerging in geometric, striped and patchwork motifs that ran across the collection's various riffs on tweed tailoring. Influences of sportswear also ran throughout: striped pullover jumpers recalled rugby shirts, suiting came in technical neoprene, while lightweight matching two-sets – some adorned with colourful flowers – were cut with an easy, sinuous line. Layers of black organza used across skirts, blouses and frilled-collar dresses, swathes of lace and abbreviated baby doll silhouettes provided a more sensual contrast. 'Sophistication and informality, the tweed throughout the collection, sportswear and lace: I tried to bring one thing and its opposite together in the coolest way possible,' Viard explained. 'And the gardens and swimming pool of the Villa Noailles, that exceptional setting, lend themselves to that rather well.'
Maison Margiela
An exhilarating show from John Galliano – held at the recently inaugurated Maison Margiela headquarters in Paris' 16th arrondissement – saw the designer explore the idea of an 'inherited wardrobe' in typically outré style. Presented on models who stomped and contorted their bodies down the gleaming white runway, the co-ed collection saw a pile-up of elements, many of which were deconstructed in ode to house founder Martin Margiela's signature technique. Galliano once again looked towards the characters of Count and Hen, two fictional star-crossed lovers whose ongoing adventures have provided the impetus behind the designer's recent collections. Here, he imagined them leaving in a 20th-century English port on a journey towards America, he 'the son of an impoverished aristocratic line', she the daughter of 'an industrial family of pretence'. So set the scene for ripped-away bustier tops, diaphanous sheer organza gowns with exposed silk slips beneath, or slouchy overcoats and jackets out of which vast white collars emerged (the latter, said Galliano, was designed to recall 'the nonchalant body language observed in archival imagery of mauvais garçons'). Other gowns had laminated elements, preserving drapes and creases 'as if flattened by the pressure of a suitcase', while skirts came with frayed edges which in their plurality reminded of feathers. Together, it was an electrifying spectacle – no-holds-barred fashion that was a riposte to restraint.
Louis Vuitton
The site of a new Louis Vuitton project, a vast city block-spanning location on Paris' Champs-Élysées shopping street, provided the setting for Nicolas Ghesquière's latest womenswear collection for the house (the rumour is that it will become the future Louis Vuitton hotel). Entirely covered in orange plastic – with grandstands of orange seating and a matching runway – the former art nouveau bank, current construction site, had been transformed for the occasion by James Chinlund, a Hollywood production designer with whom Ghesquière has been working for a number of seasons. 'Simultaneously familiar and new,' said the house of the space, a reflection of Ghesquière's wider project at the house, whereby familiar reference points are clashed and amalgamated in his distinctly postmodern, time-hopping style. This season, Ghesquière noted he has been thinking about packing – the exterior of the new Champs-Élysées space is designed to recall one of the house's signature trunks – which lent the collection both a feeling of eclecticism and lightness, as if various belongings had been piled-inside a suitcase for a summertime trip away. There were the billowing opening looks, a series of lightweight blouses and track jackets worn with full-length layered skirts, while other garments riffed on Parisian bourgeois style – a perennial Ghesquière reference – in tweed jackets and skirts, decorative chain jewellery and prints reminiscent of those found on silk scarves. Accessories, meanwhile, recalled the tourist: one bag was shaped like a camera, another evoked a miniature Louis Vuitton trunk dotted with stickers from various world destinations. Together, it was a heady, seductive mix – one which elicited a standing ovation from the gathered crowd as the designer took his final bow.
Stella McCartney
For one day only, Marché Saxe-Breteuil – a food market in Paris' 7th arrondissement – became 'Stella's Sustainable Market', its array of stalls showcasing a slew of innovators in the field of sustainability, from circular fabric platform Nona Source to Mabel Industries, which creates leather from apple waste. Others hinted at the mood of the season, like a second-hand record stall, the designer noting that she had looked towards family as inspiration for the summer collection – her own 'roots in music, her parents' relationship and shared wardrobes, and the care for our fellow creatures and Mother Earth they instilled in her', the collection notes described. As such, the collection had a suitably rock and roll sensibility: micro shorts – some bejewelled – were worn with enormous men's blazers on top, crochet dresses were inset with glimmering mirrored discs, while vintage Wings merchandise was interspersed to recall Paul and Linda McCartney's days on tour. The designer spoke of the idea of exchange – how a garment might have passed between her and her mother, and then to her own daughter – which lent the collection a mood of freewheeling eclectism. McCartney's own commitment to sustainability was found throughout, whether the use of a world-first seaweed-based yarn Kelsun or a new leather made from the by-product of the Veuve Cliquot champagne harvest, which here was used to create a new version of McCartney's signature Frayme handbag.
Valentino
Alongside a troupe of interpretative dancers who writhed rhythmically in pits of sand and mud, British musician FKA Twigs provided the live soundtrack for a Valentino show which looked towards the liberated female body for inspiration. A series of cut-out garments – adorned with flowers or motifs evocative of Baroque ceiling mouldings or picture frames – revealed flashes of skin beneath, while other gowns were adorned with nude mermaids. The idea of nakedness ran throughout, creative director Pierpaolo Piccioli saying such elements were not 'provocation', but rather an expression of 'a personal sensuality, a vital interrelationship of cloth and body.' As such, languid gowns gently traced the line of the body – some cut-out across the stomach or slit high on the leg – while other dresses were abbreviated, 'the skin itself becoming a fabric'. More grounded garments included riffs on T-shirts and jeans, the latter recalling Piccioli's elevation of the garment to the realms of haute couture this past June. Here, he called them 'honest garments', chosen for their 'direct engagement with the body'. It made for a sensual collection nonetheless defined by a feeling of ease: clothing 'honouring bodies, a physicality, and the feminine'.
Akris
Illustrations of bright red poppies provided the backdrop for Albert Kriemler's latest Akris collection, which the designer said was an ode to the creative act and the imagination. He noted inspiration from Austrian textile designer Felice 'Lizzi' Rix-Ueno, who worked in the early 20th century as part of the Vienna Workshop. Kriemler said he was particularly drawn to her concept of 'Fantasie': 'For her, it meant demonstrating imagination to achieve originality and that only inner creativity will lead to one's identity, truly believing in the expressive possibilities of craft,' he said. 'I very much relate to her idea of craft as momentum. This collection is a dedication to Lizzi.' As such, Rix-Ueno's illustration of poppies became appliqué on a tulle mini dress, while other motifs by the designer ran throughout, adorning billowing shirt dresses or languid silk crepe blouses. Elsewhere, the collection captured a mood of ease and lightness in sheer organza blazers, various riffs on the white cotton shirt, and tops, dresses and skirts adorned with elegant trailing tassels.
Balenciaga
The opening look of Demna's latest collection for Balenciaga – presented in a vast room hung with red curtains suggestive of theatre – was worn by the designer's mother, Ella. The Georgian designer, who last season stripped his collection back to the essence of clothes making, this time looked towards a more intimate inspiration – his friends, family, and husband BFRND, the latter closing the show in upcycled bridal attire and also providing a soundtrack Demna likened to 'sonic couture'. Other friends walked the runway, too – the critic Cathy Horyn, who has been an avid supporter of the designer's work, his PR director Robin Meason and ex-tutor Linda Loppa among them – as well as a series of muses, including nightlife impresario Amanda Lepore, who captures Demna's brand of subversive glamour (here, she wore a skintight lace gown contoured to her Monroe-esque curves).
There was no doubt a personal resonance to placing his inner circle on the runway – particularly after a tumultuous past year for the designer and house – but the gesture also spoke of Demna's desire to get back to the roots of his Balenciaga project. Here, house signatures were renewed: there was warped oversized tailoring worn with knife-point pumps, plissé dresses in twisted floral prints, enormous bomber and biker jackets, hoodies and sweat suits, combat trousers and utility jackets, and plenty of idiosyncratic accessories – from passport-shaped purses to totes evocative of supermarket shopping bags. It ended with a series of gowns, inspired by those in the house archive, here creased and twisted into strange new forms, or appearing as if doused with water. Demna said that in hindsight he didn't like last season because it felt 'scared'. Here, with a defiant collection, he reclaimed a look which is all his own.
Alexander McQueen
After over two decades at the house – having worked with Lee McQueen as his right-hand since the late 1990s, before becoming creative director in 2010 after his death – Sarah Burton presented her final collection for Alexander McQueen in Paris (Seán McGirr would be announced as the house's new creative director days later). In the transgressive spirit of the house, she looked towards 'the female anatomy, Queen Elizabeth I, the blood red rose,' as well as the works of Polish artist Magdalena Abakanowicz, whose vast fabric sculptures adorned the space and recall blood and body parts ('a powerfully creative artist who refused ever to compromise her vision', Burton said). The collection was filled with the designer's hallmarks: sculpted leather bodices sat over tasselled gowns, sharp, wide-shouldered tailoring was stitched with crimson embroidery, while more delicate sheer gowns dripped with shimmering crystal adornment. The show closed with house muse Naomi Campbell walking the wooden runway in a dramatic silver gown, before Burton took her own final bow to an effusive standing ovation – a demonstration of the esteem to which the designer continues to be held.
Comme des Garçons
'To break free of the gloomy present, I hope to present a bright and light future,' said Rei Kawakubo of her latest collection for Comme des Garçons, which saw the Japanese designer embrace colour and adornment over 18 extraordinarily constructed sculptural looks. Frilled collages of pattern and print – some recalling chopped-up Renaissance portraiture – encased the body in typically enveloping forms; other 'gowns' were decorated with enormous collars and bows. Twisting hologram fabrics, edged with explosions of tulle, wrapped the body and suggested parties and gifts, while cartoonish sneakers – a collaboration with French performance-wear brand Salomon – were studded with glimmering crystal and floral trinkets. To close the show, the models returned to the runway en masse, bumping against each other in the darkness. Partygoers decked out in their fineries? A plotting coven? Kawakubo's work always teeters on the precipice of ideas.
Hermès
The scent of a meadow filled the Hermès show space at Garde Républicaine, here transformed with undulating mounds planted with real reeds, grasses and wildflowers (all will be replanted in various projects after the show, the house noted). It provided an apt setting for French creative director Nadège Vanhee-Cybulski's latest outing, which was inspired by the early bloom of spring: 'an impromptu picnic, unhurried chatter, birdsong, a lack of constraints.' It lent the collection a feeling of liberation and lightness: a leather skirt was laser-cut with motifs reminiscent of linens or tablecloths, breezy checkered dresses recalled the shape of an apron, while lightweight layers included crisp cotton and washed silk twill. As is often the case with Vanhee-Cybulski's collections, a seductive undercurrent ran throughout in sinuous silk knits which traced the line of the body, or bra tops worn with high-waisted leather skirts. 'Light, free, open, solid,' said the house. '[Clothes] made to protect but not to hide, to envelop but not to hinder… they follow your sensibilities, your inclinations, your desires.'
Andreas Kronthaler for Vivienne Westwood
Andreas Kronthaler said that this season began with an exploration of the late Vivienne Westwood's personal wardrobe, one imbued with infinite memories and recollections for the designer, who married Westwood in 1993 and worked alongside her as a creative partner for several decades. Insistent that it was 'not a retrospective', he instead wanted to mine Westwood's intuitive, spontaneous way of dressing: 'always the opposite of everybody else,' he elucidated. 'She understood how to make the best of herself.' The collection was accompanied by specific references to past collections – from a sequin cotton dress inspired by the S/S 2012 'War and Peace' collection to a linen jacket and shorts drawn from S/S 1994's 'Café Society' show – here reimagined in Kronthaler's freewheeling, contemporary style. Playful devil horns, pinned-on badges and towering platforms recalled Westwood's own irreverent approach, while pannier-hipped moiré dresses – including the one worn by Westwood's granddaughter Cora Corré to close the show as the season's bride – had an elegant simplicity.
Noir Kei Ninomiya
There is an undeniable magic to Japanese designer Kei Ninomiya's Noir collections, which draw the viewer into a kind of guessing game: what, exactly, is each remarkable garment made from? The shimmering anemone-like ruffles, edged with tiny spikes, gathered to create the skirt of a dress or looping sculptural top? The stamen-like adornments covering dresses and hoods, bouncing hypnotically as the models walk? As is tradition, Ninomiya does not elaborate on his process; instead, he simply said that the season's theme was 'black and white – from darkness to light', the collection traversing dark hooded figures in laced-up leather bodices, delicate white tulle shirts worn with pleated black skirts, towards the extraordinary expressions of craft which closed the show. It lent the collection the feel of a fairytale – a march out of the dark and into the light by a designer whose work is pure fashion alchemy.
Junya Watanabe
Junya Watanabe's latest collection began with a series of sculptural forms in black. There were pointing spikes and enormous folds and twists; long structured cuboids which jutted outwards like fabric girders. Some recalled the neatness of origami, while others were more chaotic in design. 'Creating objects, not clothes,' Watanabe elucidated in typically brief notes sent by email. As the collection went on, the abstract forms began to transform into more recognisable garments: a series of leather jackets, some bursting into enormous spikes, others deconstructed and sitting cage-like over the body. A motocross jacket became a patchwork leather dress; a denim jacket was elongated and given a ruff-like collar, while the classic tweed suit was de- and reconstructed into elegant, geometric silhouettes. Objects, maybe, but clothes too – these were the building blocks of a wardrobe, exploded and remade in Watanabe's inimitable style.
Victoria Beckham
In Karl Lagerfeld's former residence on Rue de L'Université, the air misted with Suite 302 – one of the designer's three just-launched fragrances – Victoria Beckham presented an assured collection which continued the exploration of deconstruction which began last season. Tailoring – perhaps the designer's strongest element – was sawn off at the sleeve to reveal the white interior of the shoulder pad, while an elongated moiré overcoat was left open at the back to expose its lining beneath. Other tailored blazers were gently padded, lending a feeling of both structure and softness. Dresses, meanwhile, were inspired by ballet – which Beckham said she had taken lessons in throughout her childhood – seeing ethereal silk and organza dresses meet elongated jersey gowns, instilled with sculptural hooped elements. Slouchier cardigans, worn with knit leotards, recalled the rehearsal studio. 'With the dancer's simple uniform as its point of departure, the wardrobe illustrates the intrigue movement,' read the collection notes.
Issey Miyake
Presented at a former campus of Paris' Sorbonne University, Issey Miyake's latest collection was titled 'Grasping the Formless'. A brief, poetic set of collection notes asked attendees to 'think of a flag fluttering in the sky', a mood of lightness and movement reflected in the show's opening act: an interpretative dance and music performance presented amid a series of floating white plissé paper sculptures. Satoshi Kondo – who creates the collection alongside the Issey Miyake design team – elaborated that he was thinking about the idea of a flag being in endless movement, its changing forms never quite the same in a given moment. In the collection itself, this was explored in light, transparent layers with undulating surfaces. The dramatic opening looks saw models wrapped and hooded as if cocooned – a reference to tube-like dresses shown as part of Issey Miyake's S/S 1998 collection – while further dresses in the lightweight fabric had sculptural flourishes at the cuff. A series of blown-up tailoring, supersized across the shoulders, followed, while floating, semi-sheer plissé dresses recalled the show's mise-en-scène. The show closed on a series of twisting, intricately layered looks – accessorised with wide-brimmed undulating hats – imbued with Kondo's lightness of hand.
Loewe
The idea of pragmatism – real clothing, made for the demands of life – has run throughout this fashion season. It was a word that Jonathan Anderson chose to describe his latest womenswear collection, presented on Friday morning at Château de Vincennes on the outskirts of Paris, where a vast Loewe-branded grey box had been constructed in the historic castle's courtyard. 'A stringent proposal of daywear,' said Anderson of the collection, which was presented alongside loaned works by American sculptor Lynda Benglis. 'A pragmatic one.'
The collection began, he said, with a reconsideration of the silhouette which defined his menswear outing this past June: elongated wide-leg trousers and jeans which sat ultra-high on the waist, worn with tucked-in shirts and cropped knitwear, designed to give the appearance that you were looking upwards at the model through a fish-eye lens. Such combinations continued in the womenswear collection with a series of high-rise jeans and suede trousers; after the show, Anderson said he's previously 'had a tendency of running away from silhouette. This time, it was quite nice to explore it further – it was a newer process for me.'
It was through such plays on proportion and form that Anderson subverted the everyday: the opening look was a kind of cardigan, here reimagined as an enormous open-knit poncho studded with fist-sized gobstopper buttons. Other knits were the opposite: slim, super-sheer polo shirts, later elongated into dresses, traced the line of the body and exposed skin beneath. A classic V-neck sweater was worn with a prim button-down blouse and frilled skirt; in another look, it was amplified to enormous size, making it slip languidly off the model's frame. Such oppositions, elucidated Anderson, evoked a tension between restraint and release which ran throughout the collection: 'a reflection on being uptight, and the sensuality that breaks it all down,' he described.
Such pieces also spoke to the idea at the heart of Anderson's work: the idea of taking familiar elements and re-shaping them into something new, strange, seductive. The choice of works by Benglis became an apt metaphor: the large twisting forms, in metallic gold and silver, were cast from manipulated pieces of clay moulded by the artist's hands. For the show, Anderson had collaborated with Benglis on jewellery, including a series of dramatic cuffs which provided miniature, wearable versions of the sculptures in the room. 'She doesn't need to use words, she's using something which is physical,' he said. 'There's something of her that I see in this collection – the attitude, the confidence.'
'There's a subversiveness to this collection: when you look at it it's very civilised, and [then] suddenly there's a sexual seduction,' he continued. 'Which for me was like Lynda's work. You approach the sculpture, you read the title, and then you're like… ah.'
Schiaparelli
Daniel Roseberry's second ready-to-wear collection for Parisian haute couture house Schiaparelli continued to mine the mood of glamour and excess of the 1980s that ran through his debut, shown in February 2023. Wide shoulders reigned supreme across nipped-waist tailored dresses and tailoring, draped evening gowns came with enormous puff sleeves, while gobstopper gold jewellery ran throughout. Odes to house founder Elsa Schiaparelli's distinct brand of surrealism provided further adornment, including lip-shaped broaches, eye-shaped earrings, and motifs recalling dripping nail polish bottles, as well as the evocation of the lobster – perhaps Schiaparelli's most famous motif (this is the first time Roseberry has used the sacred symbol, which was introduced by Schiaparelli in 1937). Elsewhere, nods to the insouciant elegance of the French Riviera came in a blown-up riff on white Chanel-style tweeds, Breton-striped tailoring and knits, alongside elements delivered with a wink – like a sequined swimsuit or skirt decorated with a 'Schiaparelli'-branded fish. Carpenter-style jeans, meanwhile, provided a grounded counterpoint. 'From head to golden toes, Schiaparelli ready-to-wear is an exercise in making the everyday come to more vivid, more surprising life,' said Roseberry. 'I have found that the more familiar the item – a crisp white shirt, a fluid trench, a black smoking blazer – the more joyful it is to rediscover it anew when combined with the house codes, which often reveal themselves as secrets.'
Rick Owens
A note sent to attendees prior to the latest Rick Owens show – held in the forecourt of the Palais de Tokyo and complete with plumes of coloured smoke and confetti – saw the designer explain that this season's collection was a musing on the idea of 'joy as a moral obligation'. He used Björk as an example, having attended a concert by the Icelandic musician earlier this month. 'Her intelligent, life-affirming energy made me kind of embarrassed of my own mopey adolescent pessimism,' he wrote. 'And hers wasn't a Disney escapist obliviousness, but a concerned and thoughtful trust in moving forward. She expressed hope.'
It marked a shift from recent seasons, whereby Owens has spoken of feeling troubled about creating fashion collections in a time of world crisis, like the ongoing war in Ukraine. Here, accompanied by a remixed version of Diana Ross' latest single 'I Believe in Love' – a song he called a 'hymn' for the season in its suggestion of faith and optimism – he tried a different approach, proposing a collection of cautious hope infused with moments of dark, seductive glamour. Sculptural draped leather gowns came in the designer's signature black and slate grey – narrowed at the waist for a defined silhouette – while more liberated moments of colour came in distinct shades of red and pink he called 'tender' and 'exultant' respectively. Leather opera gloves became stoles that wrapped around the back, while sheer hood-like veils conjured both glamour and mourning. Finally, his 'duvet donuts' – vast swathes of padded fabric that wrap the body like a quilt – came this season in elegant silk organza and Italian tulle.
'I suppose I express resignation,' the designer concluded. 'My default setting is to propose a more sombre sobriety respectful of an ailing and struggling world observing a war. My enthusiasm is more tempered and suspicious – but I try to express the hope for joy while cautioning empathy and responsibility.'
Givenchy
Following on from a strong menswear outing in June (see our Paris Fashion Week Men's S/S 2024 highlights) – which riffed on school and college uniforms in elevated style – Matthew M Williams continued to make steps at Givenchy with a resolutely dressed-up womenswear collection that captured the delicate elegance of Hubert de Givenchy's evening-wear in the American designer's own contemporary parlance. Williams called it an exercise in opposing the 'rigid and the relaxed', seeing tailoring and overcoats – gently curved across the wide shoulder line and inspired by the shape and texture of a man's tuxedo – juxtaposed with featherweight gossamer dresses that draped on the body, held in place with fine straps and embellished with fans of lace, twisting fabric flowers and dainty strings of pearls (a reference no doubt to the house's most famous patron, Audrey Hepburn). A section in black, meanwhile, recalled the colour with which Hubert de Givenchy's oeuvre is most synonymous, while vividly hued hosiery – stretched over the top of stiletto-heeled pumps – met softer pastel and earthy shades, the latter created using a mud-dying technique which dates back to China's Ming Dynasty.
Chloé
Gabriela Hearst chose to end her tenure at Parisian house Chloé with a breezy summertime offering held on the banks of the River Seine – an apt swansong for the Uruguayan designer whose time at Chloé has been defined by a largely laid-back approach, elevated with the use of luxurious, sustainable fabrications (talking to Wallpaper* in 2022 she likened it to creating a simple Caprese salad, 'you need to be working with the best ingredients, great tomatoes and buffalo mozzarella'). Here, she looked towards the botanical world for inspiration: calla lilies inspired the elegant line of a leather skirt and trench, curved seams and gently flared sleeves emerged from images of orchids, while dresses came decorated with naive three-dimensional flowers. The inspiration point spoke to Hearst's commitment to preserving nature – sustainability is at the heart of everything she does – while also encapsulating the free-spirited femininity that has defined Chloé since its advent by house founder Gaby Aghion. Befitting the mood, Hearst danced her way onto the runway at the end of the show, surrounded by musicians from Rio de Janeiro's Mangueira samba school which was founded to provide opportunities for women to participate in the art form. And, though Hearst might have left the runway at Chloé, it is certainly not the last we will see of the designer: as well as continuing her namesake label from New York, she has also recently worked on a capsule collection for the Atelier Jolie, the just-launched fashion label of Hollywood star Angelina Jolie (her last Chloé project). Watch this space.
Rabanne
Models wandering into the desert yonder has emerged as a minor theme this Paris Fashion Week (see: Courrèges), with Rabanne's Julien Dossena sending out a series of nomadic looks across a powder-strewn runway that demonstrated the house's extraordinary level of craft – particularly metalwork, which remains its founding material ('He was just in love with metal', Dossena previously told Wallpaper* of its founder, the late Paco Rabanne, 'to him, it symbolised the next civilisation'). Brilliant diaphanous chainmail mini dresses were adorned with metal tassels and paired with woven leather gladiator boots, while metallic embellishment was used throughout – whether zig-zag beadwork, swathes of sequins or variously shaped metal paillettes, from perfect discs to those which recalled the elongated line of a feather.
Elsewhere, draped silhouettes – many of which wrapped around the body and over the head like a hood or head scarf – recalled those worn by desert dwellers, here crafted from rustic wool and hemp (a nod, said the designer, to the work of American textile artist Sheila Hicks). The collection – which Dossena explained was inspired by the idea that visions of the 'far-off future' are so often infused with references to ancient civilisation – comes at a point when the growing Parisian house is building its own path ahead. Earlier this year, as part of a 'one-brand' strategy, it dropped 'Paco' from its name, redesigned the house logo and launched the new Rabanne Beauty line, led by American make-up artist Diane Kendal. Amid all this, Dossena's ever-evolving vision for the house continues to shine.
Dries Van Noten
'Unfamiliar familiar' was how Dries Van Noten described his latest womenswear collection, which saw the designer take well-worn inspiration points – namely sportswear and men's tailoring – and reinterpret them in a freewheeling manner he called 'spontaneous and free-thinking'. There was no doubt a sense of normality to the season's garments, which largely consisted of wardrobe classics – trench coats, blazers, shirt dresses and the like – though here their proportions were blown up or shrunken in a manner that transformed them entirely (other pieces, like a series of rugby shirts, were reshaped to twist strangely around the body). Likewise, an ever-astute use of embellishment and print lent a feeling of collage: a classic trench was delicately decorated with hanging pearls and beads, sporty trims ran along the edges of blazers or looped the waist as a belt, while shimmering paillettes adorned lightweight skirts and blouses. If the season so far has been defined by designers putting their spin on the elements of an everyday wardrobe, this was a collection that proved when it comes to making the familiar unfamiliar, Van Noten is still a designer leading the pack.
Acne Studios
After the 'brutal magic' of last season – which saw a melange of distressed, destroyed and floral-adorned elements set against a supernatural forest created in the space by Shona Heath – Jonny Johansson mined a feeling of reduction for his latest Acne Studios womenswear collection. Backdropping the show with a sparse ecru-canvas-covered set created in collaboration with Austrian artist Lukas Gschwandtner, Johansson said he wanted to conjure a mood of 'after-hours liberation' with a collection of sleek, dressed-up pieces nonetheless instilled with elements of deconstruction he called 'elevated industrial' (as if to set the mood, an enormous disintegrating disco ball sat at the end of the runway). Johansson had drawn inspiration from British artist Katerina Jebb's Physical Evidence of a Woman, a series of scanned images of stilettos, fake eyelashes and pairs of tights; here, they became abstract prints across the collection. 'These artefacts are something that I feel is almost lost today, they feel dated, yet they are still there. So we used them as prints and subverted them,' he explained. 'The industrial mood comes mostly from my passion for denim and the many ways we can manipulate this amazing fabric. [But] it also comes from the idea of a construction site: things are unfinished, a work in progress. I wanted to convey the beauty of that.'
Marni
An inflatable row of seating snaked through the gilded baroque interiors of Karl Lagerfeld's former private residence on Rue de l'Université, which provided the setting for Francesco Risso's latest show. It continued a series of travelling shows from the Italian house, whereby international locations – including New York and Tokyo – have replaced its native Milan. Prior to the show, Risso explained the particular choice of venue, calling it 'the home of a witness and devotee to the most ephemeral architecture of real illusion that is fashion', setting the stage for a collection that the designer said evoked memories of coming to the city as a teenager and discovering the unique magic of Parisian fashion. As such, there was no doubt an influence from the city's history of haute couture: surface embellishment was embraced with typically wild abandon, seeing gowns adorned with thousands of collaged or three-dimensional flowers (the latter crafted from tin cans), while dramatic silhouettes jutted outwards at the hips to recall panniers. Other looks provided a playful riff on Parisian bourgeois style, whether colourful chequered suiting with clashing sweater vests, or a shrunken mohair jumper worn with flared suede pants. At heart, though, this was a collection about the joy and delight fashion can evoke – something that Risso says has been informed by his recent world tour. 'A quest for joy, through dedication, a blooming meadow beyond the windows, to lose yourself in,' he said in a note left for attendees. 'Paris, la ville baroque – there you are.'
The Row
It is not always so easy to get your five-a-day while at fashion week – a hurried pomme frite is perhaps the closest one gets to a vegetable – so thanks go to Mary-Kate and Ashley Olsen who generously provided a veritable farmer's market of fresh produce post-show, from delicate bunches of grapes to tomatoes and mange tout for attendees to take away in a brown paper bag. The simple joy of the gesture speaks to the pair's wider aim at The Row, where they create seductively beautiful clothing which is nonetheless instilled with the pragmatism needed for a woman to undertake the demands of day-to-day life. Presented here in a sunlit Parisian salon, the S/S 2024 collection continued the ongoing evolution of the label, comprising not simply the beautiful, gently oversized trench coats, tailoring and shift dresses one expects from the designers, but also a series of draped-on-the-body gowns which – perhaps down to the setting – suggested the refinement of haute couture. Elsewhere, there was an evocation of spa wear: outerwear was cut to envelop the body like a robe, towels were slung across the shoulder, while footwear comprised an undeniably luxurious riff on hotel slippers.
Courrèges
Theatrical trickery saw models at Nicolas Di Felice's latest outing at Courrèges crack and shatter the white plaster runway with their footsteps, a feat achieved by a series of air-filled fireman's hoses under the runway that, as they deflated, allowed for the moon-like surface above to be broken under the model's heels. Breaking new ground proved an apt metaphor for this season's inspiration, in which Di Felice – who has instilled Courrèges with a mood of sleek, youthful cool – imagined a woman leaving university and walking out into the desert-like yonder inspired by 'empowering tales of female pioneers'. It lent a greater fluidity to the silhouette this season, rendered here in asymmetric shirt dresses, open at the collar and crossing gently over the body, an oversized, flared-sleeved riff on the house's signature vinyl jacket, and lightweight, body-skimming dresses. A toughness and severity remained, however, in sliced-away silhouettes, zip-off hemlines or futuristic plastic bodices that recalled the construction of safety glasses. Armour and protection were also conjured – albeit in glamorous style – in the collection's final look, a glimmering chainmail poncho with matching floor-shattering pumps.
Saint Laurent
Pioneering female aviators Amelia Earhart and Adrienne Bolland provided the inspiration for Anthony Vaccarello's latest Saint Laurent collection, which saw the designer soften the amplified silhouette of recent seasons in a move towards simplicity and pragmatism – nonetheless infused with the insouciant sophistication that has become his signature at the house. The collection began with a trio of flight suits in canvas cotton, a utilitarian style here nipped at the waist with a leather belt and worn with piles of bangles, gloves and typically vertiginous knife-point pumps. Such a juxtaposition – of typically functional silhouettes with gestures of glamour – ran throughout, with Vaccarrello riffing on cargo pants and skirts, vintage flight hoods and trench coats in earthy shades of olive, camel and maroon. Vaccarello also took on Yves Saint Laurent's 'Saharien' safari jacket, first introduced in the late 1960s by the designer and inspired by uniforms in northern Africa, where he grew up. It was a sensation: a garment of masculine power remade for a woman's body, Saint Laurent capturing a spirit of both empowerment and seduction that would define his oeuvre. Over half a century on, Vaccarello continues this mantle. 'Assertive sophistication,' the designer described of the collection's mood. 'Liberally taking elements from a men's wardrobe and making them lastingly feminine.'
Dior
Italian artist Elena Bellantoni created the immersive show set for Maria Grazia Chiuri's latest collection, a video installation that aimed to disrupt the sexist depictions of womanhood in advertising from the 1960s to the 2000s. Titled 'Not Her', the work – commissioned by Dior for the show – saw Bellantoni create 24 new advertisements, ironically riffing on the archetypes of these ads, from housewife to air hostess, in a series of self-portraits. 'It is about breaking out of a semantic grid,' the house described of the piece, with Bellantoni adding that it's a 'response to the dominant stereotype: it's not her, she's no longer all that.' In the showspace, the works were displayed on vast LED screens reminiscent of the split-flap displays found in airports and train stations.
It spoke to Grazia Chiuri's continuing project to reimagine Dior through a feminist lens, collaborating largely with female artists on her collections and using her shows to highlight notable women from history. Last season (see Paris Fashion Week A/W 2023), she looked to rework feminine silhouettes of the 1950s in a collection inspired by Catherine Dior (house founder Christian Dior's sister, and purported inspiration behind the enduring 'Miss Dior' fragrance) and French singers Édith Piaf and Juliette Gréco; here, Chiuri began with a similar desire, to weave past, present and future for her contemporary imagining of empowered femininity. 'A reflection on the meaning of the present,' she mused in the collection notes. 'A present in which past and future must coexist simultaneously... [a celebration of] the rebels who have asserted their independence in the face of a masculine world and challenged its system.'
This season, Chiuri looked toward the witch, a cultural archetype that for centuries was used to punish women, though here the designer sought a different narrative, recasting the supernatural figure as a 'custodian of the knowledge of the mother-goddess, who passes on the science of plants and respect the time of nature'. Chiuri had been informed by the work of anthropologist Michela Zucca, who in a preview film describes the witch as 'a pluriform figure, a leader figure... a woman who knows about nature more than others' in medieval societies. As such, Chiuri noted inspiration from dress of the Middle Ages, woven subtly through the largely black and white collection in wide, décolletage-bearing necklines, chainmail-inspired knits and wrapped asymmetric shirting, while a more contemporary note was struck in masculine, oversized tailoring, slouchy parka jackets, and elements of deconstruction.
Elsewhere, nods to nature came in a version of the house's floral 'Mille-fleurs' pattern here rendered in a darker, X-ray-style print, while typically intricate embroideries recalled phases of the moon, healing herbs and mythical animals. Midcentury Italian artist Alberto Burri's Matterist works, meanwhile, inspired worn or destroyed fabrications across a series of shredded dresses ('tears, lacerations and combustion', as the house described). The latter provided a through line to the previous, A/W 2023 collection, where creased and mottled finishes gave a feeling of dishevelment Chiuri called 'at once strong and fragile' – the marks, perhaps, of a woman's life pushing against the grain.
Peter Do
Having previously shown his collections in New York – where earlier this month he showed a debut collection as creative director of Helmut Lang – Vietnam-born, New York-based designer Peter Do chose to decamp to Paris this season, making his debut in the French fashion capital on Tuesday morning (26 September; the show also included ten looks from the busy designer's collaboration with American retailer Banana Republic as well as accessories from a project with At.Kollektive). 'This season, we want our work to speak for itself,' said Do via the pre-show collection notes, presenting a collection of elegant tailored silhouettes with suggestions of subversion – like tailored trousers slashed along the front to reveal a stockinged leg beneath, or abbreviated blazers cropped to just beneath the chest. A contrasting languidity came in simple elongated white shirting or subtly sheer organza vest tops and dresses that were draped across the body. Together, it provided a satisfying opening to the week: proof that Do's New York-infused cool translates.
Stay tuned for more from Paris Fashion Week S/S 2024.
Receive our daily digest of inspiration, escapism and design stories from around the world direct to your inbox
Jack Moss is the Fashion Features Editor at Wallpaper*. Having previously held roles at 10, 10 Men and AnOther magazines, he joined the team in 2022. His work has a particular focus on the moments where fashion and style intersect with other creative disciplines – among them art and design – as well as championing a new generation of international talent and profiling the industry's leading figures and brands.