Shona Heath on her 'acrid and raw' show set for Acne Studios
Shona Heath tells the story behind her surreal set for Acne Studios' A/W 2023 show, which began with a 'crazy melange of images' – from turnips and swamp people to a crochet shoe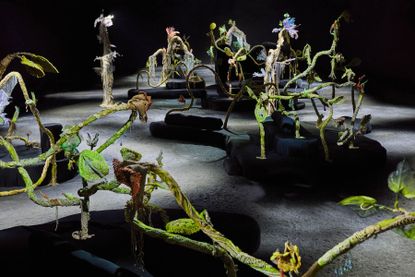 (Image credit: Courtesy of Acne Studios)
Pioneering British set designer Shona Heath – best known for her fantastical creations that appeared in the photographs of Tim Walker – says that the surreal milieu she created for Acne Studios' recent show at Paris Fashion Week A/W 2023 began with 'a crazy melange of images' presented to her by the brand's creative director Jonny Johansson.
'[There was] a crochet shoe, huge turnips, swamp people, sparkles,' Heath tells Wallpaper* of the eclectic mood board, ideas which she transformed into a show set populated with strange sculptures evocative of plants, vines and trees – here imagined in twists of rope, dripping crystals and woven jute. The crochet shoe was a particular inspiration: 'That was the catalyst... [but] finding out how to represent crochet was the challenge,' she says. 'We used decorative jute carpets and cut the shapes out.'
Shona Heath for Acne Studios A/W 2023
'I asked Shona to create a magical place that captured the topography of a dark forest in a way that felt creative,' adds Johansson about how the collaboration began. 'I love how forests are always changing, growing and transforming.'
For Heath, the references to nature are 'acrid and abrasive, but also a bit fun... the scale makes you feel like a child'. 'I like the crystalline leaves with neon greens; it is most definitely synthetic, but the rawness and crudeness of the ropes and jute bring us deep down into the earth,' she explains. 'I think it is somehow quite a hopeful representation of nature, more dreamlike and otherworldly. I wish we had had time to work out what the flowers or the tree sap would smell like.'
The set was a reflection of the collection itself, which Johansson said was about 'growth and evolution', rooted in Swedish nature and the topography of the forest (albeit reimagined in fantastical style). 'Sweden is the kind of place where the city ends abruptly and then the pine forest begins. I've always enjoyed the contrast between urban life and nature, the idea that an infinite forest is just around the corner,' he elucidates. 'With this collection I was thinking about the dark winters we have in Sweden, where there are only a few hours of daylight. I wanted to capture the beauty of the darkness in both the collection and the set.'
Heath says that she saw about ten of the collection's looks in their raw form prior to the show. 'They had such a clear story,' she says. 'There [seemed to be] two strains – huge deconstructed tailoring which was contrasted with organic spiderweb-like forest-floor dresses, shoes like charred flower buds and great cracked and painterly leather textures. The set pretty much reflects all of that.'
'Acne Studios always has an immediacy and rawness to the clothes, they never seem overworked, there is such a confidence in the ideas,' she continues. 'I tried not to overwork or overthink... I got my 13-year-old son to draw the shapes of the trees, as normally I favour fine and elegant lines. I wanted to do something I wouldn't usually do; I didn't change a line he drew.'
Heath hopes that attendees to last night's show experienced a feeling of childlike wonder. 'I want [people] to feel like they are a seed, planted in space, fed by magic rain,' she says. 'That they could grow into anything.'
acnestudios.com (opens in new tab)
Jack Moss is the Fashion Features Editor at Wallpaper*. Having previously held roles at 10, 10 Men and AnOther magazines, he joined the team in 2022. His work has a particular focus on the moments where fashion and style intersect with other creative disciplines – among them art and design – as well as championing a new generation of international talent and profiling the industry's leading figures and brands.