Versailles, Alvar Aalto, peel-off covers: when Karl Lagerfeld guest-edited Wallpaper*
On Monday 1 May, stars will gather at The Metropolitan Museum of Art to celebrate 'Karl Lagerfeld: A Line of Beauty', the New York institution's latest fashion exhibition. Ahead of its opening, we look back to when the legendary designer guest-edited a 2009 issue of Wallpaper*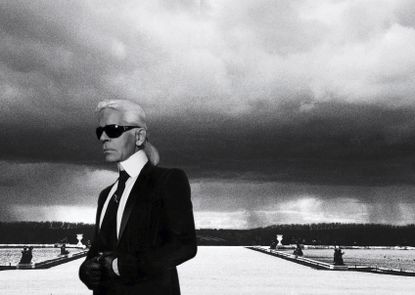 (Image credit: Photography by Karl Lagerfeld)
On 1 May 2023, the annual Met Gala will take place at New York's Metropolitan Museum of Art – a lavish star-studded celebration of the institute's latest Costume Institute exhibition, which this year centres on the career of legendary German designer Karl Lagerfeld. Titled 'Karl Lagerfeld: A Line of Beauty', the vast exhibition provides a rich survey of an expansive career, which lasted almost seven decades and saw him design clothing for some of the 20th and 21st century's most important houses: Balmain, Patou, Chloé, Fendi and Chanel, the last to which he will be forever linked.
Ahead of the exhibition's opening on 5 May 2023, we look back into the Wallpaper* archive to the October 2009 issue, which Lagerfeld guest-edited, including a peel-off 'strip tease' cover featuring model Baptiste Giabiconi. In this extract, Alice Rawsthorn meets the outspoken designer to hear more about his then-current obsessions – from a Marc Newson necklace for Boucheron to Alvar Aalto's Maison Louis Carré and designers Ronan and Erwan Bouroullec's 'Pebble' furniture – which were then photographed by Lagerfeld around the world.
Karl Lagerfeld looks rather pleased with himself. 'You know, this isn't to my taste,' he says with a cackle. 'It isn't even a period I like that much. I didn't know these people or live in their world, the intellectual French art world, which was pretentious in a way. But it is amusing to have a glimpse, to take a look, to see what they considered modern. I like this idea of them being tempted by modernity without letting go of the conventions of bourgeois life.'
He cackles again. It's a strike for Mr Lagerfeld (as his numerous employees call him, or 'Kaiser Karl', as he's known throughout the fashion world). Several strikes, in fact. In a couple of sentences, he has a) shown that he has superior taste to the original owners of the house we're in – an elegant but, yes, rather conservative villa built in the late 1950s in the countryside near Versailles by the Finnish architect Alvar Aalto for the Parisian art dealer Louis Carré and his wife, Olga; b) dissed the French, who've never quite forgiven him for being German; c) wrought revenge on the intelligentsia for sneering at him for being in fashion; and d) spat out the word 'bourgeois' with a soap-operatic sneer.
Karl Lagerfeld's Wallpaper* October 2009 guest edit
Whether or not he approves of his surroundings, Mr Lagerfeld (as he's in such a sunny mood, it seems mean to call him Kaiser Karl) has given up his Sunday to photograph La Maison Louis Carré for Wallpaper*. He's doing it, as he does everything, accompanied by a SWAT team of black-clad assistants crying 'Que c'est joli!' whenever his images flash up on their iBooks. A luxury minibus has brought them to the house, while Lagerfeld and his driver did their bit for global warming by thundering along the autoroute in a Hummer.
Every so often, one of the black-clad assistants approaches with a silver tray bearing a single glass of Pepsi Max. (Lagerfeld recently switched brands from Coke after a kerfuffle over calorie content.) His sole responsibility seems to be to ensure the boss can take a sip or two of fizzily fresh cola whenever he wishes.
As for what he is wearing, it might not be what you would expect from a septuagenarian on a country jaunt, but it's the uniform Lagerfeld has favoured ever since he shed 103 pounds a few years ago, and wrote about it in a best-selling diet book. Today it consists of: a skinny black jacket (Dior Homme); skinny black jeans (ditto); starched white shirt with a fine blue stripe and four-inch collar (Hilditch & Key); skinny black tie pinned with a pretty diamond and pearl brooch (Lydia Courteille); diamond-encrusted fobs (Chrome Hearts); an S&M-ish pair of fingerless black leather gloves (Chanel); white powdered ponytail (his own). 'Oh, don't look at me today,' he cries in mock horror, as though I could count on him to look completely different on another day.
This particular guest editor of Wallpaper* needs little introduction, although for the benefit of readers who have recently returned from a Carthusian retreat, here's a quick crammer.
Karl Lagerfeld is a very, very famous fashion designer, who started off as an assistant to Pierre Balmain then worked for Jean Patou in the late 1950s, before designing for Fendi and Chloé. He clinched his place in fashion history by rescuing Chanel in the 1980s (one fashion editor had written it off as 'Seconal City'), and thus triggering the 'Lazarus' syndrome of resurrecting deadbeat fashion brands. Cue Gucci's revival by Tom Ford, Prada's by Miuccia Prada, Lanvin's by Alber Elbaz, Balenciaga's by Nicolas Ghesquière and so on.
Lagerfeld designs for Fendi and his own eponymous label, as well as Chanel, while flooding the fashion gossip mill with whoever happens to be in – his muse, Amanda Harlech, the stylist Charlotte Stockdale – or out with him at any particular moment in time.
He somehow still manages to find time to ransack Colette's music racks, buy thousands of books and read most of them in any of the four languages – German, French, English and Italian – he speaks fluently. And it shows. Lagerfeld can be thoughtful, funny, knowledgeable, bitchy and dogmatic all in the same sentence, and peppers his conversation with references to everything from Aristotelian rhetoric and German classical music to early 20th-century novels.
Just a few of his recent extracurricular gigs include: running a publishing house and bookshop; kitting out a Steiff teddy bear in his skinny black uniform; shooting David Chipperfield's restoration of the Neues Museum in Berlin for German Vogue ('Very, very beautiful,' Lagerfeld enthuses. 'I am mad for it.'); DJing for Grand Theft Auto IV; and recording the voice of the villain in French animated children's film Totally Spies!. 'Apparently my voice is strange and special with a different accent in every language,' he says gleefully, in tones that, although delivered at supersonic speed, are softer and less like a Teutonic baddie's than you'd expect. 'They want me to do the same thing in America, but how could I stay in Hollywood for three weeks?'
Lagerfeld has strong opinions on most subjects, and loves to air them. On travel: 'Only for business. I hate tourism. Travel for travelling? No thank you, my dear. I'd rather stay at home enchanted by my books.' On fashion: 'Nobody can beat me in terms of technical knowledge. Nobody. I don't want to be pretentious, but I have studied all the old techniques and know all the new techniques.' On socialising: 'You know what killed conversation in France? The smoking ban, cell phones and people who make believe that they're politically correct. Boredom is guaranteed.' On his mother: 'Everything was fun with her. Even when she was mean, you couldn't be mad at her. People she treated badly said "thank you".' On himself: 'I am a vampire – open to everything and attached to nothing.' You get the gist.
He's here to talk about the things he's photographed for Wallpaper*, and his thoughts on design and architecture. One of his chosen subjects is the Alvar Aalto house. Another is Marc Newson's $1m-plus diamond and sapphire necklace for Boucheron: 'Why shoot it? Because it's the most beautiful necklace made recently and Marc is the genius of geniuses in design today.' Then there is Ronan and Erwan Bouroullec's 'Pebble' furniture: 'They are genius, too. There is something very modern and very romantic about what they do. It touches me.' He has also shot the Queen's Theatre in Versailles and some of his favourite places in Rome.
Lagerfeld has been fascinated by design since childhood, and learned about it by reading old issues of architecture magazines. As a fashion student in Paris during the 1950s, he was obsessed with the sets in the silent French films shown at the Cinémathèque. (A favourite was designed by the art deco architect Robert Mallet-Stevens for Marcel L'Herbier's 1928 film, L'Argent.) He also made his first visit to a great modern house: Le Corbusier's Villa Savoye in Poissy, then a village, now a western suburb of Paris. 'Beyond divine,' recalls Lagerfeld. 'But it was in bad shape then and the surroundings are horrible now.'
It wasn't until the 1960s that he could afford to start collecting design pieces. He kitted out his Paris apartment with futuristic furniture, much of it in steel by Italian designers. Then he got into art deco, buying 1920s and 1930s pieces by Jean Dunand, Eileen Gray and Émile-Jacques Ruhlmann. 'I had everything before anyone else,' he declares. Then I tired of art deco. I thought it was too bourgeois, so I sold it.' A flirtation with hi-tech followed (he bought most of his furniture from medical suppliers). Then came his abiding love of 18th-century French interiors. Lagerfeld decked out his townhouse at 51 rue de l'Université, where he lived for 30 years from 1977, as an 18th-century enclave (down to Madame de Pompadour's lacquer furniture in the bedroom) and repeated the exercise in his weekend chateau on the Marne river.
La Pompadour's lacquer was just the beginning. By the early 1980s, Lagerfeld was rich enough to become seriously self-indulgent. He bulk ordered most of the then-spanking new Memphis collection for his Monte Carlo apartment: Ettore Sottsass' 'Carlton' cabinet, Masanori Umeda's boxing ring-cum-'conversation pit', the works. 'Absolutely divine,' he drawls. 'Nobody else did a total house in Memphis. Nobody. I loved it, but you can't live with it for long. After a few years it was like living in old Courrèges. Ha! I'm a fashion person. I can't spend the rest of my days living with the same old style.'
And he hasn't. Lagerfeld recreated the milieu of one of his heroes, Walther Rathenau, the early 20th-century German plutocrat and model for a protagonist in Robert Musil's literary trilogy The Man Without Qualities, in his Berlin apartment. His house in Rome was dedicated to the Wiener Werkstätte furniture made in fin-de-siècle Vienna and a villa in Biarritz to Jean-Michel Frank's 1930s work. A country house in Vermont is filled with his childhood furniture, and his New York apartment with another passion, the Deutscher Werkbund movement of early 1900s German designers who inspired the Bauhauslers. 'I love it,' declares Lagerfeld. 'I think it's because it's from the period when my parents were young and Germany was most interesting.'
Every piece was chosen with painstaking precision and tracked down laboriously. He'll often spend years perfecting an interior only to discover once it is finished that he is bored with it (as he was with Memphis) or doesn't have enough time to go there. Take the Berlin apartment, where he spent just three weeks in seven years. That's been sold, as has the Biarritz villa, although he's hung on to the river Marne chateau, despite having not visited it for three years. 'I like to collect,' says Lagerfeld cheerfully. 'But I don't Iike to own.'
For years he tried to build a house in France to a Tadao Ando design, only for the plans to be rejected twice in Paris and once in Biarritz. 'Impossible!' he snorts. 'In France, you can't build in a city and I'm scared of the country, so where can I go?' Instead, he played architectural patron by commissioning Zaha Hadid to design a mobile art pavilion for Chanel. 'She's a genius and she's fun, but beyond rough,' laughs Lagerfeld, rolling his eyes tragicomically. What does he mean? 'The way she talks to people, the way she behaves, it's very funny. I had a great time with her, but she must be terrible to work for.'
Having abandoned the Ando house, he spent years gutting and reconstructing an apartment on quai Voltaire in Paris into what he calls 'a spaceship for a selfish person'. (Guess who?) It is a cavernous open-plan space filled with contemporary pieces, mostly shiny, silvery ones by designers like Newson, the Bouroullecs, Amanda Levete, Barber Osgerby and Martin Szekely. Lagerfeld bought most of the furniture from Galerie Kreo in Paris and Established & Sons in London. 'I've always said that the best thing about Stella McCartney is her husband,' he purrs. (Translation: Established's co-founder, Alasdhair Willis, is married to McCartney, who has incurred Lagerfeld's wrath by having the cheek to make a success first of his old role at Chloé and then of her own fashion label.)
Lagerfeld loves living at quai Voltaire – 'my paradise now', as he calls it – but has already started work on his next grand project. 'It's a little townhouse, 17th century, that I am doing on rue des Saints-Pères,' he says. 'It's difficult to describe because it's not finished yet, but it will be beyond the super-modernity of quai Voltaire. There'll be a baroque touch, although it won't be baroque at all. My favourite house in the world is Haus Wittgenstein in Vienna. The new house will be like that, but modern, modern, modern, modern.'
A version story first appeared in the October 2009 issue of Wallpaper*. Subscribe to Wallpaper* today
'Karl Lagerfeld: A Line of Beauty' runs at The Metropolitan Museum of Art, New York from 5 May – 16 July, 2023.