In memoriam: Paco Rabanne (1934 – 2023)
Spanish designer Paco Rabanne, known for his visionary 'Space Age' fashion and experimental fragrances, has died aged 88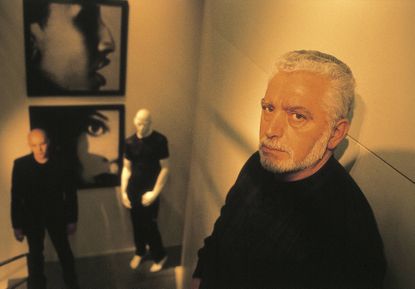 (Image credit: Photography by Luis Davilla/Cover/Getty Images)
Spanish designer Paco Rabanne – whose visionary designs under his eponymous label came to define 1960s 'Space Age' fashion – has died aged 88 in Portsall, France, according to an announcement from Puig, the group which controls the label's fashion and fragrance lines.
'Paco Rabanne made transgression magnetic,' said José Manuel Albesa, president of Puig's fashion and beauty division. 'Who else could induce fashionable Parisian women to clamour for dresses made of plastic and metal? Who but Paco Rabanne could imagine a fragrance called Calandre – the word means "automobile grill", you know – and turn it into an icon of modern femininity?'
Albesa continued: 'That radical, rebellious spirit set him apart: There is only one Rabanne. With his passing, we are reminded once again of his enormous influence on contemporary fashion, a spirit that lives on in the house that bears his name.'
Paco Rabanne dies aged 88
Born Francisco Rabaneda Cuervo in 1934, close to San Sebastián, Spain, Rabanne left the country not long later, after the outbreak of the Spanish Civil War, with his mother (she had worked as head seamstress for Cristóbal Balenciaga, and the Spanish couturier remained a profound influence throughout Rabanne's career). Heading to France, he initially studied architecture at the École Nationale des Beaux-Arts, before shifting to fashion, creating bold jewellery and accessories for a slew of Parisian fashion houses, including Nina Ricci, Givenchy, Pierre Cardin and André Courrèges.
It was 1966 that proved formative in Rabanne's career, when he released his first haute couture collection under his own name, titled 'Twelve Unwearable Dresses in Contemporary Materials'. Establishing Rabanne as something of an 'enfant terrible' of Parisian fashion, the dresses came to epitomise his distinct vision as a designer, which married historical elements – primarily chain mail, which was to become his signature – with contemporary materials, like plastic, rhodoid and aluminium, and the abbreviated silhouettes of the 1960s.
The look established him, alongside Cardin and Courrèges, as one of a cadre of so-called 'Space Age' designers of the 1960s, a movement which coincided with a boom in space exploration, culminating with the moon landing in 1969. Pieces were defined by a futuristic sensibility, featuring sharp, modernist silhouettes, metallic elements and an influence of contemporary engineering and architecture. A definitive moment in the 'Space Age' movement was Rabanne's costumes for Barbarella in 1968, a sexually charged space-exploration movie set in the 41st century and starring Jane Fonda as the movie's titular character.
'The woman of the future will be efficacious, seductive, and without contest, superior to men,' Rabanne once said. 'It is for this woman that I conceive my designs.'
Rabanne is also synonymous with fragrance, his name appearing on some of the bestselling perfumes of the last half-decade. His foray into fragrance began in 1969 with debut fragrance Calandre – created alongside nose Michel Hy – which was encased in a metal bottle evocative of a Rolls-Royce radiator grille. Rabanne said he wanted the metallic scent, with top notes of bergamot and aldehydes, to evoke a couple making love on the bonnet of a car in a forest. 'I like my fragrances to be fresh first, then structured, full of vibrations and contrasts,' Rabanne said.
After three decades at the helm of his eponymous label, Rabanne retired in 1999. While remaining largely out of the public eye in the years since, he was made an Officer of the Legion d'Honneur – one of France's highest awards – by the country's culture minister in 2010. 'I have always had the impression of being a time accelerator,' he said later, in 2016. 'Of going as far as is reasonable for one's time and not indulging in the morbid pleasure of the known things, which I view as decay.'
Rabanne was also a believer in the occult, making him prone to outbursts, particularly on the subject of impending Armageddon and apocalyptic visions. He claimed to be able to see and communicate with ghosts ('I'm a bit of a medium, a clairvoyant'), to have lived several past lives, and to have been visited by extra-terrestrials. 'My personal conviction is total,' he said on the subject in 1999.
The label went on a five-year hiatus from 2006, reopening in 2011 with Indian designer Manish Arora at the helm. Currently, French-born Julien Dossena is creative director of the house, his commercially successful and critically acclaimed collections often drawing from Rabanne's original archival pieces (chain mail and metal paillettes feature heavily, and Rabanne's 1969 'Le69' handbag was reissued under Dossena's tenure).
'Whenever you see Paco Rabanne's work, you know it was done by someone with an eccentric mind who didn't care about trends,' Dossena said in 2019. 'He used clothes to liberate, and I love that idea.'
pacorabanne.com (opens in new tab)
Jack Moss is the Fashion Features Editor at Wallpaper*. Having previously held roles at 10, 10 Men and AnOther magazines, he joined the team in 2022. His work has a particular focus on the moments where fashion and style intersect with other creative disciplines – among them art and design – as well as championing a new generation of international talent and profiling the industry's leading figures and brands.